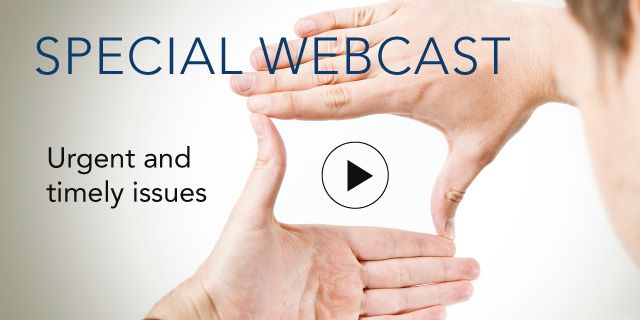 U.S. Jobs and the Future of Work

14 June, 2011 | (01 hr)
Sign In to access this Webcast
The changing global economic landscape is having a transformational effect on jobs in the U.S. and other developed economies that is resulting in high rates of unemployment for some, depressed pay levels for many and new opportunities for others. The Conference Board's ongoing economic forecasts, including projections of employment and labor market trends over the next few years tell a story of uneven recovery, with some skills, sectors and regions doing better than others and, for many, the very nature of work changing in ways we are just beginning to understand.
This webcast will examine new research on the future of US jobs by the McKinsey Global Institute (MGI), McKinsey & Company's business and economics research arm. The Conference Board's Chief Economist Bart van Ark will host an in-depth conversation with Susan Lund, Director of Research at MGI, on the findings of the study, including the challenges for job creation over the next 10 years, the changing nature of work, and the types of policies that will be needed to reach full employment.
The findings draw on a survey of 2,000 businesses across the country and interviews with companies from a range of industries. Major themes in the report are the effects of "jobless" recoveries on the labor force, the growing mismatch between worker skills and job requirements, and the need for innovation and strong demand in key economic sectors to generate new jobs.
During the webcast Rebecca Ray, Managing Director of Human Capital Research at The Conference Board, and TCB Labor Economist Gad Levanon will provide additional insights from The Conference Board's program on human capital.
Audience: HR executives, particularly those responsible for workforce planning, talent management, recruitment and retention, human capital risk and compensation. Functional and operational executives who are responsible for workforce planning will also find this webcast useful for developing forecasts and plans.
Speakers
Gad Levanon, PhD
Vice President, Labor Markets
The Conference Board

Gad Levanon is Vice President, Labor Markets for The Conference Board, where he oversees the labor market, US forecasting, and Help Wanted OnLine© programs. His research focuses on trends in US and global labor markets, the US economy, and forecasting using economic ind...Full Bio

Rebecca L. Ray, PhD
Executive Vice President, Human Capital
The Conference Board

Rebecca Ray is the Executive Vice President, Human Capital, at The Conference Board. She leads the US Human Capital Center and is responsible for member engagement and retention as well as the overall quality and continuing integration of all research and offerings across the human capital spectr...Full Bio

Susan Lund, Ph.D.
Partner, McKinsey Global Institute
McKinsey & Company

Dr. Susan Lund is a Washington, DC partner at the McKinsey Global Institute (MGI), McKinsey's business and economics research arm.

Her research focuses on global financial markets, labor markets, and on economic growth. Recent reports have looked at shifting pools of global wealth and the...Full Bio

Bart van Ark (Moderator)
Outgoing Chief Economist; Program Director, CFO: Fortune 250 Council
The Conference Board

Bart van Ark is the outgoing chief economist of The Conference Board, a global business research think tank headquartered in New York which includes 500 of the top-2000 global companies among its members. Appointed in 2008, he oversees the production of widely watched economic...Full Bio