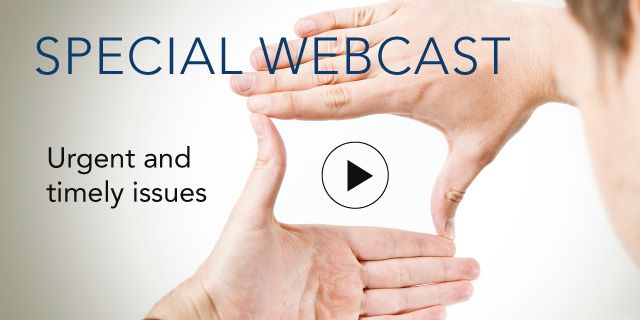 Unclaimed Property and the States: Stepped up Enforcement and Corporate Liability

09 June, 2011 | (01 hr)
Sign In to access this Webcast
Facing massive deficits in recent years, states are seeking to address revenue shortfalls through new and creative approaches to revenue generation. One of these solutions is the aggressive interpretation of unclaimed property laws and auditing of unclaimed property held by corporations. Based on current trends, most Fortune 500 companies have, or soon will face unclaimed or abandoned property claims in significant amounts, far in excess of that was seen in prior years. Long accepted as a means to reunite rightful owners with their property, states have begun using aggressive tactics to identify unclaimed property, including the use of third party auditors on contingency fees, lookback periods of up to 29 years, and aggressive extrapolation methods.

This webcast will build upon a survey and whitepaper published by The Conference Board Governance Center titled: Expanded Liability in Unclaimed Property. It will address:

• Current practices by the states and their auditors including: extrapolation methods, tactics to increase fines and fees and changing definitions of unclaimed property.
• Practical approaches companies can take to mitigating the financial risk to the organization.
• Possible approaches for engaging the states on this issue, including collective action and litigation.

Who Should Attend: This webcast will be of interest to executives in finance, tax, audit and legal who are responsible for the oversight and execution of a company's unclaimed property processes and procedures.


Speakers
Michelle A. Andre
Principal
KPMG LLP

Michelle A. Andre is a principal in KPMG's state and local tax practice in the Northern Virginia office. Prior to returning to the Virginia office, Andre spent five years in KPMG's national tax practice, located in Washington, D.C., as the technical leader for unclaimed property. She ...Full Bio

Joseph O. Blanco
Partner
McKenna Long & Aldridge LLP

Joseph O. Blanco is co-chair of the MLA Governance Center, which represents boards of directors in governance and crisis management. His practice focuses on representing special committees of boards of directors in conducting governance reviews and investigations. Blanco also counsels clients in ...Full Bio

Lowell T McLaughlin
State and Local Tax Manager
The Dow Chemical Company

Based in Midland, Michigan, Lowell McLaughlin is responsible for annual property and sales & use tax payments, budgeting and planning, implementing long-term strategies involving government incentives and tax abatements and engagement in State and Local legislative matters that require advoca...Full Bio

Lyndsey Watson
Corporate Attorney
Emerson Electric Co.

Lyndsey A. Watson is a corporate attorney at Emerson Electric Co. She works for General Counsel Frank Steeves and in Emerson's Dispute Resolution Group. She received her J.D. with a concentration in Business Transactions from Saint Louis University School of Law in January 2010. ...Full Bio