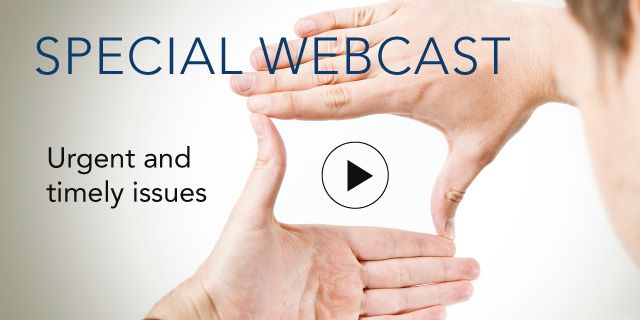 Rating the Raters: Do You Know who's Monitoring your Sustainability Performance?

07 June, 2011 | (01 hr)
Sign In to access this Webcast
Businesses around the globe are facing a growing number of requests to disclose their sustainability performance. An entire industry has taken root that is providing comparative data, rankings, ratings and awards to companies based on this information. Whether or not you are reporting doesn't matter; your sustainability performance is being tracked, judged, rated and ranked by entities ranging from the government agencies, to non-profits, the media, various investor-related research firms and corporate customers. .The proliferation of these requests has created a confusing and potentially risky landscape which many companies spend extensive time and resources navigating.
How are companies sorting through these repetitive and time-consuming requests for information? How can a company benefit from these rating exercises and which are worth the effort? How accurate are these rankings and which are more credible than others? Are the organizations providing the rankings accountable to any recognized standards in how they gather, analyze and report their findings? And why are there discrepancies in the final results?
Join a panel of experts who will discuss why and how these rating entities have emerged, what are the best practices by which raters can be evaluated, and how companies can focus on the positive outcomes that are possible with increased transparency and trust between raters and the organizations they seek to measure.
This webcast will explore:
The best practices for raters, based on an in-depth study of 21 rating organizations.
How companies can use information about the raters to develop a sound basis for deciding which surveys to participate in and how clients, investors and other stakeholders can choose how to use rating information to make decisions.
How companies are developing their own best practices for evaluating, prioritizing and participating in these survey requests.
Who Should Attend:
Chief Financial Officers, VPs of sustainability, corporate social responsibility and citizenship, General Counsels, and executives in charge of investor relations, marketing and communications, and environmental and health & safety.
Speakers
Curtis Ravenel
Global Head, Sustainability Group
Bloomberg L.P.

Curtis Ravenel leads Bloomberg's global sustainability initiatives - a Chairman's Office effort and the result of his 2006 Bloomberg Global Leadership Forum proposal. The program aggressively integrates sustainability considerations into all firm operations and leverages the BLOOMBERG...Full Bio

Michael Sadowski
Director
SustainAbility

Based in New York, Michael Sadowski leads SustainAbility's work in the finance and consumer goods sectors and is a member of SustainAbility's Management Team. Over his career, Michael has advised a variety of global companies on sustainability issues, focusing on strategy development,...Full Bio

Mark Tulay
Founder & CEO
Sustainability Risk Advisors

Mark Tulay is the Program Manager for Global Initiative for Sustainability Ratings, and is also the Founder and CEO of Sustainability Risk Advisors.

Mark has served in leadership roles in sustainability initiatives for over 20 years. As Program Director and the first employee of Ceres, he...Full Bio

Mike Wallace (Moderator)
Director, Sustainability Reporting Framework
GRI

Mike Wallace is the Director of the Global Reporting Initiative's (GRI) Focal Point USA. Officially launched in January 2011 at the New York Stock Exchange (NYSE), GRI's Focal Point USA is responsible for supporting the growth and quality of sustainability reporting in the US.Full Bio