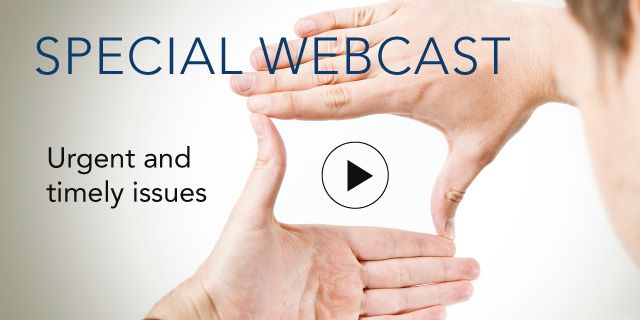 Managing Human Capital Risk: Who's Doing It? How Can We get Started?

01 June, 2011 | (01 hr)
Sign In to access this Webcast
Notice:
Due to technical difficulties the archive video recording (Watch Recording) only contains the first 50 minutes of the webcast. We recommend downloading the audio (Download Webcast Audio) for the full hour long discussion. We apologize for any inconvenience and appreciate your understanding.
People make up a huge proportion of operating costs, and many CEOs claim that employees are the company's most important asset. Yet most companies omit human capital altogether or include a limited number of people-related issues when they identify, assess, prioritize and treat company-wide risks through Enterprise Risk Management (ERM)!
New research from The Conference Board investigates the current state of human capital risk management in U.S., European and Asia-Pacific-based companies. Human capital outranks many other kinds of risk based on its potential business impact, yet less than one third of companies say they assess and manage human capital risk effectively. The study's findings point to a few critical factors that set these companies apart.
The research also finds a significant disconnect between Human Resources and Enterprise Risk Management. The two corporate functions that ought to have a common interest in human capital risk have strikingly different views about its impact and management.
Guests will explore how companies are beginning to frame the key questions:
Where should the responsibility for human capital risk management reside?
What can Human Resources and Enterprise Risk Management each contribute to a more effective approach to human capital risk?
What are the critical success factors?
How can companies get started?
Speakers
Ellen Hexter
Program Director, Chief Audit Executives Council, IT Audit Leaders Council, Mergers & Acquisitions Executives Council, Strategic Risk Management Council, and Strategic Risk Management Council (Temp)
The Conference Board

Ellen Hexter is senior advisor, enterprise risk management at The Conference Board. She has served on the faculty of The Conference Board Directors' Institute and worked with boards to provide director training in risk management practices and the role of the board in ERM oversight.

Full Bio

Marc Pajarillo
Director, HR Strategy
The Gap

Marc Pajarillo is a highly skilled organizational and change strategist who excels at "putting the business in HR." As the Director - HR Strategy at Gap Inc., Marc is charged with architecting the company's long range People Strategy, leading a small internal strategy cons...Full Bio