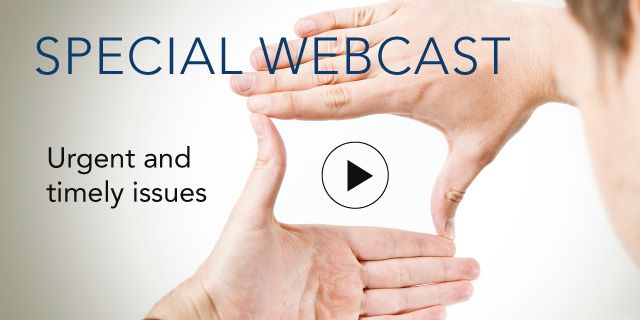 Evaluating the European Commission's Proposed Corporate Governance Reforms
Are Further Reforms Needed?
22 June, 2011 | (01 hr)
Sign In to access this Webcast
The European Commission recently released its long-awaited "Green Paper" which challenges the basic fabric of the "Comply or Explain" European model of corporate governance. By 22 July, 2010, senior executives, investors and interested parties are invited to respond to the EC as it considers sweeping recommendations affecting how boards of directors will function, how companies and investors will engage with each other and whether fundamental corporate governance codes will henceforth be converted into EU regulations meant to standardize national corporate governance monitoring.
Become fully briefed on this critical initiative which will affect every aspect of current corporate governance practices.
This webcast will cover the pros and cons of the critical issues raised in the EC Green Paper:
Can boards of directors improve their effectiveness by: clarifying the role of the Chairman versus the CEO; availing themselves of a more diverse pool of directors who devote sufficient time and attention to their service; more meaningfully conducting board evaluations; ensuring links between remuneration and company performance; and better defining the board's "risk appetite" and its risk oversight implementation?
Are there ways to improve shareholder engagement by addressing: EU rules which limit shareholders from acting in concert; potential conflicts of interest by influential proxy advisors; transparency in proxy voting by asset managers; potentially inappropriate remuneration incentives for asset managers; insufficiencies in cross-border voting practices; and methods to address short-termism in the capital markets?
Can minority shareholders be protected from potential abuse especially in companies -- most prevalent throughout Europe -- where there are controlling shareholders?
Should proposed sweeping changes in corporate governance extend not only to listed companies but also to unlisted companies and should they be differentiated by type and size of company?
Audience: Executive Directors, CEOs, Chief Legal Counsel, Corporate Secretaries, Corporate Governance Officers, Secretaries to Board of Directors, Risk Officers, Human Relations Executives, Investor Relations Executives, Institutional Investors.
Speakers
John C. Wilcox
Chairman
Morrow Sodali Global LLC

John C. Wilcox is Chairman of Morrow Sodali Global LLC, an international consultancy providing companies and boards of directors with advice and services relating to corporate governance, institutional investor relations, proxy solicitation, shareholder engagement and strategic cross-border trans...Full Bio

Bruno Heynen
Secretary to the ECN and Head Governance
Novartis International AG

Guy Jubb
Honorary Professor
University of Edinburgh

Guy Jubb's executive career has spanned accounting, merchant banking and fund management, latterly as Global Head of Governance &a...Full Bio

Dr. Carolyn Kay Brancato (Moderator)
Council Director, Corporate Governance
The Conference Board

Dr. Carolyn Kay Brancato has more than 30 years experience in various aspects of corporate governance, corporate finance and regulatory economics. Her work is globally recognized in such fields as: tracking the growth of global institutional investors; how equity market short-termism is dis...Full Bio