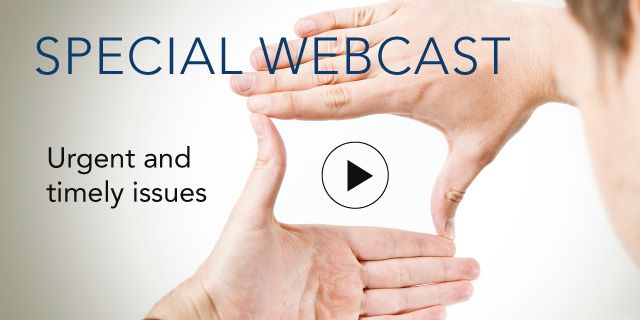 Improving Employment Outcomes for Employees with Disabilities
An Invitation to Join the Research Working Group
06 May, 2011 | (30 min)
Sign In to access this Webcast
Employers looking to have the most talented workforce have well-intentioned programs to help those with disabilities meet their full employment potential, yet the workforce participation rate remains well below the non-disabled population. What are the strategies that organizations can use to improve this statistic and have an engaged workforce to meet market challenges?

The Conference Board is organizing a Research Working Group (RWG) made up of companies seeking to explore this important question together. The RWG will to uncover the data to determine the characteristics and practices of employers and behaviors of supervisors that contribute to positive employment outcomes.

Specifically this group will work with skilled researchers and each other to determine:
What kind of organizational structure/managerial strategy is most effective at implementing disability policy?
Can organizations help people with disabilities feel more engaged and fully utilized at work?
How can employers be better equipped to recruit and retain people with disabilities, including returning veterans?
What does success for the disabled employee look like and how should this be measured?
Please join this webcast to learn how a Conference Board Research Working group is structured, what kinds of companies join and what are the benefits for your organization and for you as a leader in this area. You will get a good idea of the time and resource commitments involved and have a chance to ask questions of the RWG team. A further description of the Research Working Group program can be found at: http://www.conference-board.org/workinggroups/index.cfm?id=2237


Who Should Join This Webcast:
Human Resource and line managers concerned about finding the best talent for their organizations – including individuals with disabilities. HR managers with responsibility for integrating the disabled into the workforce.
Speakers
Mary Wright
Director, Workforce Readiness
The Conference Board

Mary Wright is director of The Conference Board Workforce Readiness Initiative and program director for the Business and Education Council. Her work focuses on how business engages in preparing the twenty-first-century workforce, including how to improve employment prospects for people with disab...Full Bio