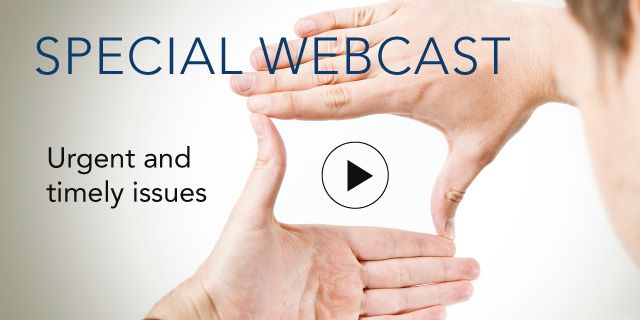 Growing Talent for Succession: What Every Mid-Market Firm (and Larger Firms, Too) Should Know!

18 November, 2010 | ()
Sign In to access this Webcast
In turbulent times, strong and consistent leadership is more critical than ever…and developing your internal leadership talent pool is one of the most important strategies to drive the success of your business.
In this webcast, researchers and practitioners Barbara Galli and Eliska Meyers will discuss some of the highlights of The Conference Board's recent report "Growing Talent for Succession," with a special emphasis on the relevance of their findings for mid-market firms.
We will also benefit by hearing an anecdotal case study from Murray Ray, EVP and Chief People Officer & Laura Shirley, Manager of Organization Development of QAD Inc. They bring their experience in goal & competency- based development in a global, engineering based product company where development is in their DNA. Some questions to be addressed in the webcast include:
Does your growing talent culture support the business strategy?
Is your talent management centralized or decentralized? Can you be both?
Transparency: To tell or not to tell?
Like all Conference Board webcasts, this will be an interactive event, with time to field questions from the listening audience.
Audience: Mid- and Senior-level managers responsible for Talent Management and Succession Planning strategies in Mid-Market and larger companies.
Speakers
Barbara Galli
Talent Consultant
Galli Associates

Barbara Galli has consulted with organizations since 1980 on topics of talent and team development, hiring right-fit candidates and improving team and individual performance. Her clients range from agribusiness...Full Bio

Eliska Meyers
Organization Development Consultant
Independent
Program Director, Mid-Market Human Resource Executive Council and Diversity & Inclusion Leadership Council
The Conference Board

Eliska Meyers is a business consultant & facilitator whose focus is raising capability in complex organization systems. She has more than 25...Full Bio

Murray Ray
EVP and Chief People Officer
QAD Inc.

Murray Ray responsible for the full spectrum of human resources functions at QAD, from training, executive development and recruiting, to succession planning, human capital strategy, culture change and regulatory issues. He also acts as an executive sponsor for certain QAD acquisitions and large ...Full Bio

Laura Shirley
Manager, Organization Development
QAD Inc.

Among Laura Shirley's responsibilities in talent management at QAD are leadership development, employee and career development, competency management, and employee engagement. Prior to QAD Shirley managed the entrepreneurial assistance programs for an economic development agency in Sa...Full Bio

Martin Cohen (Moderator)
Director, Mid-Market Programs and Services, U.S. Development
The Conference Board

Martin Cohen is director of mid-market programs and services at The Conference Board. In that capacity, he designs programs and campaigns to attract new members and engage existing members more fully with The Conference Board. A long-time human resources practitioner, Cohen represented U.S. Devel...Full Bio