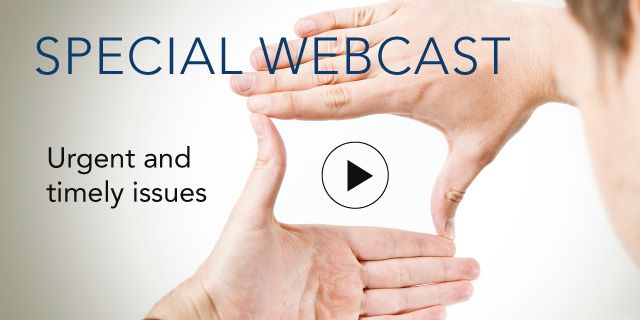 American Workers Delaying Retirement: How Many, Who, Where and Why? Why Should Business be Concerned

04 November, 2010 | (30 min)
Sign In to access this Webcast
The erosion of personal savings due to the financial crisis has accelerated the ongoing trend toward later retirement age in the US. However, the degree to which workers were affected by the crisis varies significantly by age, income, location, industry, occupation and other individual characteristics. As a result, the intent to delay retirement is much more prevalent in some groups than in others.
The trend toward delayed retirement and a more mature workforce has major implications for businesses and the US economy. It is significantly reducing retirement rates, and changing how businesses should forecast them. It is a relief for companies that are concerned about retirement brain drain, but a concern for companies that would like to reduce headcount/labor costs or hire younger workers. It could clog promotions pipelines and lower employee engagement across different age groups. Moreover, it could increase average spending on employee healthcare.
Participants of the webcast will gain access to data and analysis that have not been previously released. The especially large number of respondents in the survey allows us to provide unique information about the trends in delaying retirement by geographies, industries, occupations and other individual characteristics that are not available from any other source.
This webcast will discuss:
Existing knowledge on trends in retirement age over time and the impact of the financial crisis on retirement.
Results of a proprietary Conference Board survey that indicates how many American workers are delaying retirement, who is delaying and why.
The potential business and macro implications of the trends.
Audience: This 30-minute webcast is designed for executives responsible for developing and/or implementing the company's human capital strategies and HR policies. Those whose decisions are affected by trends in retirement rates and who work in companies with a workforce that spans several regions, industries and occupations will especially benefit from this webcast.
Speakers
Gad Levanon, PhD
Vice President, Labor Markets
The Conference Board

Gad Levanon is Vice President, Labor Markets for The Conference Board, where he oversees the labor market, US forecasting, and Help Wanted OnLine© programs. His research focuses on trends in US and global labor markets, the US economy, and forecasting using economic ind...Full Bio