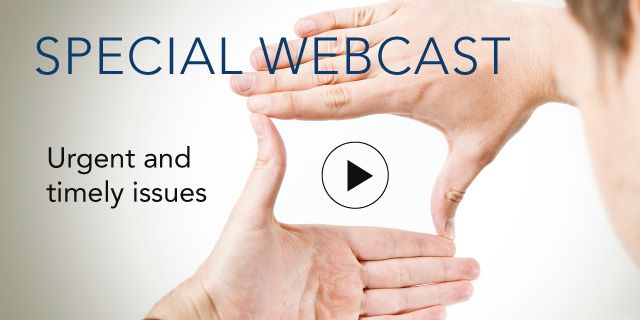 Risk Oversight Best Practices: What Directors Want and Need to Know

02 December, 2010 | (01 hr)
Sign In to access this Webcast
Risk has become a hot button for boards of directors. Boards are increasing their demands to understand what risks the company faces and whether those risks are being effectively managed. Enterprise risk management (ERM) discussions at the board and audit committee go beyond knowing that there is a process today and instead focus on key strategic, operating and reputation risks. The Conference Board's soon to be published Risk Oversight Handbook will focus on a number of these issues.
This webcast will discuss how boards provide effective oversight through:
Pushing for a deep understanding of key risks
Taking ownership to improve risk management in the organization
Assuring that risk plans are up to date and ready to be acted on
Audience: Heads of Enterprise Risk Management, Corporate Secretaries, General Counsels, Independent Corporate Directors. Participants should have a working knowledge of board interaction with and oversight of risk processes to obtain the most value.
Speakers
Ellen Hexter
Program Director, Chief Audit Executives Council, IT Audit Leaders Council, Mergers & Acquisitions Executives Council, Strategic Risk Management Council, and Strategic Risk Management Council (Temp)
The Conference Board

Ellen Hexter is senior advisor, enterprise risk management at The Conference Board. She has served on the faculty of The Conference Board Directors' Institute and worked with boards to provide director training in risk management practices and the role of the board in ERM oversight.

Full Bio

Curtis H. "Hank" Barnette
Of Counsel
Skadden, Arps , Slate, Meagher and Flom, LLP

Curtis H. "Hank" Barnette's law practice focuses on the areas of corporate law, corporate governance, arbitration, international trade and public policy. Mr. Barnette is chairman emeritus of Bethlehem Steel Corporation. He first joined Bethlehem Steel as an attorney in 1967, and...Full Bio

André Brodeur
Principal
McKinsey & Company

André joined McKinsey in 2000 and is located in the Montreal office. He has worked in the electric power, basic materials, and asset management sectors. His work in these sectors spans strategy, organization, and operations, with an emphasis on risk management. André leads McK...Full Bio

Charles N. Bralver
Director
NewStar Financial, Inc.

Charles N. Bralver joined the Board of NewStar Financial on February 5, 2009. Since May 2007, Mr. Bralver has been the Senior Associate Dean for International Business and Finance at the Fletcher School at Tufts University. Mr. Bralver was a founding partner of Oliver Wyman & Company where fr...Full Bio