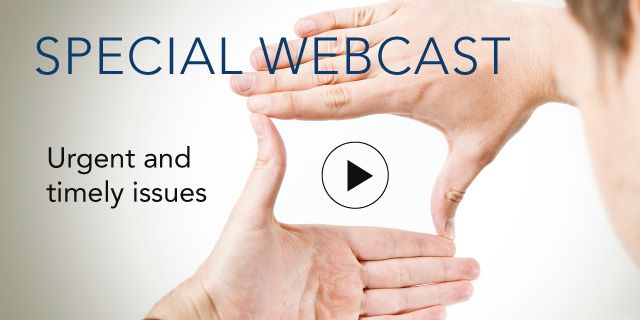 Corporate Political Activity in the Post Citizen's United Era

14 October, 2010 | (01 hr)
Sign In to access this Webcast
Political spending can pose significant reputational and compliance risks to companies but not everyone agrees on the nature and magnitude of the risk or what the best approaches to mitigating potential risk might be. The court's decision in the Citizens' United case and the current public dialogue surrounding corporate political contributions have resulted in more questions than answers. Key findings from The Conference Board's new handbook on corporate political activity can help companies navigate recent and impending legislation, avoid pitfalls, and explore emerging best practices. How are companies addressing these issues in practice?
The webcast will address
The current state of potential legislation surrounding corporate political spending.
Current best practices for how directors and senior executives can manage risk, disclosure and oversight related to political spending.
The approach that one company, Merck, has taken with its political giving policy.
Speakers
Bruce F. Freed
President and Founder
Center for Political Accountability

Bruce F. Freed is President and a founder of the Center for Political Accountability. In addition to heading the Center, he is a member of the advisory board of the Zicklin Center for Business Ethics Research at the University of Pennsylvania's Wharton School and Transparency International–...Full Bio

Charles R. Grezlak, Ph.D.
Vice President, State Government Affairs & Policy
Merck & Co., Inc.

Dr. Grezlak has management responsibility for state government affairs and for assisting Merck's Washington Office on Federal health care policy. He is a member of Merck's Corporate Responsibility Council and a leader of its activities in the area of public policy advocacy. Prior to j...Full Bio

Stefan C. Passantino
Partner
McKenna Long & Aldridge LLC

As head of McKenna Long & Aldridge's Political Law Team, Stefan C. Passantino has a nationwide practice focusing on representing corporations, interest groups, political figures, and other entities with respect to state and federal election law, campaign finance, pay-to-play and lobbyin...Full Bio

Paul DeNicola (Moderator)
Principal
PwC's Governance Insights Center

Paul DeNicola is a principal in PwC's Governance Insights Center, which strives to strengthen the connection between directors, executive teams and investors by helping them navigate the evolving governance landscape.

With more than 15 years of corporate governance experience, Paul ...Full Bio