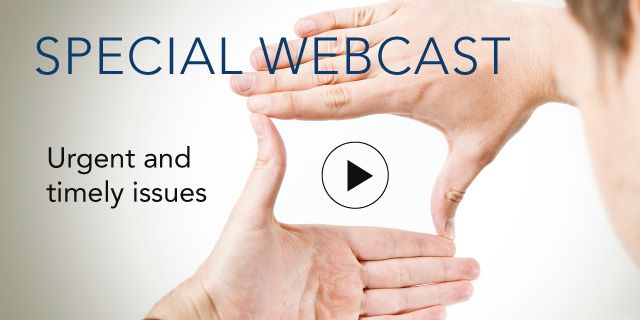 Integrating Returning Veterans into the Civilian Workforce: The Challenges and Opportunities

20 October, 2010 | (01 hr)
Sign In to access this Webcast
Our nation's Veterans are returning to the civilian workforce in record numbers. From the employer perspective, this is encouraging because these men and women tend to possess an overall set of much desired skills (such as an accelerated learning curve, commitment and dedication, a respect for and understanding of procedures, etc.). Companies are seeking guidance and best practices that will help ensure that these talented workers are successfully integrated into the civilian workforce. There are also unspoken questions that linger among employers related to injured and disabled Veterans and those suffering from the invisible injuries of war, such as PTSD.
This webcast is part of a Conference Board initiative to highlight best practices and resources for companies. TCB is developing a webpage highlighting employer resources for improving employment outcomes for employees with disabilities with a specific section on Veterans. Additional research is planned to identify, develop and share best practices which may result in an employer's guide for sourcing, hiring and retaining these employees.
This webcast will discuss:
The population of returning Veterans and the value and the scope of talent within this group
Effective strategies for creating a welcoming and productive environment for Veterans entering (or re-entering) the civilian workforce and how to use best management practices to recruit, employ and retain them in the workforce
How to better understand the invisible injuries of war and distinguish between the definitions of TBI and PTSD
Ways to dispel some of the frequent myths regarding TBI and PTSD in the workplace, and walk away with insightful information regarding "triggers" typically associated with PTSD
Valuable resources to answer questions and serve as a guide for employing Veterans.
Speakers
Michael Reardon
Supervisory Policy Advisor, The Office of Disability Employment Policy (ODEP)
U.S. Department of Labor

Michael Reardon directs ODEP's Employment Supports Policy Team, which addresses a wide range of issues effecting the employment of people with disabilities, including transportation, housing, assistive technology, personal assistance, and health care. He previously served as the Disab...Full Bio

Jeffery L. Smith
Associate Director, Global Diversity & Inclusion
Procter & Gamble

Jeff Smith is responsible for leading the Global and North America Diversity operations. This includes strategic planning & direction along with oversight for all of the Global and North America Diversity initiatives. The efforts are focused on attracting, engaging, and retaining divers...Full Bio

Mary Wright
Director, Workforce Readiness
The Conference Board

Mary Wright is director of The Conference Board Workforce Readiness Initiative and program director for the Business and Education Council. Her work focuses on how business engages in preparing the twenty-first-century workforce, including how to improve employment prospects for people with disab...Full Bio