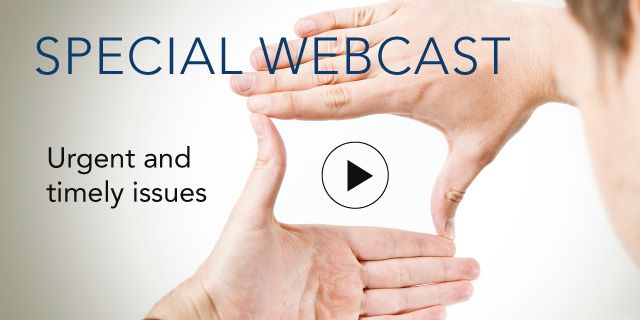 Catastrophes and Human Failure: Assessing Risk, Building Plans and Preparing to Face Extreme Events

16 September, 2010 | (01 hr)
Sign In to access this Webcast
At the midyear mark, 2010 is notable for a number of catastrophes worldwide, both manmade and natural. These include the BP oil spill in the Gulf of Mexico, the largest oil spill in Chinese history in Dalian, the wildfires in Russia, the floods in Pakistan, flash floods this spring in the United States, and flooding in Eastern Europe.
The severity of these events demonstrates that the world is changing, and that we have entered a new era of catastrophes. If you consider the twenty-five most costly insured catastrophes (in 2008 prices) in the world since 1970, 17 of them occurred since 2001, 12 of them in the United States. Prior to Hurricane Hugo in 1989, the insurance industry had never suffered any loss of over $1 billion. Losses radically rose in the 1990s and that trend has continued in the last ten years due primarily to increased property values at risk.
As each tragedy unfolds we learn of multiple failures in risk preparedness and management. There are many reasons for this human failure, starting with lack of risk awareness and a belief that "this won't happen to me." We tend to underestimate these risks and often don't learn from past experiences. People place too much weight on immediate considerations, and don't consider the long-term benefits of investing in mitigation measures for future benefits. Governments are usually called upon as the last resort. However, as we see with the BP oil spill, industry can be saddled with both with clean-up costs and disaster preparedness. And unless we take steps to prepare in advance of a disaster, all of us as taxpayers will pay dearly for the costs of assistance and relief in the aftermath of future catastrophes.
This webcast will discuss:
What underlies the increase in catastrophic losses
How we can do a better job at assessing these risks and characterizing the uncertainties surrounding these estimates
What are the political and economic ramifications of ignoring extreme events
What are biases and simplified rules of thumb that decision makers utilize to deal with extreme events
What are the challenges we face in coping with short term or myopic thinking regarding extreme events
What types of economic incentives, standards, regulations and insurance contracts should be considered to encourage long-term thinking
Audience: Corporate environmental engineers and production managers, environmental and health & safety managers, VPs of sustainability, corporate social responsibility and citizenship, legal departments, investor relations, marketing and communications, financial analysts.
Panelists:
Speakers
Howard Kunreuther
Cecilia Yen Koo Professor, Professor of Decision Sciences and Public Policy and Management
Co-Director, Risk Management and Decision Processes Center
The Wharton School of The University of Pennsylvania

Professor Kunreuther has a long-standing interest in ways that society can better manage low-probability/high-consequence events related to technological and natural hazards, and has published extensively on the topic. He is a Fellow of the American Association for the Advancement of Science (AAA...Full Bio

Franklin W. Nutter
President
Reinsurance Association of America

Franklin Nutter has held the position of President of the Reinsurance Association of America since 1991, and from 1981-1984. In the interim, he was president of the Alliance of American Insurers and Property Loss Research Bureau, which have now merged as the Property Casualty Insurance Associatio...Full Bio

Dinah A. Koehler, Sc.D. (Moderator)
Deloitte

Dinah Koehler, Sc.D. is research leader for sustainability and climate change at Deloitte Research – the research division of the Deloitte US firm. She earned her Doctor of Science degree in Environmental Science and Risk Management from Harvard's School of Public Health, did coursework at ...Full Bio