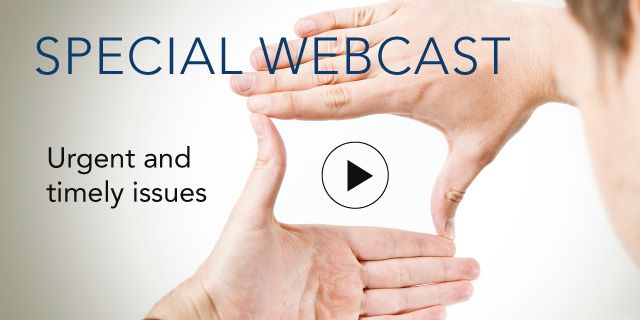 The Materiality of Environmental, Social and Governance (ESG) Performance

12 August, 2010 | (01 hr)
Sign In to access this Webcast
In our last Special Webcast on Corporate Sustainability we discussed the latest developments in The Global Reporting Initiative (GRI) and the Future of Integrated Reporting. During that discussion, Suzanne Fallender, Director of CSR Strategy and Communications at Intel, noted that the challenge faced by companies moving toward integrated reporting is "the difference in how materiality for ESG is defined versus materiality for financials...Financial materiality means something very specific."
In this webcast we will have an in-depth discussion on the meaning of materiality, how it has evolved (and continues to evolve) in financial reporting and how this can, or cannot, apply effectively to materiality determination of Environmental, Social and Governance (ESG) risk. Why is the issue of materiality central to creating an integrated report? What will it take to establish materiality of ESG in such a manner to satisfy all stakeholders, and at a minimum the financial services industry? Who has a stake in this discussion and who is currently at the table? What are leading organizations doing and how can companies get involved? How are leading companies addressing this question and what processes and useful frameworks that are being used? What are the main hurdles and how can these be overcome? How would we define success here?
This webcast will focus on:
The further explanation of integrated reporting and how it is being done by companies today.
The importance of the materiality determination to an integrated report, given the different definitions of materiality and the institutional history behind each determination of materiality.
Which (GRI) performance indicators do investors consider "material"?
What is the evidence for ESG materiality in independent scholarly research?
Speakers
Erika Karp
Managing Director, Head of Global Sector Research
UBS Investment Bank

Erika Karp serves as Chair of the Global Investment Review Committee, managing the UBS Global Sector Research effort encompassing analysts and strategists around the world. She is a member of the UBS Research Managing Board, the Americas Equity Business Committee, and was appointed to the IB Boar...Full Bio

Farha-Joyce Haboucha
Director of Socially Responsive Investments
Rockefeller & Co.

Joyce Haboucha is the Senior Portfolio Manager and Director of Sustainability & Impact Investments within the Investment Group and a Managing Director of Rockefeller Financial. She joined Rockefeller Financial in early 1997, having been a Senior Portfolio Manager at Neuberger & Berman sin...Full Bio

Helle Bank Jorgensen
Partner
PriceWaterhouse Coopers

Helle Jorgensen serves as the Sustainability Advisory Leader in the US and on PwC's Global Sustainability Leadership Council. She has recently relocated to the United States from Europe where she has worked with Sustainability for nearly 20 years, being responsible for PwC's services to enterpris...Full Bio

Susanne Stormer
Vice President, Global TBL Management
Novo Nordisk

TBL is short for Triple Bottom Line – the Novo Nordisk principle to always strive to be a financially, environmentally and socially responsible business. As Vice President, Global TBL Management, Susan Stormer sets the strategic direction for the company's positioning as a susta...Full Bio

Dinah A. Koehler, Sc.D. (Moderator)
Deloitte

Dinah Koehler, Sc.D. is research leader for sustainability and climate change at Deloitte Research – the research division of the Deloitte US firm. She earned her Doctor of Science degree in Environmental Science and Risk Management from Harvard's School of Public Health, did coursework at ...Full Bio