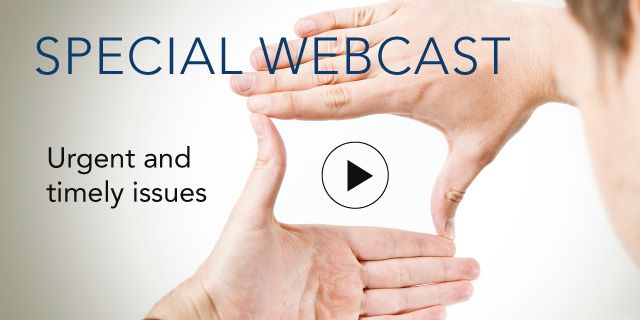 Diversity & Inclusion and the Counsel's Office
Building a Strategic Partnership – The Risks and Benefits
15 June, 2010 | (01 hr)
Sign In to access this Webcast
Risk, including human capital risk, is a hot topic in business today. Risk management is on all board agendas and Enterprise Risk Management (ERM) is a growing field. The challenge is striking the right balance between risk management and risk aversion. Diversity & Inclusion programs often fall right in the center of this debate. "We need to quantify our progress!" vs. "We do not want to set quotas." Or "We should be transparent and share data." vs. "The data will be used against us and open us to law suits." These are common exchanges between D&I and legal team. While risk tolerance varies from organization to organization and individual to individual, there are ways to work through these and other concerns.
This webcast will address how one organization, PricewaterhouseCoopers, has worked through these issues and how their legal and D&I teams have partnered to address common concerns and achieve common goals.
This webcast program will assist both partners:
Improve the collaboration between D&I and Legal.
Develop a common understanding of the legal and regulatory environment within which companies operate.
Identify the common ground that exists and develop creative ways to identify and mitigate potential risks.
Audience: This program is designed for executives in Human Resources, D&I, Talent Management and Legal who are involved in the development and implementation of the organization's diversity and inclusion strategies and programs.
Speakers
Jennifer W. Allyn
Managing Director, Office of Diversity
PricewaterhouseCoopers LLP

As an executive and thought leader promoting diversity initiatives, Jennifer Allyn is responsible for designing programs to retain, develop, and advance diverse professionals.

Ms. Allyn has been recognized as a subject matter expert on gender, GLBT and work/life challenges. She is a fre...Full Bio

Wendy Kornreich
Employment Law Leader, Office of the General Counsel
PricewaterhouseCoopers LLP

Wendy Kornreichhas over 20 years experience advising and training human capital professionals, diversity and inclusion practitioners and other executives on issues that impact the full employment lifecycle. At PwC, these efforts have resulted in a transformational change in the way the firm...Full Bio

Toni Riccardi
Senior Fellow
The Conference Board

Toni Riccardi is an independent consultant and Senior Fellow at The Conference Board. She leads the Board's D&I New Leaders' Academy, a program she created to train new Chief Diversity Officers. The Conference Board is a global business membership and research organization. They p...Full Bio