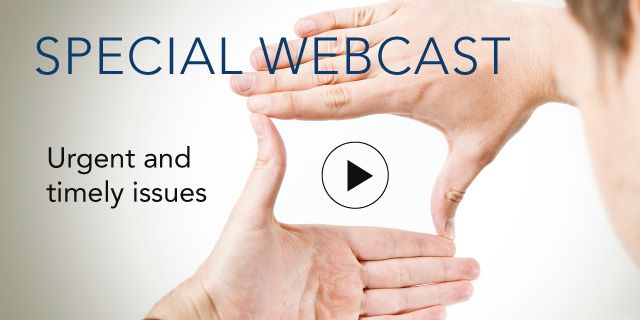 Investing in Post-Secondary Education: A Strategic Decision for US Companies

15 June, 2010 | (01 hr)
Sign In to access this Webcast
Post-Secondary Education – Good policy? Good business? President Obama has encouraged everyone in America to invest in themselves by having at least one year of post-secondary education. This advisory message coming at a time of economic downturn has put even more pressure on the nation's community colleges to provide options for Americans looking for additional education and training. How does the business community support post-secondary completion?
To begin to answer this question, we will report on some of the results of a series of interviews TCB recently completed with CEOs on why they support education and post-secondary completion in particular. We will also hear from a leader in the Community College community on how they are forging more strategic partnerships with the business community to provide a more prepared workforce.
Audience: This webcast is aimed at
Talent managers and recruiters concerned about their talent pool and the skill level of new entrants as key workers reach retirement age.
Training and Development officers responsible for increasing the skill level and productivity of their workers
Head of Human Resources in charge of maintaining the balance between bottom line costs and benefits of their employees.
Speakers
Hilary Pennington
Director of Education, Postsecondary Success & Special Initiatives
Gates Foundation

Hilary Pennington leads the Gates Foundation's postsecondary education initiative as well as efforts around one-time opportunities to respond to unique challenges and unanticipated events in the United States. Before joining the foundation, Pennington served as a Senior Fellow at the progre...Full Bio

Jonathan Spector
Senior Advisor, Former President and CEO
The Conference Board

Jonathan Spector is the former president and CEO of The Conference Board, Inc., and is currently a senior advisor to the organization.

Spector joined The Conference Board after serving as Vice Dean of The Wharton School at the University of Pennsylvania. He was responsible during his tenu...Full Bio

Van Ton-Quinlivan
Director, Workforce Development
PG&E

Van Ton-Quinlivan is a recognized thought leader in the energy and utility industry on the issue of workforce development. In her current capacity as Director of Workforce Development at PG&E, Ton-Quinlivan designed and built PG&E PowerPathway™, a nationally recognized best practice...Full Bio

Mary Wright
Director, Workforce Readiness
The Conference Board

Mary Wright is director of The Conference Board Workforce Readiness Initiative and program director for the Business and Education Council. Her work focuses on how business engages in preparing the twenty-first-century workforce, including how to improve employment prospects for people with disab...Full Bio