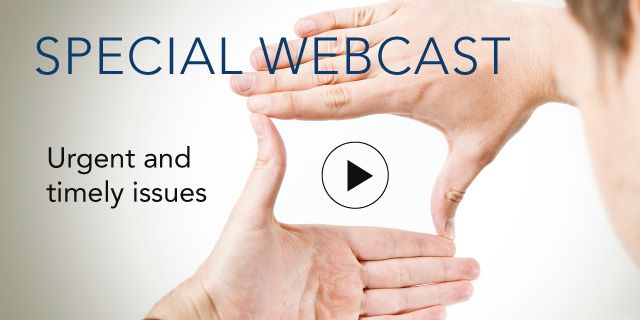 Emerging Climate Change Directives from Copenhagen: What does it Mean for Global Business?

14 January, 2010 | (01 hr)
Sign In to access this Webcast
Over 98 heads of state and government have accepted Danish Prime Minister Lars Løkke Rasmussen's invitation to attend the UN climate conference. A growing number of major greenhouse gas-emitting countries, including China, India, the U.S., and the EU have put forth emissions reduction targets. U.S. President Barack Obama may be able to successfully engage China and India and convince them to sign the next treaty, and leading global business leaders and investors have expressed their support for a global deal. Some might argue that we are seeing a sea change from the Kyoto Protocol negotiations. In this webcast, we will hear first-hand impressions of the Copenhagen meeting and how the meeting results will impact global business in the near term.
This webcast will discuss:
Key areas of consensus and disagreement at Copenhagen and expectations for the meeting in Mexico City
How effective business leaders were in framing the discussion and how the Copenhagen result will affect U.S. climate change policy
How the UN discussions directly affect business strategy and competitiveness in the near term
How a federalist approach to global climate change with multiple side agreements influences business strategy
Speakers
Ambassador Stuart E. Eizenstat
Partner
Covington & Burling, LLP
former U.S. Ambassador to the European Union

Ambassador Eizenstat heads the firm's international practice. His work at Covington focuses on resolving international trade problems and business disputes with the US and foreign governments, and international business transactions and regulations on behalf of US companies and others aroun...Full Bio

Mark Fulton
Managing Director, Global Head of Climate Change Investment Research DB Climate Change Advisors
Deutsche Asset Management

Global head of climate change investment research: New York
Joined the Company in 2006 after 29 years of investment experience in senior roles in research and management at Citigroup in the US, Salomon Smith Barney and NatWest in Sydney, Potter Partners in Melbourne and James Cap...Full Bio

James E. Rogers
CEO
Duke Energy Corporation

Jim Rogers is chairman of the board, president and chief executive officer of Duke Energy.

Rogers has more than 21 years of experience as a chief executive officer in the electric utility industry. He was named president and chief executive officer of Duke Energy following the merger of D...Full Bio

Dinah A. Koehler, Sc.D. (Moderator)
Deloitte

Dinah Koehler, Sc.D. is research leader for sustainability and climate change at Deloitte Research – the research division of the Deloitte US firm. She earned her Doctor of Science degree in Environmental Science and Risk Management from Harvard's School of Public Health, did coursework at ...Full Bio