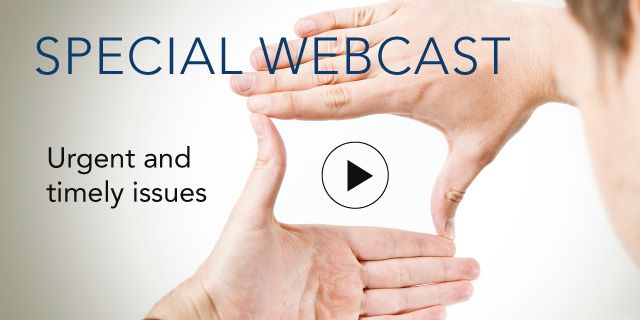 Positioning for Growth in Better Economic Times
Human Capital Considerations Before, During and After Restructuring
30 June, 2009 | (01 hr)
Sign In to access this Webcast
Are you worried about the negative impact of restructuring and reductions in force on your top talent and capacity to support future growth?
In this unprecedented economic cycle, many companies have been forced or are now being forced to take drastic measures; including significant restructuring and reductions in force. This webcast will help Human Resource Executives better understand the human capital drivers of successful restructuring and key considerations throughout the phases of restructuring.
This webcast will discuss:
Restructuring to increase capacity and enable future growth.

Aligning human capital and talent with the business strategy.

Understanding the optimal point of cost savings that will not reduce engagement or productivity of retained employees.

The role of consistent and straightforward communications in preserving key talent and engaging the retained workforce.

Tips for restructuring in a tight time frame.
Speakers
Bryan Allen
Vice President / Chief Human Resources Officer
Hanover Insurance Group

David B. Sult
Senior Vice President, Corporate Transactions
Aon Consulting

Connie Trogdon
VP, Enterprise Compensation and Benefits
West Corporation

Christine Hess (Moderator)
Program Director
The Conference Board

Christine is a marketing and business strategy researcher and conference producer. She is currently the program director for a number of Conference Board conferences and councils. While on staff at The conference Board, Christine was a director of international programs, responsible for the Asia ...Full Bio