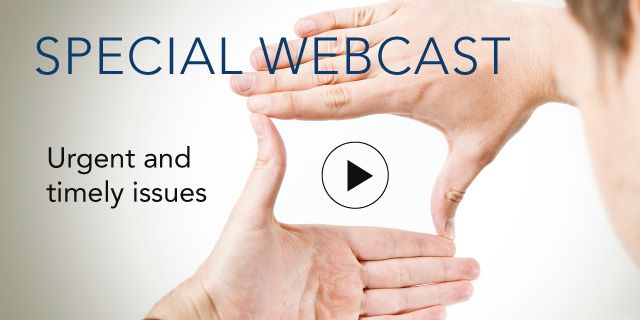 Beyond H1N1: Getting to Preparedness Excellence

02 June, 2009 | (01 hr)
Sign In to access this Webcast
The H1N1 influenza virus outbreak is yet another wake-up call to businesses. Companies must be prepared to deal with unexpected calamities of various sorts, whether bioterrorist attacks, Mumbai-like assaults or deadly infectious diseases. With the urgency of the Level 5 pandemic alert appearing to recede, now is the time for companies to take stock and look ahead. For example, no matter the origin of a potential calamity, how well does your company crisis plan reflect the realities of the public health system within which it would have to function? What are the gaps in corporate crisis and pandemic preparedness planning that only effective collaboration with government can fill? What are the best ways to ensure progress is achieved at this vital intersection while there is still time to improve plans?
This webcast will discuss:
Looking ahead, what have we learned from the H1N1 outbreak that corporate planners need to pay particular attention to?

What lessons are applicable not only to a pandemic situation but also to other types of calamities as well?

What does the experience of public health officials in the nation's largest city have to say about private-public planning problems and solutions?

Who should companies be in contact in government to ensure that their crisis plans will be workable when the rubber meets the road?
Speakers
Isaac B. Weisfuse, MD, MPH
Deputy Commissioner, Division of Disease Control
New York City Department of Health and Mental Hygiene

Isaac Weisfuse received his MD degree in 1982 from the State University of New York at Downstate. Following training in Internal Medicine, he trained in epidemiology and public health (1985-1987) through the Epidemic Intelligence Service (EIS) of the Centers for Disease Control, as a member of th...Full Bio

David J. Vidal (Moderator)
Senior Fellow, Initiative on Sustainability

David J. Vidal is senior fellow, The Conference Board Initiative on Sustainability. Since joining The Conference Board in 1997, he has initiated and been responsible for research and program development in corporate citizenship and sustainability, corporate responsibilit...Full Bio