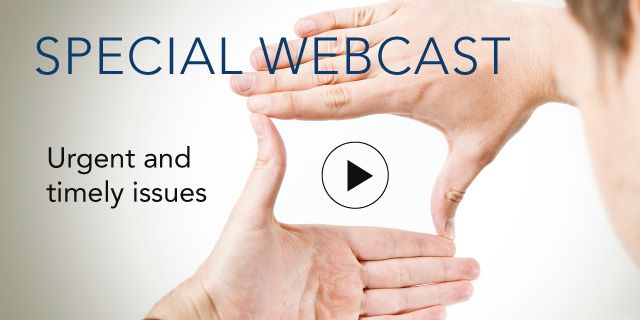 Organization Design: Designing for Effectiveness and Efficiency

22 April, 2009 | (01 hr)
Sign In to access this Webcast
Now more than ever, leaders are looking to configure their organizations to both win strategically and lower costs simultaneously. This might seem like an untenable balance to achieve, but more and more organizations are learning to build and enhance strategic capabilities at the same time they are cutting costs. The key is to understand the concepts and tools of strategic organization design. With these tools, organizations have shown how they can achieve growth during good economic times that surpasses the general market and can exceed performance expectations during economic downturns.
This webcast will discuss:
The importance of having strategic clarity and agreement around the organization's trade-offs.

How organization can identify and build differentiating capabilities that will deliver the strategy.

How leaders can stratify work to focus limited resources on differentiating capabilities while cutting costs in other "non-strategic" areas.

A real world example of how one organization has worked to achieve both an effective and efficient organization design.
Speakers
Reed Deshler
Principal
AlignOrg Solutions

Reed Deshler is a renowned leader in strategic organization design. As an organization catalyst, he works with executive teams and human resource teams to define winning strategies, align organization and business models for success and mobilize employees and stakeholders in the desired direction...Full Bio

Joseph R. Nothwang
Executive Vice President and President Vehicle Rental and Leasing
The Hertz Corporation

Joseph R. Nothwang is Executive Vice President of The Hertz Corporation and President, Vehicle Rental & Leasing for the Americas and Pacific. He is based at Hertz' Worldwide Headquarters in Park Ridge, NJ.


Mr. Nothwang is responsible for all vehicle rental and leasing oper...Full Bio

Kreig Smith
Principal
AlignOrg Solutions

Kreig Smith Kreig Smith is the founder of AlignOrg Solutions. Kreig has consulted with organizations from the Fortune Five to small businesses, for profit and not for profit, and domestic and international organizations for over twenty-five years. He started his career as an Organization Developm...Full Bio

Sue Negrey (Moderator)
Prgram Director
The Conference Board, Inc.