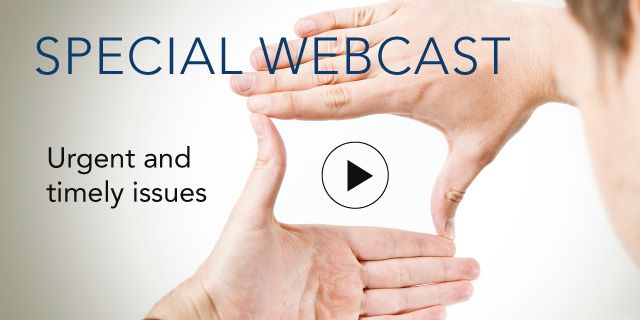 Managing Employee Engagement through a Generational Lens: What Has Changed?

03 March, 2009 | (01 hr)
Sign In to access this Webcast
In the current economy, talent management priorities have shifted quickly from recruitment and retention to downsizing and morale. To maintain productivity and focus, leaders' ability to inspire employee engagement is more important now than ever. This webcast will use the lens of generational differences, and the common ground that brings the generations together, to help leaders create engaging, positive work environments that foster innovation in this economic downturn. Two experts on multi-generational issues will explore what it takes to keep employees contributing at high levels through a real-world look at the new realities of a tough talent environment.
This webcast will discuss:
Managing boomers, who are seeing their retirement options sink with their 401(k) balances, and who may "retire on the job".

Inspiring Generation Xers, who must defer their own promotional aspirations while boomers still hold leadership positions, and are becoming disgruntled as they ride out this economy.

Mentoring Generation Yers, who are clamoring to move up the corporate ladder but are stymied as they hit an advancement ceiling.
Speakers
Cara Sjodin
Vice President; Sales Strategies, Marketing Training and Communications
Ameriprise Financial

Cara Sjodin currently holds the position of Vice President -- Sales Strategies, Marketing Training and Communications at Ameriprise Financial in Minneapolis. She has 19 years marketing experience in service related industries. Cara completed her undergraduate studies at the University of Minnesot...Full Bio

Debby Magnuson
Senior Consultant
Personnel Decisions International
Co-author of Work With Me: A New Lens on the Multigenerational Workforce

Jean McNulty (Moderator)
Program Director
The Conference Board

Jean served as a Conference Portfolio Manager and Council Program Director for The Conference Board from 1992 until 2000. During this time she supervised a number of Program Directors in the development and production of conferences as well as serving as the Program Director for two Marketi...Full Bio