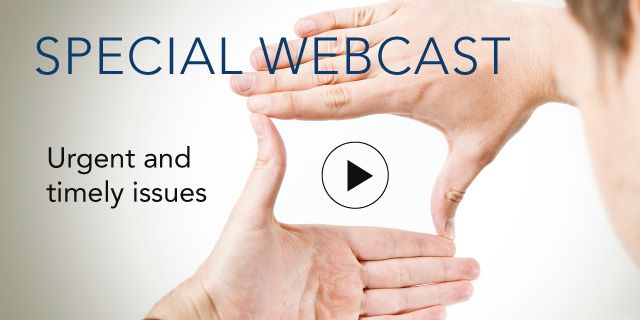 Maximizing Human Capital: Employees with Disabilities: Building Your Leadership Pipeline

07 April, 2009 | (01 hr)
Sign In to access this Webcast
In a time of economic pressure and revolutionary change, businesses need to maximize human capital in ways that are good for business. To support the sustainability of the business over the long-term, businesses need to plan for the future by forecasting their workforce needs. Businesses also need to create systems that effectively leverage internal talent by creating a leadership pipeline. Including employees with disabilities as part of workforce planning strategies and within the leadership pipeline, however, requires additional insight into the tools and resources that are available to businesses, to business leaders, and to employees.
This webcast will discuss:
Research on strategic workforce planning that outlines ways that businesses can plan for future workforce needs, especially in the leadership ranks.

The challenges associated with building a talent pipeline that includes employees with disabilities.

How businesses can develop and implement strategies for advancing the careers of employees with disabilities.

The tools that employees with disabilities may need to become a more significant part of the leadership pipeline.
Speakers
Ann Andreosatos
Associate Director, North America Diversity Practice
Procter and Gamble

Ann Andreosatos has been Director, Workforce Diversity & Inclusion for Gillette, a global business unit of Procter & Gamble, since 2004. Ann's focus at Gillette has been to accelerate progress on diversity and inclusion through a five-part business strategy designed to translate inclusive...Full Bio

Dr. Peter Blanck
Chairman
The Burton Blatt Institute - Syracuse University

Dr. Blanck is University Professor and Chairman of the Burton Blatt Institute (BBI) at Syracuse University. Blanck received a a Ph.D. from Harvard University and a Juris Doctorate from Stanford University. He holds appointments at the Syracuse University Colleges of Law, Human Ecology, and Arts a...Full Bio

William N. Myhill, M.Ed., J.D.
Senior Research Associate
The Burton Blatt Institute - Syracuse University

Mr. Myhill is a Senior Research Associate at BBI and Adjunct Professor of Law at Syracuse University. He has over 20 years of professional experience in law and education, collaborating with and providing services for diverse individuals with disabilities and cultural/linguistic differences, thro...Full Bio

Allen Thomas
National Managing Partner, Partner Services and Chief Diversity Officer
Deloitte

Chief Diversity Officer and Managing Partner of Deloitte & Touche USA LLP, believes that diversity is necessary to attract and retain the best talent in today's marketplace. Under his leadership, Deloitte & Touche continues its excellent reputation with respect to inclusion. Deloitt...Full Bio

Mary B. Young, D.B.A.
Principal Researcher, Human Capital
The Conference Board

Dr. Mary Young leads The Conference Board's program of research on digital transformation's human capital impacts, big data and human capital analytics, and strategic workforce planning.

Mary is the author of more than 25 research publications from The Conference Boardin...Full Bio

Stephanie Creary (Moderator)
Former Research Associate, Management Excellence
The Conference Board

Stephanie J. Creary served as a Research Associate in Human Capital at The Conference Board. Her research interests include talent management, multi-generational workforce, diversity/inclusion, and crisis management. Her current research also explores "survivor syndrome" as it refers to the marke...Full Bio