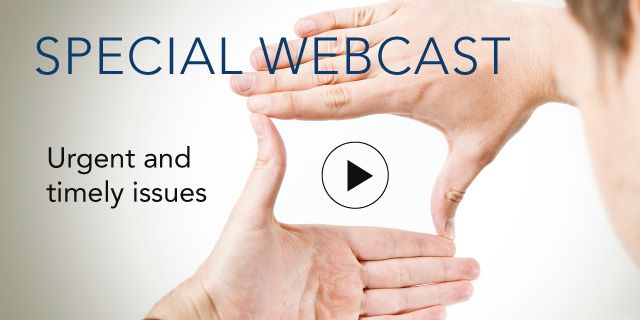 One World, Two Systems (Asia Webcast)

27 August, 2020 | (01 hr)
Sign In to access this Webcast
How will US-China trade tensions and "decoupling" pressures play out over the medium-term? What are the implications for MNC business and foreign investors in China?
Within an analytical framework of "system frictions", the webcast will examine the structural features shaping the US-China relationship, and Sino-Foreign relations more broadly including Asia. On one hand, there are certain intrinsic incompatibilities between China's authoritarian, state capitalist economic system and the Western democratic, free market capitalist system that are causing increasing trade and geopolitical tensions. These tensions can no longer be denied or ignored and will evolve toward increasing market separation and deglobalization if unresolved. On the other, there are significant dependencies and important synergies between China and the global community and vise-versa, not least as evidenced by the urgent need for strong global coordination in response to the escalating public health and economic threat and damage of COVID-19 across the world. Looking beyond current COVID recriminations and the US election gyrations, how will the macro forces for separation versus integration evolve over the next 2 to 3 years, and what does this mean for MNCs and foreign investors active in China.
After attending this webcast, you will be able to answer the following questions :
What are the root causes of current US-China trade and geopolitical friction?
How should business planners frame and think about China market bifurcation and decoupling futures?
What guideposts should planners be monitoring to sense future changes, positive or negative?
What adaptations must MNCs prepare for to succeed in a less governed, most separated Sino-Foreign business environment?
Who Should Attend: Global business executives across all functions
Speakers
Steve Stine
Program Director, Asia Corporate Leadership Council of Singapore
The Conference Board

Steve Stine is the CEO of Inside Asia Advisors which is a C-Suite advisory and leadership development firm. He is the Founder and Host of the Inside Asia Podcast – Asia's largest business-focused podcast on Asia, in Asia. He is a recognized commentator on Asia with exp...Full Bio

David Hoffman (Moderator)
Senior Vice President Asia and Managing Director of the China Center for Economics & Business
The Conference Board

David Hoffman is responsible for development, thought leadership, and programming for The Conference Board of Asia, and for China-related business and policy-community engagement worldwide. His areas of expertise include:

MNC success factors, operating challenges, and best practice...Full Bio