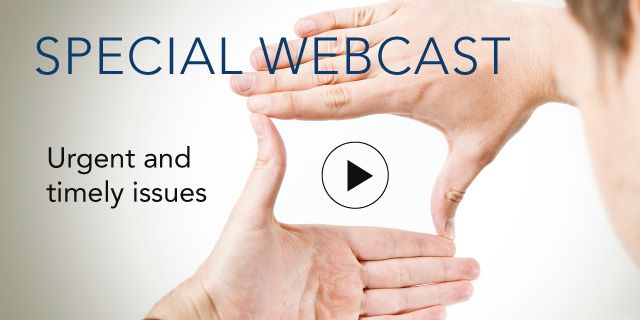 Global Labor Market Outlook 2019
Will the tightening continue?
06 March, 2019 | (01 hr)
Sign In to access this Webcast
Labor markets in the large majority of mature economies tightened in 2018. As a result, job openings are more difficult to fill and, in some regions, labor costs are accelerating.And at the macro level, tight labor markets create inflation pressures, to which central banks respond by raising interest rates and slowing down the economy further.
Follow this program to hear findings from our recent labor market research which has been cited in such major media outlets as CNBC Power Lunch, Wall Street Journal, Bloomberg, Forbes, USA Today and Yahoo! Finance.
Join our panel of expert economists as they examine:
Labor availability and recruiting difficulties across countries, now and in the near future
The emergence of labor shortages among blue-collar and low-pay service positions in the US and its business implications
How businesses can expand their labor force and reduce the demand for workers using technology
The impact of labor shortages on emerging market countries that are unable to keep pace with advanced economies in the areas of education and technological development
Who Should Attend: Executives with strategic responsibilities, especially in HR, strategy, and finance.
Speakers
Elizabeth Crofoot
Senior Economist, Labor Markets
The Conference Board

Elizabeth Crofoot is a Senior Economist at The Conference Board, where she researches labor market trends, authors the quarterly Global Consumer ...Full Bio

Frank Steemers
Economist
The Conference Board

Frank Steemers is an Economist at The Conference Board and his expertise is primarily in the analysis of the labor market in the US and other mature economies. Based in New York, he conducts statistical and descriptive analyses and contributes to labor market whitepapers, blogs, webcasts, and med...Full Bio

Gad Levanon, PhD (Moderator)
Vice President, Labor Markets
The Conference Board

Gad Levanon is Vice President, Labor Markets for The Conference Board, where he oversees the labor market, US forecasting, and Help Wanted OnLine© programs. His research focuses on trends in US and global labor markets, the US economy, and forecasting using economic ind...Full Bio