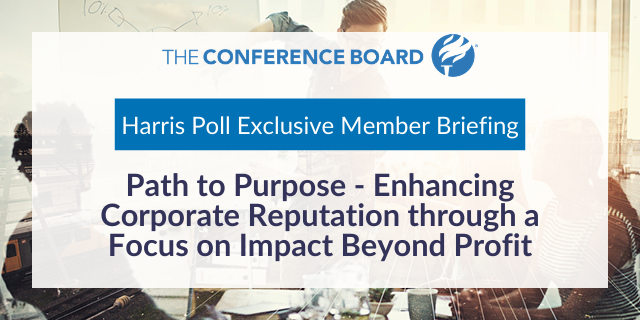 Harris Poll Exclusive Member Briefing: Path to Purpose - Enhancing Corporate Reputation through a Focus on Impact Beyond Profit
This collaboration between The Conference Board and The Harris Poll is an exclusive, live, webcast-style offering for members of The Conference Board that will provide executives the latest insights from public polling around current issues.
August 05, 2021 01:00 PM ET [13:00] (New York)
Participation is limited to members of The Conference Board's Marketing & Communications Center.
Select brands across a variety of categories—from banking to grocery to fast food to athletic apparel—share how they have revitalized and reinforced their reputations and what other companies can learn from them. Learn how today's most top-of-mind companies, as identified by unaided consumer nominations in the 2021 Axios Harris Poll 100 study, rank across key purpose-related characteristics and what they have done to separate themselves from peers.
During this interactive Zoom-based event, several corporate panelists will share their insights, initiatives, and experiences. As a participant, you can submit questions in advance of the event and participate in discussions during the event.
As an attendee of this webcast, you will learn:
How companies rank across key purpose-related characteristics.
How their reputation has developed over time and why.
What companies can learn from select brands that have improved their reputation.
Who Should Attend: Executives in marketing, communications, strategy, corporate development, innovation, CSR, HR, and related positions.
Register >>
Only available to members. Become a member.
We've put together some commonly asked questions to give you more information, Webcast FAQs. If you still can't find an answer to your question, please contact the customer service team at 212-339-0345.
UPCOMING THE HARRIS POLL EXCLUSIVE MEMBER BRIEFING WEBCAST
PREVIOUS THE HARRIS POLL EXCLUSIVE MEMBER BRIEFING WEBCAST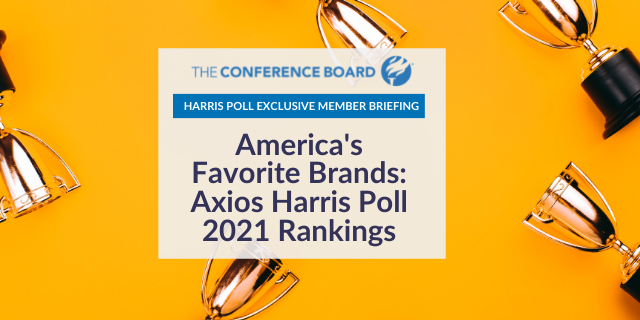 June 08, 2021 12:00 PM ET [12:00] (New York)
March 25, 2021 01:00 PM ET [13:00] (New York)
January 26, 2021 01:00 PM ET [13:00] (New York)