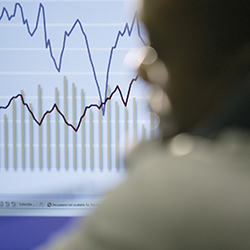 Economic Indicators & Forecasting
A broad range of indexes, forecasts and projections to help you understand and anticipate the conditions of the economy that will most affect your business, now and in the future.
The Conference Board Economics Watch®
Sign up for reminders to watch live
View on demand
Monthly U.S. and quarterly regional webcasts with forecasts and commentary along with a suite of economic indicators and analyses that provide a platform for strategic decision making. Complimentary for members of The Conference Board
Highlights
April 2015 | Key Business Issues
Continued energy volatility will produce clear winners and losers. This strategic overview presents a series of scenarios based on various price trajectories and estimates their impact on the business environment.
12 May, 2015 | Economics Watch®
The US labor market continues to tighten, and is doing so faster than expected. Join us for an interactive discussion on how it may impact recruiting, retention and compensation growth in this month's Economics Watch™ (US View). CPE Credit Available.
Products & Services