Alarming new research: Employee well-being is deteriorating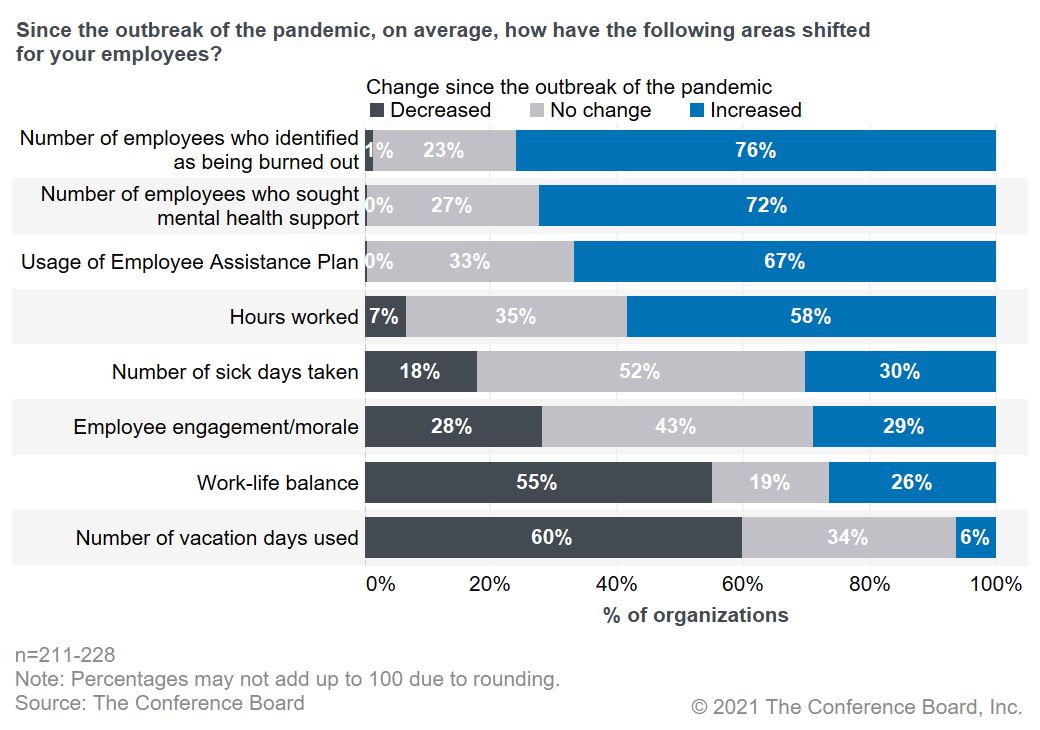 Nearly 60 percent of companies reported that productivity increased in their organization over the past year. That's according to a new survey from The Conference Board of more than 230 HR executives. But higher productivity may have taken a toll: 76 percent of respondents said that they had seen an increase in employees identifying as burned out; 72 percent said that more employees had sought mental health support; 60 percent said the number of vacation days used decreased; and 55 percent reported a decrease in work-life balance.
"During the pandemic, employees were often working longer hours in crisis conditions. While that may have boosted productivity, that level of performance is most likely unsustainable. Deteriorated levels of employee well-being are also likely related to increased anxiety and stress resulting from multiple factors, such as the global health crisis, the economic crisis, and the lack of childcare," said Robin Erickson, PhD, report co-author and Principal Researcher at The Conference Board. "As some of these situations are resolved or stabilized and organizations make long-term decisions about a future with more remote work, they will need to continuously monitor their employee experience and holistic well-being."
PRESS RELEASES & iN THE NEWS
Our Experts
Thought leaders who provide trusted insights for navigating companies and the economy though COVID-19.