C-Suite Challenge™ 2021: Top Five External Challenges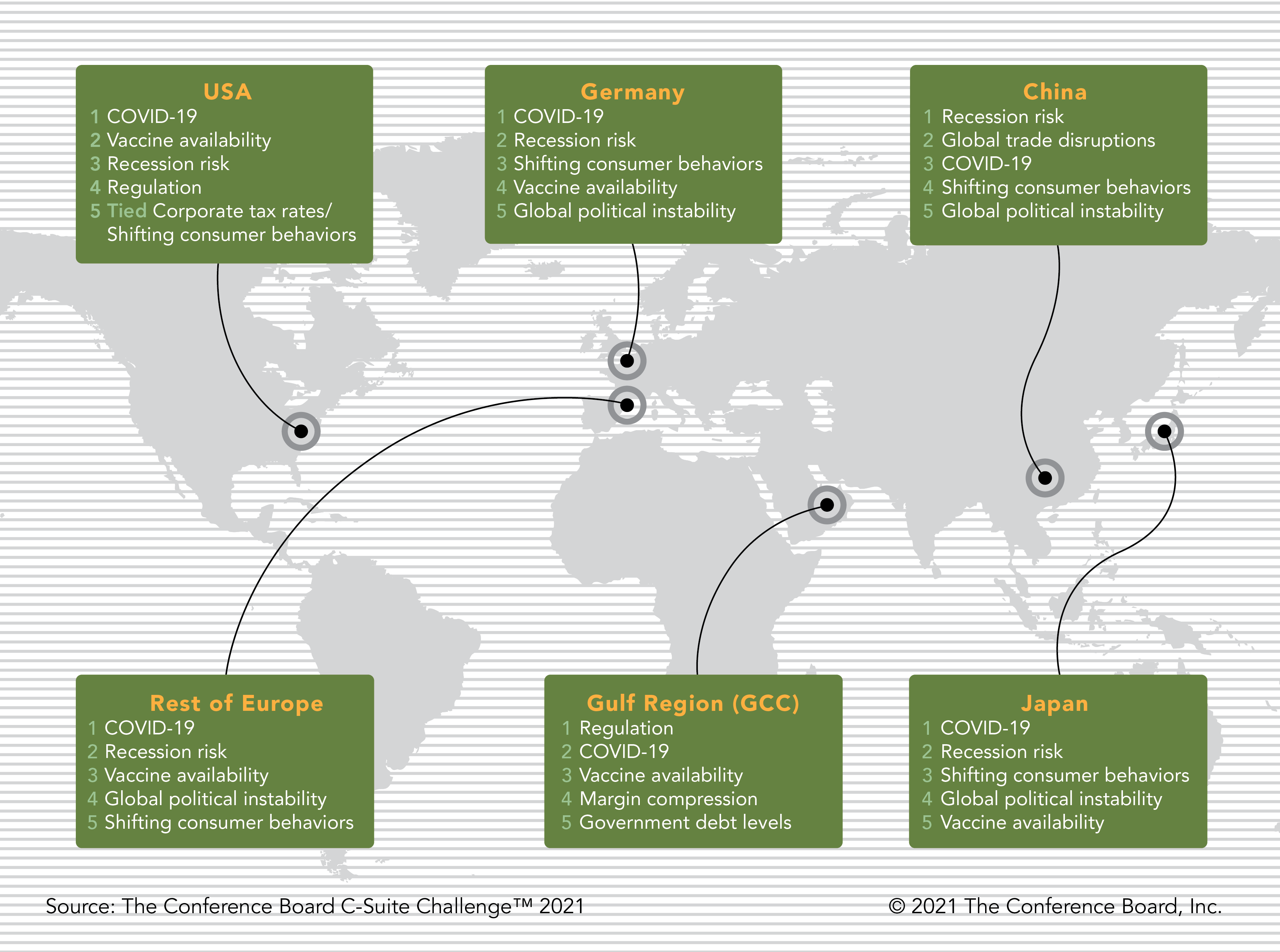 According to the C-Suite Challenge™ 2021, a new report based on a recent survey of global CEOs and C-Suite executives conducted by The Conference Board, many of the top issues business leaders will face in 2021 transcend national borders. When asked which issues outside of management control will have the greatest impact on their business in the coming year, CEO survey participants cited the COVID-19 virus, vaccine availability, and changing consumer buying behaviors as the key potential game changers in 2021. However, despite modest growth expectations, both in the short and long term, business leaders seem unable to shake lingering concerns over recession.
COVID-19: The virus itself was the greatest CEO concern regardless of location, with a few exceptions. In the Gulf region,* COVID-19 ranked second as the most important external challenge, and in China it ranked third. Executives around the world remain acutely aware that the virus still has the ability to disrupt their businesses, especially if the pandemic is not brought under control.
Recession fears: CEOs remain concerned that the economic downturn seen in 2020 could resurface. While Chinese CEOs rate recession risk as their top external concern in 2021, their counterparts in most other parts of the world rank it second. The Conference Board forecasts that the global economy will rebound in 2021, but due to the fluid nature of the pandemic, we also maintain upside and downside scenarios.
Vaccine availability: CEOs believe the broad availability of COVID-19 vaccines would have a positive impact on their businesses in the coming year. As more people are inoculated against the virus, the pandemic risk declines and the business environment improves. US CEOs ranked the vaccine as the second most important external factor for 2021. European business leaders ranked it third, but Chinese CEOs ranked it ninth.
Shifting consumer buying behaviors: CEOs across almost all geographies rated this challenge in their top five concerns. While they recognize that consumer buying behaviors are changing, they also see new products and services and new customer segments as key levers of growth for their companies.
For more information on the results of The Conference Board C-Suite Challenge™ 2021 click here.
*Gulf region: Countries in the Gulf Cooperation Council, including Bahrain, Kuwait, Oman, Qatar, Saudi Arabia, and the United Arab Emirates.
PRESS RELEASES & iN THE NEWS
Our Experts
Thought leaders who provide trusted insights for navigating companies and the economy though COVID-19.