Global consumer confidence – modest but disparate improvements in Q4 2020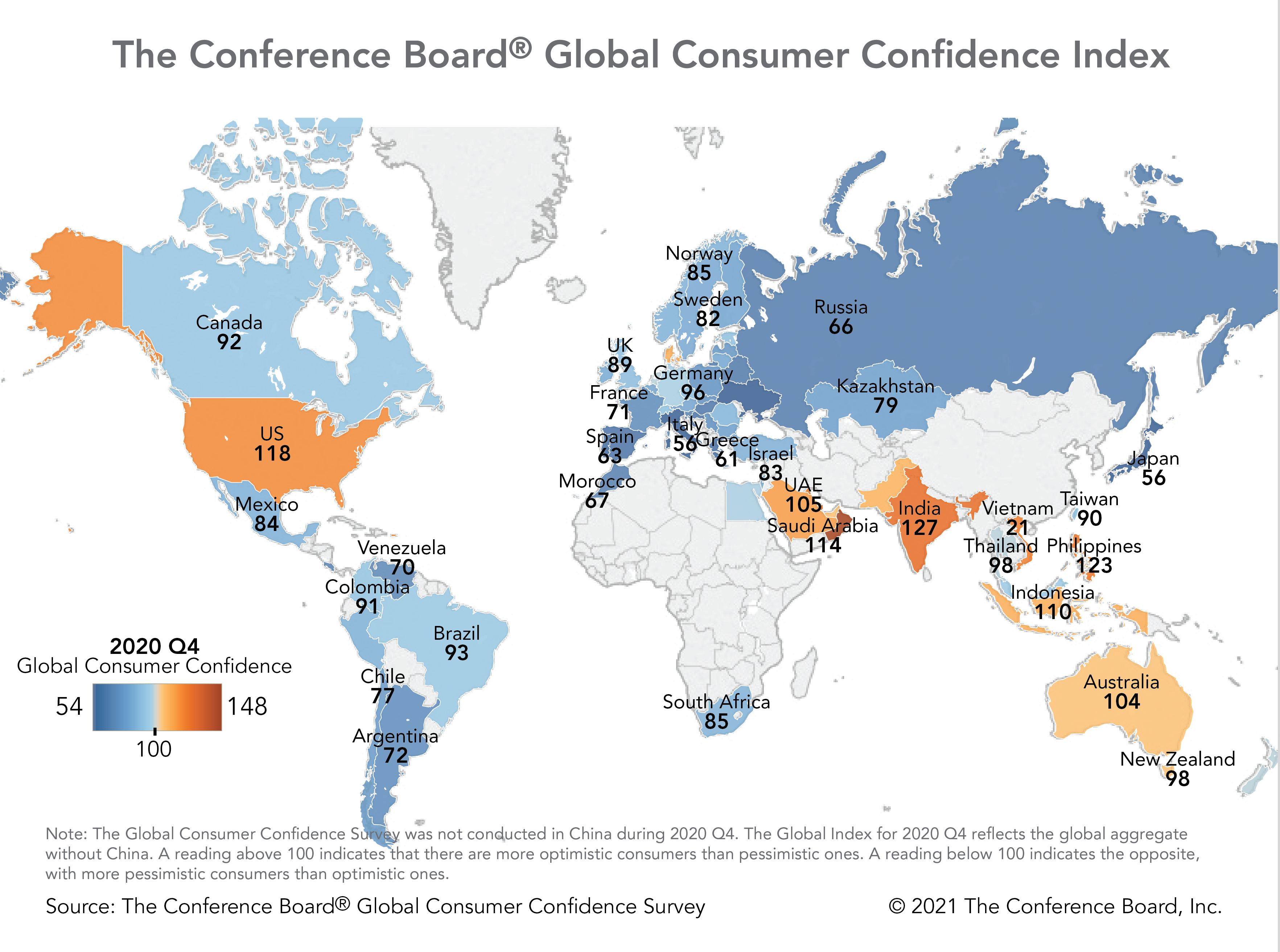 The Conference Board® Global Consumer Confidence Index improved in Q4 2020, rising to 98 from 92 in Q2 2020. (A reading below 100 indicates more pessimistic consumers than optimistic ones; a reading above 100 indicates the opposite.) Among the three drivers of consumer confidence in the index, job prospects improved the least while optimism about personal finances improved the most. Despite an improvement in spending intentions, consumers globally remained somewhat downbeat about buying new goods and services.
While 50 of the 67 economies that we track* saw a rise in confidence, some regions are recovering more rapidly than others. In North America, Asia-Pacific, and the Gulf, confidence has remained at least marginally optimistic—above 100—throughout the COVID-19 pandemic, capped by strong gains in Q4. Latin America also recovered strongly from historically low confidence earlier in 2020. But Europe reveals the precariousness of the pandemic recovery, with an especially intense second wave leaving consumers deeply pessimistic in Q4.
Looking ahead, four factors will impact the sustainability of the consumer confidence recovery around the world: 1) the trajectory of the pandemic in each region; 2) the impact on jobs and household incomes; 3) trust in government and policy to mitigate the effects of the virus; and 4) the widespread availability of COVID-19 treatments and vaccines. While broad progress appears to be at hand on many of these fronts, consumers in each region will be most influenced by local conditions.
For more information on the results of our Q4 2020 Global Consumer Confidence Survey, please visit our website.
*The Global Consumer Confidence Survey was not conducted in China during Q4 2020.
PRESS RELEASES & iN THE NEWS
Our Experts
Thought leaders who provide trusted insights for navigating companies and the economy though COVID-19.