Recovery in consumer confidence tied to household income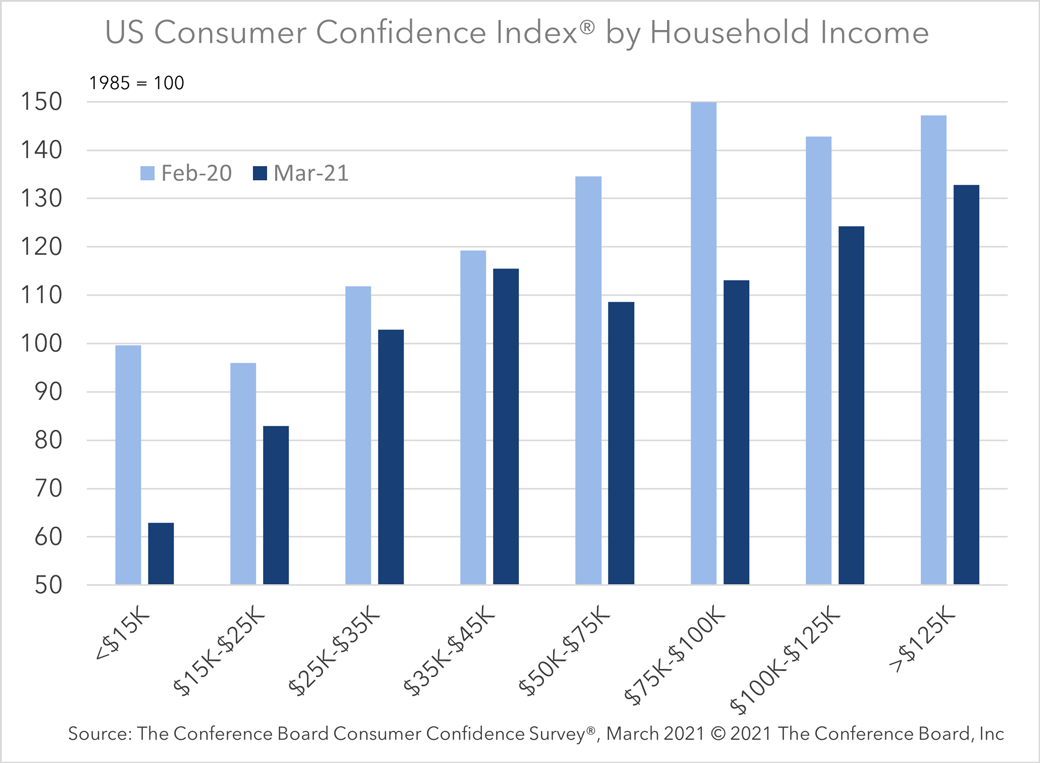 The Conference Board's US Consumer Confidence Index® rose sharply in March to 109.7, its highest level in a year, but remains below its February 2020 peak of 132.6. Broken down by household income, nearly all groups saw improvement in March. Households earning between $15,000 and $45,000 a year saw the largest gains, but higher earners also reported progress. As stimulus checks from the US government continue to be dispersed confidence should rise higher still, especially among lower earning households that qualify for the full amount.
While no income group has yet to recover to pre-pandemic confidence levels, some have made more progress than others. Confidence among the lowest earning households (<$15,000 a year) is down 36.7 points and has seen little improvement over the last year. Among the remaining income groups more progress has been made among those households at the top and bottom ends of the income spectrum than those in the middle. Confidence among households earning between $75,000 and $100,000 a year, for instance, remains down 36.8 points from pre-pandemic levels. This disparity may be because lower income households have received more government assistance and those earning more have disproportionately benefited from a surge in asset prices over the last year.
Please visit our website for more details on The Conference Board's Consumer Confidence Index® (link).
PRESS RELEASES & iN THE NEWS
Our Experts
Thought leaders who provide trusted insights for navigating companies and the economy though COVID-19.