Will COVID-19 yield a surge in US productivity growth?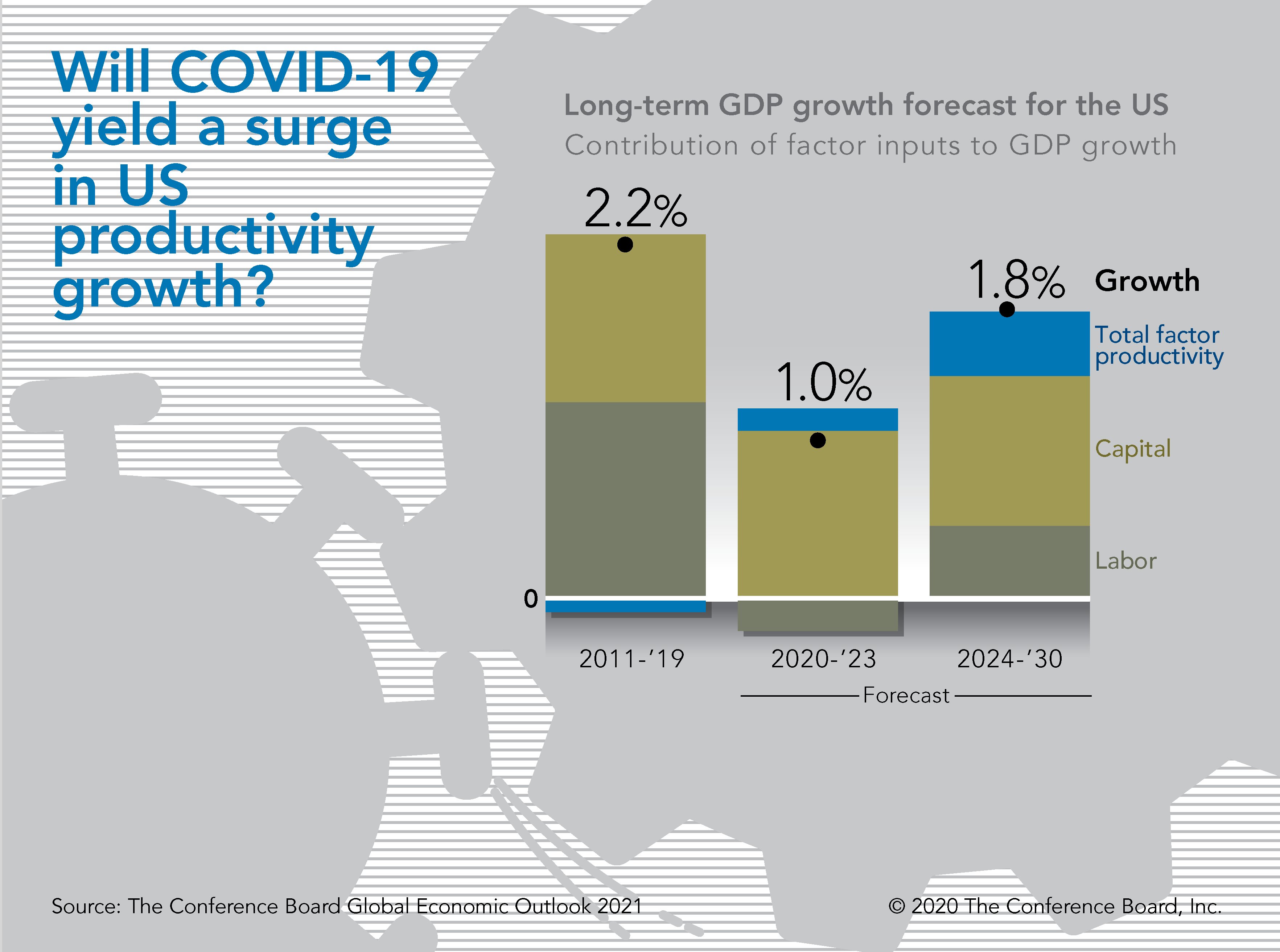 The shock of the COVID-19 pandemic and associated lockdowns will result in a 3.6 percent contraction in the US economy in 2020. Nevertheless, The Conference Board expects growth to rebound by 3.6 percent in 2021 as additional government stimulus and vaccines are deployed. In the medium term, annual growth will likely average 1.0 percent for the period from 2020 to 2023. However, persistently high levels of unemployment may prevent further upside.
In the long term, however, The Conference Board expects to see real GDP growth accelerate through the end of the decade, yielding an average annual growth rate of 1.8 percent between 2024 and 2030. Though this growth rate falls short of the 2.2 percent rate seen prior to the pandemic (2011 to 2019), we anticipate a resurgence in total factor productivity (TFP), a result of increasing efficiency and innovation. The pandemic forced US households and businesses to adopt new technologies and modes of operating, including online shopping and telework, at a much more rapid pace than would have otherwise been the case. The end result, we believe, will be TFP growth akin to what was seen in the United States in the 2000s—a period of rapid digital transformation.
For a more detailed assessment of the forces shaping the future of the US economy, download our new report: GEO 2021 US: The US Economy will Recover from COVID-19, but It May be Forever Changed
PRESS RELEASES & iN THE NEWS
Our Experts
Thought leaders who provide trusted insights for navigating companies and the economy though COVID-19.