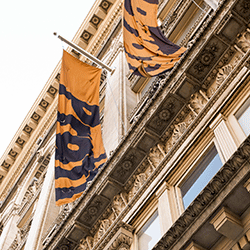 The Conference Board and Pratt Institute Present Design Thinking
Your Next Competitive Advantage
10 - 11 April, 2014
Pratt Institute
New York, New York
10 - 11 April, 2014
The Design Thinking Seminar will bring together world-class designers and best-in-class companies to share how they apply design thinking in their organizations to help them out-innovate their competition. Held at Pratt Institute, one of the world's leading colleges of art and design, attendees will get an in-depth look at the concept of design thinking, a way to implement creative problem solving that is centered on the human element: what is needed, who needs it, how will they use it, can it be produced efficiently.
Topics covered will include:
What design thinking is and how it can be applied
Why everyone in your organization should be thinking like a designer
How insights take shape and lead to innovation
How to overcome roadblocks to design thinking
Hallmarks of effective leadership in the design thinking organization—and how to achieve it in your company
Developing the kind of leaders that are needed to transform an organization
Plus, don't miss these exciting event highlights!
"The Triple Bottom Line by Design" - Improve your companies' profitability while creating sustainable environmentally sound products and services through innovative design
"AARP/Life Reimagined Test Case" – Learn how AARP experimented with a new take on design thinking (dubbed "social design") to impact how their customers engage, educate and empower themselves.
For sponsorship opportunities, please contact Mike Felden at michael.felden@conference-board.org.