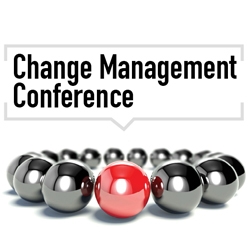 The Change Management Conference speakers
We often look for either/or solutions in a both/and world, but no one person or work group has all the answers to address all issues in our ultra-connected society.
26 - 27 June, 2014
Westin New York Grand Central
New York, NY
25 June, 2014 — Pre-Conference Seminar: Making Change Stick: Stakeholder Communication and Engagement
(Details are being shown below)
26 - 27 June, 2014 — The Change Management Conference
(Click to display details below)
25 June, 2014
Making Change Stick: Stakeholder Communication and Engagement
Change is hairy. People resist it. Organizations struggle implementing it. And no two changes are alike.
Fortunately, assembling a strategic communication and engagement plan can provide the backbone of long-term change.
In this session we will investigate the key elements of a strategic plan, how to manage all the contributors, ways of collecting feedback from your stakeholders and how communications can support and enable new behaviors. In addition, we'll cover specific, strategic tactics for making those behaviors the new norm. We will take a hands-on approach to building change strategies by convening groups to focus on:
The elements of behavior change;
Factors that help simplify behavior change;
Identifying key motivators; and
Triggering behaviors.
Attendees will walk away with the basics of how to assemble a strategic communications and engagement plan that can provide structure for even the most unruly of projects and empower stakeholders to make permanent behavior change.
Workshop Leaders:
Jim Hanley, Executive Vice President and Co-founder, ROC Group
Emily Kehinde, Consultant, ROC Group
Vic Villanueva, Managing Director, ROC Group