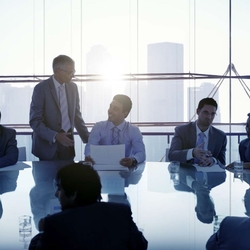 The Directors' Collective™ Publications & Resources
Independent Corporate Governance Research and Peer Networking Resources for India's Public Companies
Recent Publications
28 September, 2017
Shareholder Voting Analytics (2014-2016): India Edition reviews proxy voting data of companies that held their annual general meeting (AGM) between January 1, 2014 and December 31, 2016 and at the time of their AGM, were in the S&P BSE 500 index and/or the NIFTY 500 index. The two universes comprise most of the largest publicly traded businesses in India. As of the date of publication of this report, the S&P BSE 500 index represents nearly 93 percent of the total market capitalization of companies listed on the Bombay Stock Exchange (BSE) and covers all 20 major industries in the Indian economy.
27 May, 2017

This report marks the inaugural edition of The Conference Board Sustainability Practices in Asia-Pacific, a study that analyzes the 2015 disclosure of environmental and social practices by public companies in 12 Asia-Pacific markets: Australia, China, Hong Kong, India, Indonesia, Japan, Malaysia, Singapore, South Korea, Taiwan, Thailand, and Vietnam. The sustainability disclosure data for this report are based on the full universe of publicly listed companies across these markets (a total of 24,623 companies).
The accompanying Excel database is a unique reference tool enabling businesses to benchmark their activities and performance against peers. Data on 95 environmental and social practices can be segmented by country, sector, and revenue group.
8 March, 2017
The role and purpose of the nomination committee has evolved significantly in India's corporate governance landscape over the last two decades. After years of debate, both the Companies Act, 2013 and the listing regulations of the Securities and Exchange Board of India include a mandatory nomination and remuneration committee (NRC) for the appointment of all directors, including independent directors. This Director Note explores the development of the nomination committee concept in India, explains the current legal regime with respect to nomination committees, and discusses the purpose of the nomination role of the NRC.
16 November, 2016

Concentrated ownership of Indian companies and the use of complex group company structures create the potential for abusive related party transactions (RPTs) that erode value for minority shareholders. India's substantive legal framework for regulating RPTs has slowly converged toward international standards. While previously there was considerable emphasis only on disclosures, other mechanisms such as board or audit committee monitoring and approval of RPTs or independent shareholder approval are now part of the Indian legal framework on RPTs. The real import of the new standards will depend on the extent to which minority shareholders, including institutional shareholders, participate in the evaluation and voting rights they have been afforded.
15 January, 2016
Handbook of Corporate Governance in India is designed as a practical reference tool reviewing key features of the legal and regulatory standards applicable to today's Indian corporate boards, from their composition to their activities.