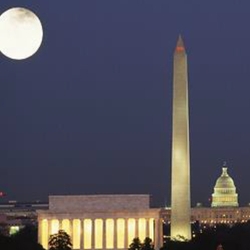 2014 Engagement Institute™ Summit
October 15th-17th, 2014
Partnership for Public Service Offices in Washington, DC
Reception begins at 5pm on October 15th, and the summit will end at 3pm on October 17th. Please contact registration@engagementinst.org for more details.
Join the 2014 and 2015 cohorts of Research Fellows at the Partnership for Public Service Offices in Washington, D.C. in the dissemination of The Engagement Institute's™ seminal research report, DNA of Engagement: How Organizations Create & Sustain Highly Engaging Cultures. From this report, you will not only gain a deep understanding of how best-in-class organizations build a culture of engagement, but discover actionable insights about how you can do this at your organization. This summit will also include numerous panels featuring a wide variety of speakers, including engagement professionals from nonprofit, government sector, and public organizations.
Learn more about the profiled companies in our newest research, DNA of Engagement: How Organizations Create & Sustain Highly Engaging Cultures. Hear from executives at top organizations for engagement like American Express, LinkedIn, and the top places to work from in the Federal Government (invitations pending). Visit the agency that went "from worst to first," the U.S. Patent and Trademark Office. Network, explore Washington, have fun and leave with actionable ideas that can shape how you build your organizations "highly engaged" culture.
Hear from our Keynote Speakers:
Douglas R. Conant, New York Times bestselling author of TouchPoints, leadership consultant and the former CEO & President of the Campbell Soup Company and Nancy Reardon, an independent board member and the former SVP, CHRO and Communications Officer at the Campbell Soup
Company, will share their work on building a culture of engagement that resulted in the company's recognition as a Best Place to Work and a recipient of the prestigious Catalyst Award.
Chester Elton, author and Managing Partner of The Culture Works and better known as the Apostle of Appreciation, is the New York Times and Wall Street Journal bestselling author of The Carrot Principle and All In. He will be sharing his brand new book, What Motivates Me, with attendees.
Read the first chapter of What Motivates Me here: http://www.thecultureworks.com/books/what-motivates-me/?inf_contact_key=ef815a2b5661cfbf6b6d8a6e0dbbf1007d70a21c534d93d04663a193bce10b94