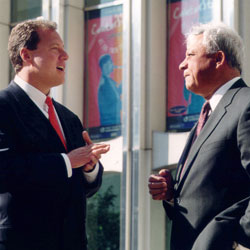 United States
Founded in 1916 by a group of CEOs concerned about the impact of workplace issues on business, The Conference Board was originally located in Boston and moved to New York City four years later. We've operated at the intersection of business and society ever since; an objective, independent source of economic and business knowledge with one agenda: to help our member companies understand and deal with the most critical issues of our time.
Access a universe of actionable insights, peer relationships, and original programs that develop leaders at every level in their career track.
Products & Services
Conferences
5th Annual Talent Acquisition Conference
October 02 - 03, 2018 (New York, NY)
13th Annual Human Capital Analytics Conference
October 25 - 26, 2018 (New York, NY)
Peer Networks
Tax Executives Council
The Council of Tax Executives enhances the effectiveness of senior corporate tax leaders by convening a group of peer executives to address issues and share leading edge ideas.
Chief Human Resources Officers Council II
Chief Human Resources Officers meet in person and virtually to focus on the most critical business challenges regarding human capital.
Leadership Council on Advancing Women II
As women continue to take on increased leadership responsibilities, there is a growing desire to focus on women's leadership topics and explore relevant issues that will reinforce the development of current business and future women leaders.
Publications
What's Next for 21st-Century HR? Royal Bank of Scotland: Consolidating HR Activities across the Global Organization

In the years following the global financial crisis, HR has played a key role in RBS's recovery process by building its capability in using human capital insight to support "evidence-based management."
(Case Studies, December 2017)
What's Next for 21st-Century HR? Daiichi Sankyo: Transforming US R&D HR to Deliver Strategic Value to the Global Business

Developing a new talent strategy helped break down silo-based thinking within the global HR community at Daiichi Sankyo and also proved the value of pooling differing expertise in talent management.
(Case Studies, December 2017)
What's Next for 21st-Century HR? Deere & Company: Using Data to Accelerate HR Transformation

Thanks to analytics, John Deere realized it had more managers than it needed, negatively affecting employee engagement. These findings guided challenging yet constructive conversations that helped strengthen the company's organizational design.
(Case Studies, December 2017)
Webcasts
Human Capital Watch™: Digital Transformation
December 20, 2017 11:00 AM ET [11:00] (New York), 04:00 PM UTC [16:00]

How does the HR function change under digital transformation? Get an advance look at forthcoming research from The Conference Board to answer this and other key questions. CPE credit available
Shifting Age and Race Characteristics of US Consumers
January 09, 2018 11:00 AM ET [11:00] (New York), 04:00 PM UTC [16:00]

The demographic composition of US consumers is likely to change dramatically over the next decade. This has important implications for consumer spending growth. Explore the relation between demographics and consumption and how to adjust your strategy to win in this shifting environment. CPE credit available
Blogs
On Governance: The First Critique of the 'Framework for U.S. Stewardship and Governance'
In my Internet searching, I have yet to find any criticism of the principles laid out in the Framework. However, if one looks closely at this Framework, one sees a glaring omission, the lack of any reference to wealth maximization as the objective of investor stewardship. (On Governance, December 2017)
Better Understanding Foreign Labor Markets: Introducing TCB's Labor Market Institutions Handbook
The Labor Market Institutions Handbook: Find for 63 countries an exhaustive range of quantitative and qualitative labor market data. (Labor Markets Blog, December 2017)
How Companies Can Recruit and Retain the Best and Most Diverse Workforces by Offering Board-Matching Programs
Employees are more likely to work and stay at companies that help match them to nonprofit boards in addition to providing funds to the nonprofits where they serve. This is one of the most powerful findings of Better World Leadership: The Nonprofit Board Leadership Study, released last month. (Giving Thoughts Blog, December 2017)