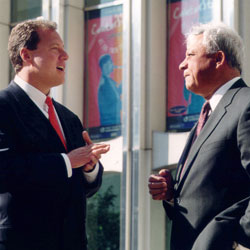 United States
Founded in 1916 by a group of CEOs concerned about the impact of workplace issues on business, The Conference Board was originally located in Boston and moved to New York City four years later. We've operated at the intersection of business and society ever since; an objective, independent source of economic and business knowledge with one agenda: to help our member companies understand and deal with the most critical issues of our time.
Access a universe of actionable insights, peer relationships, and original programs that develop leaders at every level in their career track.
Products & Services
Conferences
16th Annual Sustainability Summit
18 - 19 July, 2017 (New York, NY)
The 2017 Private Exchanges Conference
14 - 15 September, 2017 (Chicago, IL)
Peer Networks
Government Relations Executives Council
The Government Relations Executives Council helps senior executives achieve their primary goals by providing them with the tools and information needed to shape public policy. The council will not be a lobbying or advocacy entity.
Internal Communications Council
The Internal Communications Council will explore strategies to enable its members to be at the cutting edge of what works today, and what they need to prepare for, as they move forward.
CIO Business Council
While many resources exist to help leaders to survive and even thrive in an environment of rapid change, the CIO Council provides a confidential environment where senior executives can share business issues related to IT services and solutions with peers.
Publications
Drafting the 'Dream Team': Leveraging Analytics to Acquire Top Talent in Asia

Using workforce analytics, organizations can systematically examine and evaluate the quality of their talent acquisition strategies to identify and implement the most effective means for finding talent.
(Research Report, June 2017)
Just What Is the Corporate Director's Job?: Proxy Advisors' Perspectives on the Board Member's Job Description

When describing the job of a public company board member, proxy advisors were not naturally inclined to draw up a list of qualifications and responsibilities.
(Key Business Issues Listing, June 2017)
Webcasts
Artistic License: What Do Companies Get Out of Supporting the Arts?
26 June, 2017 03:00 PM ET [15:00] (New York), 07:00 PM UTC [19:00]

Discover why companies support the arts, how much companies typically give, and the social and business impacts that companies consider arts funding to have. This webcast will cover the leading benchmarking survey of new data in the field. HRCI and SHRM credit available
Window On the Europe Elections
28 June, 2017 11:00 AM ET [11:00] (New York), 03:00 PM UTC [15:00]

Join Conference Board experts and European thought leaders to examine how the global business environment will be impacted by the recent string of elections in the Netherlands, France and the UK as well as those upcoming in German and Italy. CPE credit available