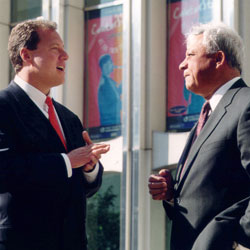 United States
Founded in 1916 by a group of CEOs concerned about the impact of workplace issues on business, The Conference Board was originally located in Boston and moved to New York City four years later. We've operated at the intersection of business and society ever since; an objective, independent source of economic and business knowledge with one agenda: to help our member companies understand and deal with the most critical issues of our time.
Access a universe of actionable insights, peer relationships, and original programs that develop leaders at every level in their career track.
Products & Services
Conferences
17th Annual Talent Management Strategies Conference - New York
01 - 02 March, 2017 (New York, NY)
The 2017 Joint Ventures Conference
02 - 03 March, 2017 (New York, NY)
Peer Networks
Corporate Controllers Council
The Corporate Controller is a pivotal position in the financial organization of any enterprise and today's Corporate Controller has to be more of a thinker with honed accounting, technology, analytical and leadership skills.
Emerging Markets Human Resources Council
The Council provides an exclusive network for human resources professionals to exchange insights and to explore and better understand the HR challenges and opportunities relating to business development and growth in emerging markets.
Emerging Markets Mergers and Acquisitions Council
The Council provides senior executives in charge of Mergers and Acquisitions for Emerging Markets, including Asia, with a network of professional peers.
Publications
StraightTalk® Global Economic Outlook 2017: Uncertainty and Global Growth Make Strange Bedfellows

Globally, 2017 growth is projected at about 2.9 percent—a notch up from earlier projections. For the medium term, there are no signs as yet that policy changes will raise the trend.
(Key Business Issues, February 2017)
DNA of Engagement 2017: Engagement Ecosystem

DNA of Engagement 2017: Engagement Ecosystem
(Key Business Issues, February 2017)
DNA of Engagement 2017 Diagnostic Tool

Diagnostic tool: DNA of Engagement 2017
(Key Business Issues, February 2017)
Webcasts
Creating a More Sustainable World
01 March, 2017 03:00 PM ET [15:00] (New York), 08:00 PM UTC [20:00]

How can companies successfully navigate worldwide issues while still achieving a strong positive impact with their community-based initiatives? Hear about how companies are braving the world's toughest issues and gain insights on how best to take your philanthropic/community programs to the next level. HRCI, SHRM, and CPE credit available
Economic Inequality: How Businesses Are Responding to This Complex Issue
06 March, 2017 10:00 AM ET [10:00] (New York), 03:00 PM UTC [15:00]

In this webcast, subject matter experts will reveal how the American public views business in the context of the economic inequality challenge, providing a case for industry involvement. CPE credit available