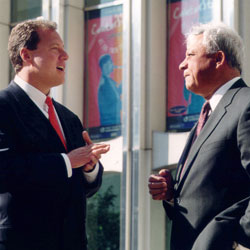 United States
Founded in 1916 by a group of CEOs concerned about the impact of workplace issues on business, The Conference Board was originally located in Boston and moved to New York City four years later. We've operated at the intersection of business and society ever since; an objective, independent source of economic and business knowledge with one agenda: to help our member companies understand and deal with the most critical issues of our time.
Access a universe of actionable insights, peer relationships, and original programs that develop leaders at every level in their career track.
Products & Services
Conferences
23rd Annual Diversity and Inclusion Conference
June 04 - 05, 2019 (Brooklyn, NY)
25th Annual Leadership Development Conference - San Diego
June 06 - 07, 2019 (San Diego, CA)
Peer Networks
Digital Leadership & Transformation Council
In such an environment of rapid change, the Digital Leadership & Transformation Council provides a confidential environment where senior executives can share issues and solutions with others who have been there – and will be there.
HR Operations Council II
Whether you are at the beginning, middle or mature stage of your HR transformation, the Council will provide a forum for senior leaders to share "what's next" and discuss innovations and challenges in taking their organizations to the next level.
Career Development Practitioner Council
Employees today seek more than a rating about work performance; they are interested in improving their careers. In order to retain top talent, organizations must work hard to provide resources, processes and tools for employees to manage their careers.
Publications
Sustainability Practices: 2018 Edition--Trends in Corporate Sustainability Reporting in North America, Europe, and Asia-Pacific

Sustainability reporting is still not a uniform practice across the globe and remains sporadic in countries where nonfinancial reporting regulation and stakeholder pressures are absent.
(Key Business Issues, December 2018)
Webcasts
Global Leadership Forecast
December 11, 2018 10:00 AM ET [10:00] (New York), 03:00 PM UTC [15:00]

Join this interactive webcast on the topic of Rethinking Leadership Potential: Making the Most of High-Potential Talent, featuring Rebecca Ray from the Conference Board and Evan Sinar from DDI. HRCI, SHRM, and CPE credit available

Beyond the Hype: Real Workforce Trends in the Gig Economy
December 11, 2018 01:00 PM ET [13:00] (New York), 06:00 PM UTC [18:00]

The hype about gig workers—that this segment of the workforce is growing rapidly—is out of line with hard data. We explore the real trends in gig work and online labor platforms and discuss how organizations are using gig workers to meet business demands. HRCI, SHRM, and CPE credit available
Blogs
Making Intangibles Tangible—Linking Corporate Attributes to Market Cap
An organization's culture of innovation can be a robust predictor of financial performance, which highlights the importance to companies of measuring intangible assets. With intangible assets growing exponentially as a component of enterprise value, it is unproductive to allow them to go unmanaged. (Society for New Communications Research Blog, December 2018)
President George H.W. Bush was a Catalyst for Building Corporate Volunteer Programs
Corporate volunteering is now a global practice that was boosted by President George H.W. Bush's founding of Points of Light and the National Council on Workplace Volunteering. As the country remembers the 41st President, reflecting on his work to encourage employees to use their expertise in service to their communities can help motivate companies and their employees to continue his legacy. (Corporate Citizenship & Philanthropy Blog, December 2018)
Corporate Giving Increases 15 Percent Over Three Years
Total corporate giving has increased more than 15 percent over three years to a record $23.8 billion, as companies have become more generous. The growing economy and favorable tax cuts have left some companies with healthy cash reserves and many have promised to direct a portion to their communities. (Corporate Citizenship & Philanthropy Blog, November 2018)