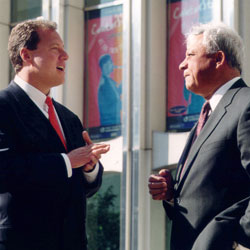 United States
Founded in 1916 by a group of CEOs concerned about the impact of workplace issues on business, The Conference Board was originally located in Boston and moved to New York City four years later. We've operated at the intersection of business and society ever since; an objective, independent source of economic and business knowledge with one agenda: to help our member companies understand and deal with the most critical issues of our time.
Access a universe of actionable insights, peer relationships, and original programs that develop leaders at every level in their career track.
Products & Services
Conferences
25th Annual Leadership Development Conference - San Diego
June 06 - 07, 2019 (San Diego, CA)
2019 Merger Integration Conference - San Francisco
June 06 - 07, 2019 (San Francisco, CA)
Peer Networks
Continuous Improvement Council
Offers senior executives a forum for the candid exchange of ideas & strategies on achieving operational excellence, effective management, & cultures of improvement. Members value the confidential dialogue, expert speakers, and benchmarking opportunities.
Chief Human Resources Officers Council II
Chief Human Resources Officers meet in person and virtually to focus on the most critical business challenges regarding human capital.
CFO Council: Fortune 250
This Council is one of the most prestigious forums that exist for bringing together CFOs of multinational companies to discuss current issues and challenges. Because of the confidentiality that governs the meetings, members develop a incredible trust.
Publications
Blue-Collar Worker Shortages: Navigating a Business Environment of Higher Labor Costs

The threat of labor shortages is more acute in blue-collar and low-pay services occupations than in more highly educated white-collar occupations, the exact opposite of the prevailing trends in recent decades.
(Key Business Issues, December 2018)
Webcasts
Human Capital Watch™
December 19, 2018 11:00 AM ET [11:00] (New York), 04:00 PM UTC [16:00]

Join our December Human Capital Watch webcast as our researchers highlight findings from a new study which examines success-driven leadership approaches in M&A transactions. CPE credit available
Global Leadership Forecast
January 08, 2019 10:00 AM ET [10:00] (New York), 03:00 PM UTC [15:00]

Join this interactive webcast on the topic of Digital-Era Leadership, featuring Amanda Popiela from The Conference Board, along with Joe Dettmann and Molly Endres from EY. HRCI, SHRM, and CPE credit available

Blogs
Do the Right Thing
"Ethical public relations (PR)" is a phrase many see as an oxymoron, but as an ever-changing world brings new challenges to the corporate sector, the PR profession is in need of standards to help promote an ethical focus. Institutions leading the way in terms of ethics will focus on models of networked collaboration and values-based choices, where accountability, reliability, transparency, fairness and flexibility are handled in a more self-organized way. (Society for New Communications Research Blog, December 2018)
Japanese companies lead sustainability disclosure, but are reporting requirements incentivizing compliance over substance?
Findings from a global study of corporate sustainability reporting reveals that companies in Japan have the highest overall sustainability disclosure rate. The findings raise the fundamental question of why companies report and whether reporting regulations are incentivizing compliance over substance. (Sustainability Center Blog, December 2018)
The Unemployment Rate Does Not Fully Capture Labor Market Slack
The unemployment rate may be overestimating current labor market tightness. An exercise on monthly employment changes shows that 63 percent of all newly employed people aged 25 to 54 in October 2018 were not actively looking for a job in the previous month. If employers are looking for slack in the labor market, they should find better ways to source and recruit the people who are not looking for work and allegedly not willing to work. (Labor Markets Blog, December 2018)