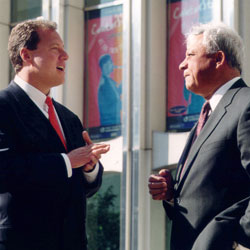 United States
Founded in 1916 by a group of CEOs concerned about the impact of workplace issues on business, The Conference Board was originally located in Boston and moved to New York City four years later. We've operated at the intersection of business and society ever since; an objective, independent source of economic and business knowledge with one agenda: to help our member companies understand and deal with the most critical issues of our time.
Access a universe of actionable insights, peer relationships, and original programs that develop leaders at every level in their career track.
Products & Services
Conferences
19th Annual Talent Management Strategies Conference - New York
March 05 - 06, 2019 (New York, NY)
19th Annual Employee Healthcare Conference - San Diego
March 19 - 20, 2019 (San Diego, CA)
Peer Networks
Chief Intellectual Property Officers Council
The Chief Intellectual Property Officers Council provides a confidential environment where a select group of chief and senior IP leaders come together to openly discuss both legal and business issues related to IP protection and management.
Compensation & Employee Benefits Council
This newly formed US Compensation & Employee Benefits Council will focus on key trends, metrics and market challenges in compensation and employee benefits unique and specific to companies with less than 20,000 employees.
Corporate Treasurers Council
The US Council provides a forum for corporate treasurers to engage in candid, off-the-record discussions that explore topics relevant to the members. Members value the confidential setting and the level of strategic conversation that develops at meetings.
Publications
Corporate Citizenship & Philanthropy Center Newsletter - October 2018

Early and enduring investment by companies is critical to reconstruction and redevelopment of areas hit by disaster
(Newsletter, October 2018)
Strategic HR Center Newsletter - October 2018

In a tight labor market, employees are more likely to find a job they like, and employers have to do more to satisfy workers in order to maintain retention and productivity
(Newsletter, October 2018)
CEO and Executive Compensation Practices 2018 Edition

CEO and Executive Compensation Practices: 2018 Edition documents trends in senior management compensation. It benchmarks individual elements of compensation packages and the features of short term and long-term incentive plans (STIs and LTIs), provides details on shareholder advisory votes on executive compensation (say-on-pay), and outlines practices on board oversight of compensation design.
(Key Business Issues, October 2018)
Webcasts
Window On Political Risks Analysis: Outlook for 2019
October 24, 2018 11:00 AM ET [11:00] (New York), 03:00 PM UTC [15:00]

Many global organizations are facing large financial exposures to political risks due increasing geopolitical concerns. Join our expert panel to learn what are the biggest sources of political risk for businesses and how should businesses mitigate or cope with these risks, and plan for a response. CPE credit available
How to Build Truly Accountable Teams
October 30, 2018 01:00 PM ET [13:00] (New York), 05:00 PM UTC [17:00]

Hear new insights into the fundamental building blocks that allow exceptional teams to consistently exceed expectations and goals. HRCI, SHRM, and CPE credit available
Blogs
Temporary Limitations: Why Europe Uses Temporary Workers More Frequently than the US Does
The share of workers employed in temporary contracts declined from an already low level in 2005. employers still grappling with how to incorporate labor market platforms and other recent technological innovations into hiring practices. Employers continue to value lasting relationships with employees and care deeply about the skills and work habits of those they employ. (Labor Markets Blog, October 2018)
Why are labor markets for blue-collar workers tighter than for white-collar ones?
The labor shortages in blue-collar jobs are unlikely to disappear any time soon. An important reason: The combination of the US population becoming more educated and the concentration of disability among less educated people is significantly reducing the share of less educated people in the labor force. (Labor Markets Blog, October 2018)
Non-Traditional Workers Are Less Satisfied at Work, Especially Men
A forthcoming 2018 report by The Conference Board on non-traditional work is set to address the lack of growth and impact alternative work arrangements will have on the U.S. labor market. Hiring workers through alternative arrangements is certainly a viable option for many employers, but satisfaction levels may make it difficult for employers to significantly change their share of non-traditional workers. (Labor Markets Blog, October 2018)