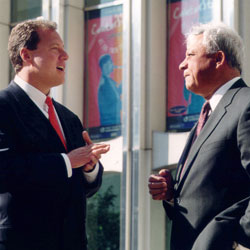 United States
Founded in 1916 by a group of CEOs concerned about the impact of workplace issues on business, The Conference Board was originally located in Boston and moved to New York City four years later. We've operated at the intersection of business and society ever since; an objective, independent source of economic and business knowledge with one agenda: to help our member companies understand and deal with the most critical issues of our time.
Access a universe of actionable insights, peer relationships, and original programs that develop leaders at every level in their career track.
Products & Services
Conferences
2019 Communicating Employee Benefits and Compensation Symposium
February 26 - 27, 2019 (New York, NY)
19th Annual Talent Management Strategies Conference - New York
March 05 - 06, 2019 (New York, NY)
Peer Networks
Information Security Executives Council
The field of information security has grown significantly, and having a CISO function in the organization has become the standard. CISOs are responsible for establishing the enterprise strategy and programs to protect information assets and technologies.
Talent & Organization Development Executive Council
This council is exclusively for executive-level leaders of talent development, organizational development and learning for their member companies or firms. Members of the council are the most senior leaders of these functions within their organization.
Talent Management Executives Council III
The Council, specifically for heads of talent management, including succession planning, provides an exclusive forum for the best minds to debate current issues and develop new trends. Members value the confidential and trusted network year-round.
Publications
Corporate Citizenship & Philanthropy Center Newsletter - September 2018

When governments have limited resources, companies are called upon to take a leadership role and provide additional disaster relief support
(Newsletter, September 2018)
Strategic HR Center Newsletter - September 2018

Some occupations have untapped innovation potential, despite how conventional wisdom views them
(Newsletter, September 2018)
Is GDPR the Death Knell for Human Capital Analytics?

In a post-GDPR world where data privacy is a growing concern, companies must earn the trust of employees, job applicants, and contingent workers if they want to continue analyzing human capital data to generate business insights.
(Key Business Issues, September 2018)
Webcasts
Getting Performance Management Right with Bullet Points, Not Books
September 25, 2018 02:00 PM ET [14:00] (New York), 06:00 PM UTC [18:00]

Join talent management experts from Hill+Knowlton Strategies who will highlight a new, real-time performance management and recognition program that is helping improve the workplace experience. HRCI, SHRM, and CPE credit available
Window On Oil Prices
September 26, 2018 11:00 AM ET [11:00] (New York), 03:00 PM UTC [15:00]

It's one of those evergreen questions: where will the price of oil go? Join our next Window On episode to learn the many factors which determine where oil prices may go next and how this will impact business. CPE credit available
Blogs
The Risk of a UK Recession is Growing
Continued uncertainty over the outcome of Brexit negotiations is not helping. Unemployment in the UK now stands at its lowest level in four decades. Gross domestic product growth at the start of the third quarter of 2018 also shows an economy in decent shape, having grown faster than in the prior two quarters. (Global Economy Center Blog, September 2018)
CEO Activism in 2018
Nearly half of Americans believe CEOs can influence the government, although that doesn't necessarily mean the country thinks CEOs should speak out about social issues. Americans are split on whether company leaders should try to use their influence in the public domain, but doing so could benefit the business, since nearly half of the country would be more likely to purchase from a company whose CEO has taken a stance on an issue that they agree with. (Citizenship and Philanthropy Blog, September 2018)
Executive Series: Bosses—The Great Ones
Recognizing and appreciating the positive influence of great bosses can help you understand what you value in your career. Great bosses know how to cultivate loyalty for life from the people who work for them. They treat you as a trusted partner, make you feel smart, give you great work, serve as a mentor, and do the unexpected. But working for a great boss can be a once-in-a-lifetime experience, so it's important for employees to notice when it's happening and show some gratitude. (Society for New Communications Research Blog, September 2018)