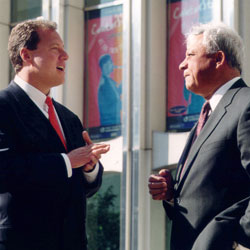 United States
Founded in 1916 by a group of CEOs concerned about the impact of workplace issues on business, The Conference Board was originally located in Boston and moved to New York City four years later. We've operated at the intersection of business and society ever since; an objective, independent source of economic and business knowledge with one agenda: to help our member companies understand and deal with the most critical issues of our time.
Access a universe of actionable insights, peer relationships, and original programs that develop leaders at every level in their career track.
Products & Services
Conferences
14th Annual Succession Management Conference
November 08 - 09, 2018 (New York, NY)
2018 Performance Management Conference
November 13 - 14, 2018 (New York, NY)
Peer Networks
Executive Compensation Council
This Council is exclusively for executives with direct responsibility for the creation and implementation of executive compensation programs. Members discuss current trends in executive compensation as well as share and problem solve challenges.
Compensation Council II
This council, for the senior most compensation executive, allows for private discussions on current issues and challenges. Members value the expert speakers, benchmarking opportunities, and ability to share strategies and develop best practices.
Supplier Diversity Leadership Council
The Council meets three times a year to discuss the challenges that face supply chain organizations. Members are heads of the supplier diversity practice in their companies. They value the confidential forum and benchmarking opportunities.
Publications
ESG Rating and Ranking Initiatives -- A Necessary Evil?

This publication provides an overview of how ESG initiatives came about, including their emergence and evolution. It draws upon inputs from users in relation to these initiatives.
(Executive Action Report, May 2018)
ESG Initiatives Survey Findings

The Conference Board undertook a survey to examine ESG initiatives through a business perspective, reviewing their relevance and value. This document presents the survey findings.
(PowerPoint, May 2018)
Webcasts
Governance Watch
May 21, 2018 12:00 PM ET [12:00] (New York), 04:00 PM UTC [16:00]

How does the Sustainability Accounting & Standards Board (SASB) help companies measure and report on their sustainability efforts? What does the future hold for sustainability reporting? This webcast will probe the work of the SASB and the current state (and predicted future) of sustainability reporting among US companies. CPE and CLE credit available.
Window on Europe's General Data Protection Regulation
May 23, 2018 11:00 AM ET [11:00] (New York), 03:00 PM UTC [15:00]

Europe's General Data Protection Regulation (GDPR) is set to take effect on May 25th. Companies operating in Europe are challenged to comply with one of the most stringent data privacy regulation regimes. But there are also big opportunities for companies to get ahead of the curve in building consumer trust and to compete on "safe" digital products and services. CPE credit available.
Blogs
Digital Media Predictions for a Post-GDPR World
Last week, a business acquaintance made a ballsy prediction on LinkedIn for which he took a fair amount of flak. Posting a comment, I noted that his essential point was not that much of a stretch. Of course, there were nuances to the argument, but a long statement with a bunch of caveats wouldn't be nearly as interesting or thought-provoking. Predictions have to push at the edges or people won't pay attention. So, I figured it was time to step onto the ledge and make some predictions. (Society for New Communications Research Blog, May 2018)
A Fireside Chat on Impact and Mission Measurement
As part of staying up to date on corporate social responsibility and nonprofit program management best practices, we sat down for a chat with Jason Saul, Founder and CEO of Mission Measurement, and Alex Parkinson, Senior Researcher and Director of the Society for New Communications Research of The Conference Board (SNCR). Here's what we learned about why it's important to measure impact, what donors expect, current trends—and common mistakes. (Citizenship and Philanthropy Blog, May 2018)
Caremark Decision and Reputational Risk Through #MeToo Glasses
Public and private businesses today face many decisions that do not arise from, and have consequences far beyond, solely financial performance. Rather, these decisions are primarily driven by, and implicate, important social, cultural and political concerns. They include harassment, pay equity and other issues raised by the #MeToo movement. (On Governance, May 2018)