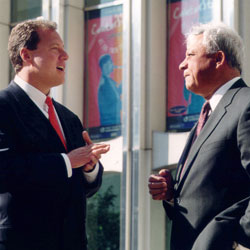 United States
Founded in 1916 by a group of CEOs concerned about the impact of workplace issues on business, The Conference Board was originally located in Boston and moved to New York City four years later. We've operated at the intersection of business and society ever since; an objective, independent source of economic and business knowledge with one agenda: to help our member companies understand and deal with the most critical issues of our time.
Access a universe of actionable insights, peer relationships, and original programs that develop leaders at every level in their career track.
Products & Services
Conferences
13th Annual Human Capital Analytics Conference
October 25 - 26, 2018 (New York, NY)
14th Annual Succession Management Conference
November 08 - 09, 2018 (New York, NY)
Peer Networks
Onboarding Talent Council
Talent has emerged as one of the top challenges for organizations globally. This council allows for confidential and candid dialogue regarding onboarding best practices and innovations amongst senior most leaders.
Emerging Markets Human Resources Council
The Council provides an exclusive network for human resources professionals to exchange insights and to explore and better understand the HR challenges and opportunities relating to business development and growth in emerging markets.
Chief Human Resources Officers Council III
HR executives in mid-market and not-for-profit organizations are required to function both operationally and strategically. In these candid and confidential meetings members gain a broader perspective and shared experiences for unique issues in this role.
Publications
Trading Up: With Global Growth Finally on the Rise, Is the Trade Recovery Sustainable?

This report, which introduces a new global value chain dataset tool, examines whether the trade recovery is sustainable and why reevaluating global operations strategy using current data is so critical.
(Key Business Issues, February 2018)
Charting a Path Forward for Charter Schools

This CED policy brief examines charter schools, their effectiveness and what role they should play in the US public school system as the debate over how to improve K-12 education continues.
(Committee for Economic Development, February 2018)
Are Directors Paid Too Much? An Analysis of Corporate Board Member Compensation from 1997-2012

Director excess compensation may be a sign of board entrenchment while an increase in overcompensation of directors reduces pay-for-performance sensitivity.
(Director Notes, February 2018)
Webcasts
Human Capital Watch™
February 21, 2018 11:00 AM ET [11:00] (New York), 04:00 PM UTC [16:00]

Join our experts as they uncover key finding from the eigth installation of the Global Leadership Forecast and examine how HR can lead the way in driving digital advancement. CPE credit available
Why "Big Data" Is Better for Understanding Human Behavior
February 21, 2018 02:00 PM ET [14:00] (New York), 07:00 PM UTC [19:00]

What can big data tell us that survey data do not? Join us for a conversation with author Seth Stephens-Davidowitz about his book, Everybody Lies: Big Data, New Data, and What the Internet Can Tell Us About Who We Really Are. CPE credit available
Blogs
Downskilling: Employers can no longer have their cake and eat it too
With the time to fill positions skyrocketing, some employers may choose to compromise on the educational requirement of their new hires. This blog shows that some companies have already started. (Labor Markets Blog, February 2018)
Running NFL Social Media On Game Day—An Interview With Dave Feldman
Dave Feldman, Sr Director of Digital at the NFL, is running one of the biggest, most complex, real-time social content teams on the planet. With this level of content creation, distribution and management, it's all about strategy, scalable process, extreme coordination and everyone and I mean everyone, must be on their A game. So, when I sat down for a full hour long interview with Dave to talk about the social content machine of the NFL, I was hanging on every word. (Society for New Communications Research Blog, February 2018)
Implications for Blockchain in Corporate Citizenship and Philanthropy
It's impossible to avoid the furor surrounding cryptocurrencies these days. Looking beyond the price fluctuations of crypto markets, examining the blockchain infrastructure that supports the currencies is a fascinating exercise. The use of blockchain in companies has some interesting implications for citizenship and philanthropy. Blockchain could add a level of transparency and authenticity to corporate practices and resulting communications that could help to rebuild trust in business. (Citizenship and Philanthropy Blog, February 2018)