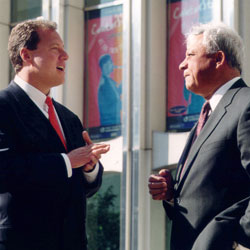 United States
Founded in 1916 by a group of CEOs concerned about the impact of workplace issues on business, The Conference Board was originally located in Boston and moved to New York City four years later. We've operated at the intersection of business and society ever since; an objective, independent source of economic and business knowledge with one agenda: to help our member companies understand and deal with the most critical issues of our time.
Access a universe of actionable insights, peer relationships, and original programs that develop leaders at every level in their career track.
Products & Services
Conferences
The 2018 West Coast Diversity & Inclusion Conference
December 10 - 11, 2018 (San Francisco, CA)
Change and Transformation Seminar
December 11 - 12, 2018 (New York, NY)
Peer Networks
Talent Management Executives Council
The Council, specifically for heads of talent management, including succession planning, provides an exclusive forum for the best minds to debate current issues and develop new trends. Members value the confidential and trusted network year-round.
Internal Communications Council II
The Internal Communications Council II will explore strategies to enable its members to be at the cutting edge of what works today, and what they need to prepare for, as they move forward.
Executive Compensation Council
This Council is exclusively for executives with direct responsibility for the creation and implementation of executive compensation programs. Members discuss current trends in executive compensation as well as share and problem solve challenges.
Publications
US Salary Increase Budgets for 2019

Our annual Salary Increase Budgets Survey indicates that the median 2018 actual total salary increase budget and merit increases across all employee groups are 3 percent, as they have been for the past seven years.
(Research Report, July 2018)
24 Truths About Change and Transformation Insights from the 16th Annual Change and Transformation Conference

Digital transformation at an organization may start well but lose momentum. Often the stumbling block is corporate culture. Changing the culture can make all the difference.
(Conference KeyNotes, July 2018)
Webcasts
Human Capital Watch™
July 18, 2018 11:00 AM ET [11:00] (New York), 03:00 PM UTC [15:00]

Learn how digital transformation changes the role of HR and what knowledge and skills HR leaders need to have to thrive in this new environment. CPE credit available
Advancing Gender Parity - New Strategies to Develop Organizational Change Leaders
July 24, 2018 01:00 PM ET [13:00] (New York), 05:00 PM UTC [17:00]

Learn solutions for growing a culture of leaders and change agents—both women and men—on gender parity. HRCI, SHRM, and CPE credit available.
Blogs
Recession Signals from the UK Leading Economic Index
Is a recession on the horizon in the UK? The short answer to this question is: yes. The probability of a recession in the near term has risen substantially. The UK business cycle is maturing and the lack of certainty around Brexit makes it difficult for consumers and businesses to make plans about the future. These are the ingredients that recessions are made of. The long answer requires an in-depth (and wonkish) analysis of The Conference Board Leading Economic Index for the UK. (Global Economy Center Blog, July 2018)
Culture Matters
In this piece, corporate culture is defined as an intangible asset driving company value. A culture of trust and support is found to be the best way to foster success in the workplace. To create this environment, boards and executives must focus on engagement, financial success, recruiting, and retention. (On Governance, July 2018)
Corporate Communications: Let the Sun Shine
"Let the sun shine" could have been the slogan for the The Conference Board's 2018 Corporate Communications Conference, held June 26-27. More than 150 corporate communicators took home new ideas to effectively get their messages out. Here are a couple quick-hit concepts from our speakers from great companies like Hilton, BASF, Boeing, State Farm, Love's Travel Stops, Mars, American Express, IBM, Aflac, Seattle City Light, UPS, Bank of America Merchant Services, DuPont, Bridge Consulting. (Society for New Communications Research Blog, July 2018)