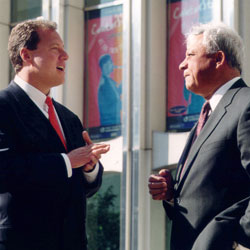 United States
Founded in 1916 by a group of CEOs concerned about the impact of workplace issues on business, The Conference Board was originally located in Boston and moved to New York City four years later. We've operated at the intersection of business and society ever since; an objective, independent source of economic and business knowledge with one agenda: to help our member companies understand and deal with the most critical issues of our time.
Access a universe of actionable insights, peer relationships, and original programs that develop leaders at every level in their career track.
Products & Services
Conferences
15th Annual Executive Coaching Conference
March 20 - 21, 2018 (New York, NY)
18th Annual Employee Health Care Conference - San Diego
March 27 - 28, 2018 (San Diego, CA)
Peer Networks
Enterprise Coaching & Development Council
This Council, dedicated to sharing, creating and implementing best practices and protocols that will drive business results, helps senior leaders develop within their organizations. Members value the confidential meetings and expert speakers.
Project Management Council
We discuss ways to manage projects across your organization in order to minimize bureaucracy and maximize benefits.
Corporate Well-Being & Strategic Health Leadership Council
As leaders in the field of Well-Being and Healthcare management, we play a critical role by making well-being a core business strategy that ultimately saves lives, reduces health care costs, enhances productivity and inspires higher levels of engagement.
Publications
The Conference Board Economics Watch® Economic Series Report

Monthly economic series report
(Economics Watch Reports, October 2017)
The Conference Board Economics Watch® United States View

Economy rides 2017 momentum into 2018
(Economics Watch Reports, October 2017)
Environmental and Social Proposals in the 2017 Proxy Season

The volume of environmental and social proposals at Russell 3000 companies has consistently gone up in the past five years.
(Director Notes, October 2017)
Webcasts
Right Makes Might: Building a Stronger Organization Through A Culture of Ethics
October 23, 2017 11:00 AM ET [11:00] (New York), 03:00 PM UTC [15:00]

Come away with actionable strategies to more effectively identify challenges, measure results, and strengthen a culture of ethics in your organization. HRCI, SHRM, and CPE credit available
Window On The Tech Sector: Should We Tax the Robots?
October 25, 2017 11:00 AM ET [11:00] (New York), 03:00 PM UTC [15:00]

Is there a risk that limited competition in the digital space discourages innovation? And can income inequality be solved with a tax on robots, a policy advocated by many influential figures in business? Join us as we discuss how business leaders can address these concerns and shape the future of digital transformation. CPE credit available
Blogs
Nonprofit Board Leadership: A Team Approach
Leadership succession planning for the position of chair is often a daunting exercise for nonprofit boards. Most nonprofits understand that the position is highly consequential for the strategic and financial success of the organization. Nonprofits will be stronger, however, if the chair is recognized as the leader of the board leadership team, rather than a soloist. (Giving Thoughts Blog, October 2017)
How to Engage the C-suite about Social Media with Authority and Confidence
"Social media takes time to build," said one of the participants in the webinar on social media and the C-suite that I co-presented for the Society for New Communications Research (SNCR) of The Conference Board earlier this month. It underscores a primary reality for communicators looking to engage their leaders in helping them understand the strategic value of social media in the long term as a legitimate business tool. (Society for New Communications Research Blog, October 2017)
On Governance: Proposed Federal Reserve governance guidance: The pendulum swings back (?)
In late August, the Federal Reserve proposed changes to its guidance on corporate governance for banking organizations. The proposals suggest a new approach to corporate governance that could extend beyond the banking industry. However, taken as a whole, the proposals strike me as being something of a mixed bag. (The Governance Center Blog, October 2017)