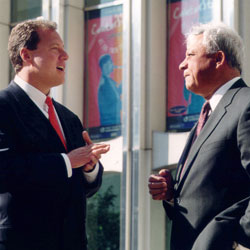 United States
Founded in 1916 by a group of CEOs concerned about the impact of workplace issues on business, The Conference Board was originally located in Boston and moved to New York City four years later. We've operated at the intersection of business and society ever since; an objective, independent source of economic and business knowledge with one agenda: to help our member companies understand and deal with the most critical issues of our time.
Access a universe of actionable insights, peer relationships, and original programs that develop leaders at every level in their career track.
Products & Services
Conferences
17th Annual Talent Management Strategies Conference - New York
01 - 02 March, 2017 (New York, NY)
The 2017 Joint Ventures Conference
02 - 03 March, 2017 (New York, NY)
Peer Networks
Corporate Well-Being & Strategic Health Leadership Council
As leaders in the field of Well-Being and Healthcare management, we play a critical role by making well-being a core business strategy that ultimately saves lives, reduces health care costs, enhances productivity and inspires higher levels of engagement.
Learning, Development, and Organizational Performance Council
This council is exclusively for executive-level leaders of talent development, organizational development and learning for their member companies or firms. Members of the council are the most senior leaders of these functions within their organization.
CIO Business Council
While many resources exist to help leaders to survive and even thrive in an environment of rapid change, the CIO Council provides a confidential environment where senior executives can share business issues related to IT services and solutions with peers.
Publications
China Center Chart Dive: Mining Trump's China Tweets—Just 'Flash,' or Indicators of the New China Policy Ideology?

Analyzing President Trump's pre-inauguration Twitter statements on China may be one lens for assessing future policy directions.
(China Center Publications, February 2017)
The Conference Board Economics Watch® United States View

Base scenario continues to suggest a modest upside for the US economic outlook.
(Economics Watch Reports, February 2017)
Webcasts
Policy Watch
23 February, 2017 11:00 AM ET [11:00] (New York), 04:00 PM UTC [16:00]

In this webcast, our experts will discuss how our policymakers will go about in confronting the daunting task of answering the call from voters to make capitalism work for all. CPE credits available
Creating a More Sustainable World
01 March, 2017 03:00 PM ET [15:00] (New York), 08:00 PM UTC [20:00]

How can companies successfully navigate worldwide issues while still achieving a strong positive impact with their community-based initiatives? Hear about how companies are braving the world's toughest issues and gain insights on how best to take your philanthropic/community programs to the next level. HRCI, SHRM, and CPE credit available