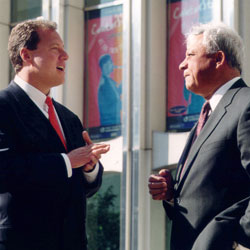 The Americas
Founded in 1916 by a group of CEOs concerned about the impact of workplace issues on business, The Conference Board was originally located in Boston and moved to New York City four years later. We've operated at the intersection of business and society ever since.
In Latin America, The Conference Board established a joint venture in Mexico in 1995 and produces that country's Leading Economic Index. Over a dozen Councils – ranging from the Human Resources Council – Mexico to the Customer Experience and Globalization Leadership Councils – help senior executives from member companies in Latin America to share best practices and develop approaches to the most challenging issues of the day. In addition, The Conference Board Review magazine regularly features articles of interest to Latin American business executives.
Products & Services
Conferences
Storytelling for Business Seminar
14 July, 2016 (New York, NY)
Strategic Community Impact Symposium
19 - 20 July, 2016 (New York, NY)
Peer Networks
Talent Management Executives Council III
The Council, specifically for heads of talent management, including succession planning, provides an exclusive forum for the best minds to debate current issues and develop new trends. Members value the confidential and trusted network year-round.
Emerging Markets Human Resources Council
The Council provides an exclusive network for human resources professionals to exchange insights and to explore and better understand the HR challenges and opportunities relating to business development and growth in emerging markets.
HR M&A Council
The success of every deal depends on the people issues. HR Executives who participate in M&A need specific skills and expertise, beginning with due diligence through integration.
Publications
Corporate Communications Practices: 2016 Edition

The function is taking on a more strategic role at companies, as corporate communicators become key advisors to the CEO and the C-suite, the inaugural edition of this benchmarking report finds.
(Research Report, June 2016)
25 Truths about Ethics in Business: Insights from the Built for Ethics Seminar

Ethical business cultures don't happen by accident. They develop as a result of high expectations, customized messaging and training, and collaboration among HR, the board, and the ethics function.
(Conference KeyNotes, June 2016)
Webcasts
Navigating the New Digital Economy: Perspective on the U.S.
29 June, 2016 11:00 AM ET [11:00] (New York), 03:00 PM UTC [15:00]

How do you get more out of your digital transformation process? Join us for a conversation between thought leaders from The Conference Board and the McKinsey Global Institute on how to speed up the shift from installation to deployment in the New Digital Economy. CPE credit available
How Women Leaders Can Leverage Their Unique Executive Presence
30 June, 2016 03:00 PM ET [15:00] (New York), 07:00 PM UTC [19:00]

What is executive presence, and how do women leverage it to make an impact? Author Suzanne Bates will discuss how to elevate your executive presence and redefine it. HRCI, SHRM, and CCE Coaching credits available