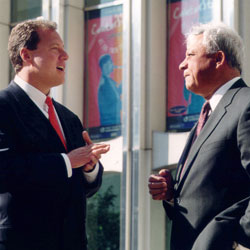 The Americas
Founded in 1916 by a group of CEOs concerned about the impact of workplace issues on business, The Conference Board was originally located in Boston and moved to New York City four years later. We've operated at the intersection of business and society ever since.
In Latin America, The Conference Board established a joint venture in Mexico in 1995 and produces that country's Leading Economic Index. Over a dozen Councils – ranging from the Human Resources Council – Mexico to the Customer Experience and Globalization Leadership Councils – help senior executives from member companies in Latin America to share best practices and develop approaches to the most challenging issues of the day. In addition, The Conference Board Review magazine regularly features articles of interest to Latin American business executives.
Products & Services
Conferences
Sustainability Training Workshop
31 October, 2016 (New York, NY)
The 2016 Executive Compensation Conference
01 - 02 November, 2016 (New York, NY)
Peer Networks
Corporate Controllers Council
The Corporate Controller is a pivotal position in the financial organization of any enterprise and today's Corporate Controller has to be more of a thinker with honed accounting, technology, analytical and leadership skills.
Chief Human Resources Officers Council
Executives engage in strategic discussions on challenges currently facing chief human resources officers. Members value the expert speakers, benchmarking opportunities, and ability to problem solve and share strategies unique to senior HR professionals.
Career Development Practitioner Council
Employees today seek more than a rating about work performance; they are interested in improving their careers. In order to retain top talent, organizations must work hard to provide resources, processes and tools for employees to manage their careers.
Publications
This report provides an update of the Committee for Economic Development's "Make Washington Work" project and outlines policies and reforms to improve the US political and legislative system.
(Committee for Economic Development, October 2016)
China Center Quick Note: The RMB's Rise -- IMF SDR Inclusion

The IMF's formal adoption of the RMB into the Special Drawing Rights is not a game changer for international finance. The RMB is unlikely to inspire the prerequisite confidence to be deemed a "safe haven" currency anytime soon.
(China Center Publications, October 2016)
Corporate Philanthropy in China, 2nd Edition: Creating Impact amid Challenges

Despite enormous growth in China's nonprofit sector, charitable giving remains small compared to that of many Western countries. This report examines how a lack of transparency and available data complicate corporate philanthropy planning.
(Research Report, October 2016)
Webcasts
The Conference Board Economics Watch®
08 November, 2016 03:00 PM ET [15:00] (New York), 08:00 PM UTC [20:00]

Join us for an early preview of The Conference Board Global Economic Outlook for 2017 and the coming decade with a special focus on the US. CPE credit available
Book Discussion: Breaking Through Bias
09 November, 2016 03:00 PM ET [15:00] (New York), 08:00 PM UTC [20:00]

If a woman is in a "male-dominated" career, her career is at risk due to pervasive gender stereotypes. Authors Andrea Kramer and Alton Harris present advice on how women can break through gender bias. HRCI and SHRM credit available.