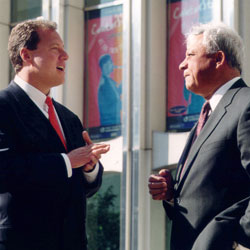 The Americas
Founded in 1916 by a group of CEOs concerned about the impact of workplace issues on business, The Conference Board was originally located in Boston and moved to New York City four years later. We've operated at the intersection of business and society ever since.
In Latin America, The Conference Board established a joint venture in Mexico in 1995 and produces that country's Leading Economic Index. Over a dozen Councils – ranging from the Human Resources Council – Mexico to the Customer Experience and Globalization Leadership Councils – help senior executives from member companies in Latin America to share best practices and develop approaches to the most challenging issues of the day. In addition, The Conference Board Review magazine regularly features articles of interest to Latin American business executives.
Products & Services
Conferences
Peer Networks
Council of U.S. Diversity & Inclusion Executives

This Council, specifically for chief diversity officers, allows for confidential exchange of ideas and collaborative problem solving. Members meet three times a year and network between meetings finding value in the high level peer network.

Business/Education Council

Are new graduates ready to work? That question is the cornerstone of this collaborative group. Executives discuss issues in workforce readiness and the effectiveness of business and education partnerships. Members value the confidential discussions.

Global Council of Investor Relations Executives

Senior investor relations officers of large-capitalization companies in both Europe and the United States share best practices in a confidential and member-driven forum. Members value the intimate and candid conversations that develop in the meetings.
Publications
Webcasts