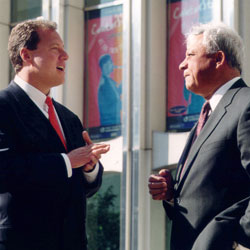 The Americas
Founded in 1916 by a group of CEOs concerned about the impact of workplace issues on business, The Conference Board was originally located in Boston and moved to New York City four years later. We've operated at the intersection of business and society ever since.
In Latin America, The Conference Board established a joint venture in Mexico in 1995 and produces that country's Leading Economic Index. Over a dozen Councils – ranging from the Human Resources Council – Mexico to the Customer Experience and Globalization Leadership Councils – help senior executives from member companies in Latin America to share best practices and develop approaches to the most challenging issues of the day. In addition, The Conference Board Review magazine regularly features articles of interest to Latin American business executives.
Products & Services
Conferences
The 2016 Private Exchanges Conference
20 - 21 September, 2016 (Chicago, IL)
The 2016 Big Data Seminar
27 - 28 September, 2016 (New York, NY)
Peer Networks
Business Performance Council
Driving performance excellence requires an understanding of every organizational function. Senior executives engage in confidential and frank dialogue to ensure they are abreast of current trends regarding the alignment of quality with the business plan.
Chief Privacy Officers Council
This Council is uniquely designed for heads of privacy. Confidential meetings allow members to share and collaborate in a trusted setting. Agendas are member-driven ensuring timeliness and relevancy.
Emerging Markets Human Resources Council
The Council provides an exclusive network for human resources professionals to exchange insights and to explore and better understand the HR challenges and opportunities relating to business development and growth in emerging markets.
Publications
The Conference Board Economics Watch® European View

The Euro Area was on a moderate recovery path before the EU referendum. In reaction to Brexit, investors moved their capital toward less risky assets, bringing to the surface the weakness of the Italian banks and uncertainty around future investment decisions.
(Economics Watch Reports, July 2016)
25 Truths about Branding: Insights from the Annual Brand Conference

Brands are striving to amplify word of mouth in social media, keep their voice consistent across platforms, and ride the momentum of changes in the digital landscape.
(Conference KeyNotes, July 2016)
Webcasts
Labor Shortages Abroad: Which countries will experience a tight labor market soon?
02 August, 2016 11:00 AM ET [11:00] (New York), 03:00 PM UTC [15:00]

Which countries are expected to face labor shortages? This webcast will analyze which mature and emerging markets will most likely experience labor shortages in the coming years. CPE, HRCI, and SHRM credit available
Governance Watch
04 August, 2016 12:00 PM ET [12:00] (New York), 04:00 PM UTC [16:00]

This webcast will focus on the investor engagement tactics used during the 2016 proxy season including activism, shareholder proposals, investor collaborations, and letter writing campaigns. CPE and CLE credit available.