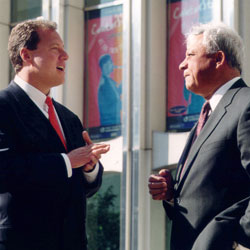 The Americas
Founded in 1916 by a group of CEOs concerned about the impact of workplace issues on business, The Conference Board was originally located in Boston and moved to New York City four years later. We've operated at the intersection of business and society ever since.
In Latin America, The Conference Board established a joint venture in Mexico in 1995 and produces that country's Leading Economic Index. Over a dozen Councils – ranging from the Human Resources Council – Mexico to the Customer Experience and Globalization Leadership Councils – help senior executives from member companies in Latin America to share best practices and develop approaches to the most challenging issues of the day. In addition, The Conference Board Review magazine regularly features articles of interest to Latin American business executives.
Products & Services
Conferences
22nd Annual Leadership Development Conference
05 - 06 May, 2016 (New York, NY)
2016 Merger Integration Conference - New York
12 - 13 May, 2016 (New York, NY)
Peer Networks
Compensation Council
This council, for the senior most compensation executive, allows for private discussions on current issues and challenges. Members value the expert speakers, benchmarking opportunities, and ability to share strategies and develop best practices.
Employee Benefits Council
Executives engage in strategic discussions on current challenges and trends facing employee benefits. Members value the confidential dialogue, expert speakers and benchmarking opportunities afforded by the intimate peer group forum.
Digital Strategy Council
Allows senior executives to systematically analyze the profound impact of new information technologies on corporate strategy, marketing, and product development. Members value the confidential dialogue, expert speakers and benchmarking opportunities.
Publications
The China ResearchGraphic: The Growing Importance of Sustainability Reporting in China

The Chinese government's intensifying focus on improving the sustainability reporting of local companies indicates that better sustainability reporting is desired by regulators, and the demand of the Chinese public for better sustainability standards, enforcement, and transparency is driving this trend.
(China Center Publications, May 2016)
China Center Data Flash: Credit where credit isn't due—the continuing structural deterioration in Q1

On April 15, China's Q1 growth was officially announced as 6.7 percent. The construction and real estate sectors were the primary growth drivers in the quarter. While some declared a cyclical rebound, we disagree.
(China Center Publications, May 2016)
Webcasts
CEO Challenge 2016: Ops Excellence, Innovation, Risk & Regulation
10 May, 2016 11:00 AM ET [11:00] (New York), 03:00 PM UTC [15:00]

How do this year's CEO hot-button issues resonate with them and their view of the business? Join this program and learn how leaders from different areas of the business are addressing CEOs' top concerns for this year. CPE credit available
The Conference Board Economics Watch®
10 May, 2016 03:00 PM ET [15:00] (New York), 07:00 PM UTC [19:00]

Will companies' focus on digitization come to the rescue of labor markets and growth? CPE credit available