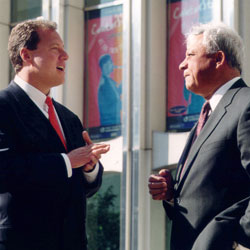 The Americas
Founded in 1916 by a group of CEOs concerned about the impact of workplace issues on business, The Conference Board was originally located in Boston and moved to New York City four years later. We've operated at the intersection of business and society ever since.
In Latin America, The Conference Board established a joint venture in Mexico in 1995 and produces that country's Leading Economic Index. Over a dozen Councils – ranging from the Human Resources Council – Mexico to the Customer Experience and Globalization Leadership Councils – help senior executives from member companies in Latin America to share best practices and develop approaches to the most challenging issues of the day. In addition, The Conference Board Review magazine regularly features articles of interest to Latin American business executives.
Products & Services
Conferences
The Global Strategic Risk & Organizational Resilience Workshop
01 - 02 June, 2016 (New York, NY)
Adjusting the Prescription
06 June, 2016 (Washington, D.C.)
Peer Networks
Chief EH&S Officers Council
We live in an era of increasingly limited resources and achieving our corporate EH&S goals has everything to do with sustainability. This private forum allows senior leaders to share best practices for integrating EH&S into global business strategies.
Talent and Organization Development Executive Council
This council is exclusively for executive-level leaders of talent development, organizational development and learning for their member companies or firms. Members of the council are the most senior leaders of these functions within their organization.
Chief Information Security Officers Council
The field of information security has grown and evolved significantly in recent years, and having a CISO function in the organization has become the standard.
Publications
StraightTalk® Global Economic Outlook 2016: Quality over Quantity: How Business Can Generate Sustainable Growth in a Slow Global Economy

Our outlook for global economic growth remains modest at 2.4 percent in 2016 and 2.7 percent in 2017. While growth rates between mature and emerging markets have rapidly converged, significant variation between regions remains.
(Key Business Issues, May 2016)
The Conference Board Economics Watch® United States View

Springing forward to a temperate summer: Some rebound in the second quarter is expected, but there is little indication of a turnaround in business investment.
(Economics Watch Reports, May 2016)
Global Economic Outlook 2016: Sub-Saharan Africa: Climbing a Steeper Hill?

As sub-Saharan Africa's growth pains continue in the coming decade, businesses must adopt a range of strategies to succeed across different groups of economies (undiversified, agricultural, frontier, and fragile) in the region.
(Key Business Issues, May 2016)
Webcasts
Book Discussion: Mindful Work
01 June, 2016 11:00 AM ET [11:00] (New York), 03:00 PM UTC [15:00]

Learn from New York Times reporter David Gelles how businesses can benefit from incorporating meditation, yoga, and other mindful techniques into their employee programs. HRCI and SHRM credit available
Policy Watch
02 June, 2016 11:00 AM ET [11:00] (New York), 03:00 PM UTC [15:00]

This webcast will cover the state and trajectory of the national debt, its possible consequences, and CED's solutions for fiscally responsible policies and budget making. CPE credit available