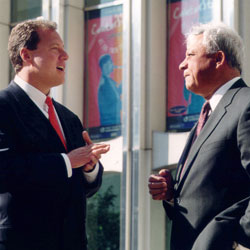 The Americas
Founded in 1916 by a group of CEOs concerned about the impact of workplace issues on business, The Conference Board was originally located in Boston and moved to New York City four years later. We've operated at the intersection of business and society ever since.
In Latin America, The Conference Board established a joint venture in Mexico in 1995 and produces that country's Leading Economic Index. Over a dozen Councils – ranging from the Human Resources Council – Mexico to the Customer Experience and Globalization Leadership Councils – help senior executives from member companies in Latin America to share best practices and develop approaches to the most challenging issues of the day. In addition, The Conference Board Review magazine regularly features articles of interest to Latin American business executives.
Products & Services
Conferences
Retirement Readiness Seminar
14 - 15 October, 2015 (New York, NY)
The 2015 Private Health Insurance Exchanges Conference
15 - 16 October, 2015 (Boston, MA)
Peer Networks
Council on Change Management
Our mission is to advance the practice of change management by creating new thought leadership and developing capabilities for extraordinary performance.
Product & Services Development Council
As front-line leaders in product/service development, we integrate and use market trends, user needs, technology, internal systems, investments & innovation methods in stages from market research through production and launch.
Purchasing and Supply Leadership Council
Chief procurement officers engage in strategic discussions of best practices and issues critical to the success of a company's purchasing organization. Members value the confidential dialogue, expert speakers and benchmarking opportunities.
Publications
China Center Data Flash - Property sector continues to struggle as inventories are drawn down

Some observers have recently been touting a rebound in the real estate market, and while both sales and prices have improved in recent months, it is essential to keep in mind that actual construction and investment in the sector are still contracting.
(China Center Publications, September 2015)
Moving to the Next Level: Insights from the 11th Annual Women's Leadership Conference

Women in business have come a long way, but moving to absolute parity with men requires continued planning and even consciousness raising on the part of both genders.
(Conference KeyNotes, September 2015)
Webcasts
Policy Watch: Strengthening the Workforce through Competency-Based Education
13 October, 2015 11:00 AM ET [11:00] (New York), 03:00 PM UTC [15:00]

A discussion on how competency-based education—along with the policies needed to advance it—can close the US skills gap through educating both young adults and older workers to higher skill levels at a lower cost. HRCI, SHRM and CPE credit available.
The Conference Board Economics Watch®
13 October, 2015 03:00 PM ET [15:00] (New York), 07:00 PM UTC [19:00]

As the end of the year approaches, business must brace itself for a legislative traffic jam in Washington. Join this interactive webcast to explore the key impending decisions that promise to have the most impact on business and the US economy. CPE credit available.