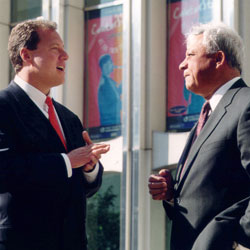 The Americas
Founded in 1916 by a group of CEOs concerned about the impact of workplace issues on business, The Conference Board was originally located in Boston and moved to New York City four years later. We've operated at the intersection of business and society ever since.
In Latin America, The Conference Board established a joint venture in Mexico in 1995 and produces that country's Leading Economic Index. Over a dozen Councils – ranging from the Human Resources Council – Mexico to the Customer Experience and Globalization Leadership Councils – help senior executives from member companies in Latin America to share best practices and develop approaches to the most challenging issues of the day. In addition, The Conference Board Review magazine regularly features articles of interest to Latin American business executives.
Products & Services
Conferences
The 2015 Roundtable Discussion on Executive Compensation - Santa Monica
17 - 18 September, 2015 (Santa Monica, CA)
Talent Acquisition Conference
29 - 30 September, 2015 (New York, NY)
Peer Networks
Global Council on Business Conduct
Executives responsible for shaping global ethics and compliance programs discuss current issues and challenges facing corporations globally. Members value the confidential dialogue, expert speakers and benchmarking opportunities.
Council on Compensation
This council, for the senior most compensation executive, allows for private discussions on current issues and challenges. Members value the expert speakers, benchmarking opportunities, and ability to share strategies and develop best practices.
Emerging Markets Human Resources Council
The Council provides an exclusive network for human resources professionals to exchange insights and to explore and better understand the HR challenges and opportunities relating to business development and growth in emerging markets.
Publications
Big Data Doesn't Mean 'Big Brother' (Implications for Asia)

Executive leaders in Asia should insist that their organizations build stronger capabilities in human capital analytics by reaching out to stakeholders, navigating data protection regulations, and garnering employee trust.
(Key Business Issues, September 2015)
CEO and Executive Compensation Practices: 2015 Edition

Total CEO compensation continues to grow, fueled by pension value adjustments, stock market performance, and peer pressure. In 2014, it soared 11.9 percent from 2013 and 34.7 percent from 2010.
(Key Findings, August 2015)
Future-Skilling Assessment Guide: Building a Conversation about Talent with Key Executive Leaders

This guide will help talent practitioners open a meaningful dialogue about talent and future skill building with key executives in the organization. This fillable form was created by the authors of The Conference Board Key Business Issues reports on Future-Skilling Your Workforce.
(Key Business Issues, August 2015)
Webcasts
Driving Revenue Growth Through Sustainable Products and Services - Europe Focus
02 September, 2015 09:00 AM , 03:00 PM CET [15:00] (Brussels), 01:00 PM UTC [13:00]

This webcast presents the findings from a research collaboration that examines the extent to which sustainability is generating revenue, providing business growth opportunities, and stimulating innovation in products and services among a sample of S&P Global 100 companies.
The Conference Board Economics Watch®
08 September, 2015 03:00 PM ET [15:00] (New York), 07:00 PM UTC [19:00]

Could your company be at risk for labor shortages? What will this mean for recruiting, retention, compensation growth, and corporate profits? What are some ways you can minimize the impact? Join us and bring your questions to this interactive webcast. CPE credit available.