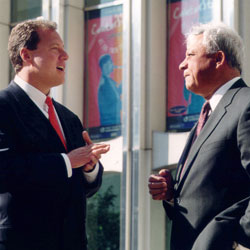 The Americas
Founded in 1916 by a group of CEOs concerned about the impact of workplace issues on business, The Conference Board was originally located in Boston and moved to New York City four years later. We've operated at the intersection of business and society ever since.
In Latin America, The Conference Board established a joint venture in Mexico in 1995 and produces that country's Leading Economic Index. Over a dozen Councils – ranging from the Human Resources Council – Mexico to the Customer Experience and Globalization Leadership Councils – help senior executives from member companies in Latin America to share best practices and develop approaches to the most challenging issues of the day. In addition, The Conference Board Review magazine regularly features articles of interest to Latin American business executives.
Products & Services
Conferences
Strategic Community Impact Symposium
01 - 02 December, 2015 (New York, NY)
Social Media in the Workplace: Managing the Benefits and Risks of Social Media
03 - 04 December, 2015 (New York, NY)
Peer Networks
Council on Marketing Research
The Council provides an opportunity for senior executives to meet for candid, off-the-record exchange of ideas and experiences. Members value the intimate forum, expert speakers, and ability to leverage the collective expertise year-round.
Emerging Markets Supply Chain Management Council
The Council provides senior supply chain decision makers in emerging markets with a network of professional peers who meet regularly to exchange ideas, best practices, and innovations related to the supply chain and logistics functions.
Executive Compensation Management Council
This Council is exclusively for executives with direct responsibility for the creation and implementation of executive compensation programs. Members discuss current trends in executive compensation as well as share and problem solve challenges.
Publications
The Conference Board Economics Watch® United States View

The US economy is in good shape heading into the holiday season; the 2016 outlook and beyond remains modest.
(Economics Watch Reports, November 2015)
No More Tiers: Navigating the Future of Consumer Demand across China's Cities (CMO Strategic Implications)

This report will help inform decisions by CMOs on where to allocate marketing dollars and provide insights into where consumption is today and in the medium- and long-term future in China.
(Key Business Issues, November 2015)
Webcasts
Emerging Practices in Cyber Risk Governance
03 December, 2015 03:00 PM ET [15:00] (New York), 08:00 PM UTC [20:00]

This webcast will provide an overview of how companies can incorporate cyber risk into their existing risk/enterprise risk management (ERM) work and their existing governance structures. CPE credit available.
The Conference Board Economics Watch®
08 December, 2015 03:00 PM ET [15:00] (New York), 08:00 PM UTC [20:00]

Taking stock: What were the main trends in the US economy in 2015, and what are we likely to see in 2016. CPE credit available.