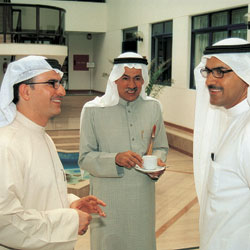 Middle East
The Conference Board offers valuable insights into how the Middle East fits within the global economy. A major recent report - "Managing Beyond Oil" - reviews productivity in the countries of the Gulf Cooperation Council, and outlines the implications for companies.
The Middle East Business Leaders' Council, formed in 1999, convenes local business leaders who are Associates of The Conference Board with representatives of multinational enterprises to discuss regional issues.
Researchers from The Conference Board make regular presentations in the region about corporate governance, human resources and economic development issues. We provide the opportunity for companies to understand this complex, fast-changing region and will tailor individual programmes to suit specific corporate requirements.
Products & Services
Peer Networks
Global Council of Investor Relations Executives

Senior investor relations officers of large-capitalization companies in both Europe and the United States share best practices in a confidential and member-driven forum. Members value the intimate and candid conversations that develop in the meetings.

Global Human Resources Council

Allows senior most global HR executives to discuss current challenges and trends regarding the strategic and structural management of their firm's multinational human resources. Members value the confidential dialogue, expert speakers and benchmarking.

Global Operational Excellence Council

We provide a global forum for sharing state of the art practices and successful implementation strategies to achieve and sustain business excellence.
Publications
Sustainability Practices 2015 Dashboard
The Conference Board Sustainability Practices Dashboard analyzes the most recent disclosure of environmental and social practices by public companies around the world. (Sustainability Practices Dashboard, February 2015)
Framing Social Impact Measurement
Measuring true social impact means moving beyond counting donations and the people reached, to a deeper approach that shows long-term changes. This report helps explain what that means. (Key Business Issues, November 2014)
Framing Social Measurement Impact: STRATEGIC OVERVIEW


In an age of strategic philanthropy, sophisticated social impact measurement can help you capitalize on business opportunities.

(Key Business Issues, November 2014)
Webcasts
12 March, 2015 10:00 AM EST [10:00]
The Conference Board Economics Watch® - Emerging Markets View


This monthly webcast provides the latest insights from The Conference Board Economics Team on the growth performance of major emerging markets. As a special topic, this month's Economics Watch will focus on the recent monetary policy developments in the emerging markets and also how these economies may be affected by the monetary policy changes from the mature economies.

18 March, 2015 10:00 AM EST [10:00], 03:00 PM CET [15:00]
Customer-Driven Innovation


This webcast will illuminate new pathways to innovation in large companies and the transformational consequences for the processes of innovation, marketing, strategic planning, and C-suite executive leadership.