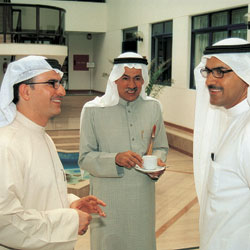 Middle East
The Conference Board offers valuable insights into how the Middle East fits within the global economy. A major recent report - "Managing Beyond Oil" - reviews productivity in the countries of the Gulf Cooperation Council, and outlines the implications for companies.
The Middle East Business Leaders' Council, formed in 1999, convenes local business leaders who are Associates of The Conference Board with representatives of multinational enterprises to discuss regional issues.
Researchers from The Conference Board make regular presentations in the region about corporate governance, human resources and economic development issues. We provide the opportunity for companies to understand this complex, fast-changing region and will tailor individual programmes to suit specific corporate requirements.
Products & Services
Conferences
Peer Networks
Global Operational Excellence Council

We provide a global forum for sharing state of the art practices and successful implementation strategies to achieve and sustain business excellence.

Global Social Investing Council

Advances the practice of cross-border corporate social responsibility and strategic philanthropy on a global scale through continuous dialogue on latest trends, issues and solutions encountered, as well as inspiring practices.
Publications
Managing Supply Chain Sustainability and Risk


Addressing supply chain risk and sustainability in isolation may put a firm at considerable risk. Companies should pursue strategies that recognize that supply chain risk and sustainability are inextricably intertwined.

(Director Notes, July 2014)
The Conference Board Labor Markets in Review™: Vol. 4, 2014


Economic expansion and the massive retirement of the baby boom generation in many mature economies are tightening labor markets—but the degree of current tightness and how rapidly the labor markets are tightening varies significantly across countries.

(Periodical, July 2014)
Webcasts