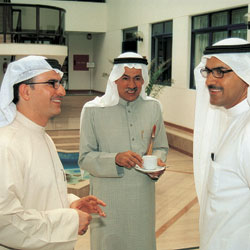 Middle East
The Conference Board offers valuable insights into how the Middle East fits within the global economy. A major recent report - "Managing Beyond Oil" - reviews productivity in the countries of the Gulf Cooperation Council, and outlines the implications for companies.
The Middle East Business Leaders' Council, formed in 1999, convenes local business leaders who are Associates of The Conference Board with representatives of multinational enterprises to discuss regional issues.
Researchers from The Conference Board make regular presentations in the region about corporate governance, human resources and economic development issues. We provide the opportunity for companies to understand this complex, fast-changing region and will tailor individual programmes to suit specific corporate requirements.
Products & Services
Peer Networks
Global Business Conduct Council
Senior executives responsible for shaping global ethics and compliance programs discuss current issues and challenges facing corporations globally. Members value the confidential dialogue, expert speakers and benchmarking opportunities.
Global Diversity & Inclusion Executives Council
Executives from European firms engage in strategic discussions on issues and challenges currently facing chief diversity officers. Members value the expert speakers, benchmarking opportunities, and ability to shape best and next practices in diversity.
Publications
The Conference Board Economics Watch® Emerging Markets View

Sentiment improved somewhat into the second quarter of 2016, but emerging markets' economic fundamentals are weak and the growth outlook remains fragile.
(Economics Watch Reports, May 2016)
The Conference Board Economics Watch® Emerging Markets View

Relief from declining oil and commodity prices may stabilize growth in emerging economies temporarily, but structural issues remain.
(Economics Watch Reports, April 2016)
StraightTalk® Global Economic Outlook 2016: Escaping the Global Economy's Holding Pattern

In 2016, the global economy will continue on a slow growth track for the fifth consecutive year, as mature economies continue to fly at a low altitude and emerging markets slow.
(StraightTalk®, November 2015)
Webcasts
Book Discussion: Digital vs Human - How we'll live, love, and think in the future
11 July, 2016 03:00 PM CET [15:00] (Brussels), 09:00 AM ET [09:00] (New York), 01:00 PM UTC [13:00]

Join us for a witty but critical discussion with Richard Watson, author of the book Digital vs Human. We will discuss how the next 50 years will be about the relationship between people and technologies, how these inventions will undoubtedly change our lives, and to what end.
The Conference Board Economics Watch® - Emerging Markets View
14 July, 2016 10:00 AM ET [10:00] (New York), 02:00 PM UTC [14:00]

Sub-Saharan Africa is projected to be become the fastest-growing region in the world for the next decade. However, significant challenges remain. How will businesses adopt strategies to succeed across different groups of economies in the region? CPE credit available