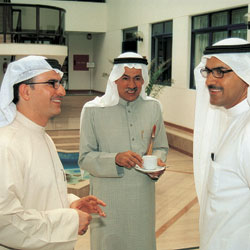 Middle East
The Conference Board offers valuable insights into how the Middle East fits within the global economy. A major recent report - "Managing Beyond Oil" - reviews productivity in the countries of the Gulf Cooperation Council, and outlines the implications for companies.
The Middle East Business Leaders' Council, formed in 1999, convenes local business leaders who are Associates of The Conference Board with representatives of multinational enterprises to discuss regional issues.
Researchers from The Conference Board make regular presentations in the region about corporate governance, human resources and economic development issues. We provide the opportunity for companies to understand this complex, fast-changing region and will tailor individual programmes to suit specific corporate requirements.
Products & Services
Peer Networks
Global Business Conduct Council
Senior executives responsible for shaping global ethics and compliance programs discuss current issues and challenges facing corporations globally. Members value the confidential dialogue, expert speakers and benchmarking opportunities.
Publications
Unlocking Value from Integrated Corporate Communications and Marketing (CHRO Business Implications)

Human resources professionals might not know it, but they have an important role in the future of corporate communications and marketing. This overview explores how integrating these two functions could deliver big opportunities in HR.
(Key Business Issues, September 2016)
Unlocking Value from Integrated Corporate Communications and Marketing (CEO Business Implications)

CEOs have a crucial role to play in ensuring integrated corporate communications and marketing delivers on its potential to create value.
(Key Business Issues, September 2016)
Webcasts
Driving Leadership Development through Coaching
03 October, 2016 03:00 PM CET [15:00] (Brussels), 09:00 AM ET [09:00] (New York), 01:00 PM UTC [13:00]

Join this webcast and hear strategies of how companies are implementing cutting-edge coaching initiatives. HRCI, SHRM, and CCE credit available
Inclusive Talent Management - How Business can Thrive in an Age of Diversity
04 October, 2016 02:30 PM CET [14:30] (Brussels), 08:30 AM ET [08:30] (New York), 12:30 PM UTC [12:30]

Join our guest authors Stephen Frost and Danny Kalman as they argue that companies need to align talent management with diversity and inclusion if they want to gain competitive advantage. HRCI & SHRM credit available