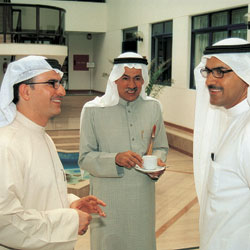 Middle East
The Conference Board offers valuable insights into how the Middle East fits within the global economy. A major recent report - "Managing Beyond Oil" - reviews productivity in the countries of the Gulf Cooperation Council, and outlines the implications for companies.
The Middle East Business Leaders' Council, formed in 1999, convenes local business leaders who are Associates of The Conference Board with representatives of multinational enterprises to discuss regional issues.
Researchers from The Conference Board make regular presentations in the region about corporate governance, human resources and economic development issues. We provide the opportunity for companies to understand this complex, fast-changing region and will tailor individual programmes to suit specific corporate requirements.
Products & Services
Peer Networks
Council of Financial Executives
This Council is one of the most prestigious forums that exist for bringing together CFOs of multinational companies to discuss current issues and challenges. Because of the confidentiality that governs the meetings, members develop a incredible trust.
Global Council of Investor Relations Executives
Senior investor relations officers of large-capitalization companies in both Europe and the United States share best practices in a confidential and member-driven forum. Members value the intimate and candid conversations that develop in the meetings.
Global Business Services Council
The Global Business Services Council is one of the first communities focused on serving the specific needs of the senior-most leaders working across business functions on a global basis.
Publications
StraightTalk® Global Economic Outlook 2016: Escaping the Global Economy's Holding Pattern

In 2016, the global economy will continue on a slow growth track for the fifth consecutive year, as mature economies continue to fly at a low altitude and emerging markets slow.
(StraightTalk®, November 2015)
The Conference Board Economics Watch® Emerging Markets View

Emerging markets have been underperforming over the last year, adding increased downside risks to the global growth outlook
(Economics Watch Reports, June 2015)
Webcasts
The Conference Board Economics Watch® - Emerging Markets View
10 December, 2015 10:00 AM ET [10:00] (New York), 03:00 PM UTC [15:00]

Taking stock of the major trends in the emerging market economies in 2015, and key regional and country-specific risks for 2016. CPE credit available
Is Short-term Behavior Jeopardizing the Future Prosperity of Business?
05 April, 2016 03:00 PM CET [15:00] (Brussels), 09:00 AM ET [09:00] (New York), 01:00 PM UTC [13:00]

This webcast will discuss existing trends that are putting sustainable capitalism under pressure, the drivers of corporate short-termism, and suggestions for corporate executives, board members, and investors to consider when reviewing governance structures.