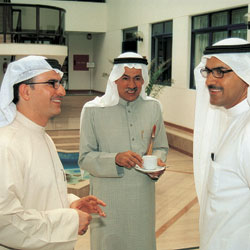 Middle East
The Conference Board offers valuable insights into how the Middle East fits within the global economy. A major recent report - "Managing Beyond Oil" - reviews productivity in the countries of the Gulf Cooperation Council, and outlines the implications for companies.
The Middle East Business Leaders' Council, formed in 1999, convenes local business leaders who are Associates of The Conference Board with representatives of multinational enterprises to discuss regional issues.
Researchers from The Conference Board make regular presentations in the region about corporate governance, human resources and economic development issues. We provide the opportunity for companies to understand this complex, fast-changing region and will tailor individual programmes to suit specific corporate requirements.
Products & Services
Peer Networks
Global Investor Relations Executives Council
Senior investor relations officers of large-capitalization companies in both Europe and the United States share best practices in a confidential and member-driven forum. Members value the intimate and candid conversations that develop in the meetings.
Global Diversity & Inclusion Executives Council
Executives from European firms engage in strategic discussions on issues and challenges currently facing chief diversity officers. Members value the expert speakers, benchmarking opportunities, and ability to shape best and next practices in diversity.
Legal Council
Updates on EU competition law developments, building a European legal team, controlling outside costs, and the interface between legal and global management are principle items on this council's agenda.
Publications
Employing Analytics to Enhance Workplace Productivity

Through the use of workforce analytics, organizations can examine the quality of productivity initiatives to identify and deliver the productivity gains that make the difference between thriving and surviving.
(Research Report, December 2016)
Follow the Leader: The Adoption and Use of Instagram by the Inc. 500 and the Fortune 500

This SNCR 2020 article examines the commonalities of Inc. 500 and Fortune 500 companies that have adopted Instagram.
(Research Report, December 2016)
Webcasts
Understanding the Blockchain and Its Potential—Much More than Just Bitcoin!
26 January, 2017 03:00 PM CET [15:00] (Brussels), 09:00 AM ET [09:00] (New York), 02:00 PM UTC [14:00]

The world is divided into two groups: those who think the blockchain is groundbreaking technology, and those who are still trying to figure out how it works. Whichever group you are in, join us to discuss the potential of this technology. CPE credit available
Window on America: Post-Inauguration Analysis
30 January, 2017 04:00 PM CET [16:00] (Brussels), 10:00 AM ET [10:00] (New York), 03:00 PM UTC [15:00]

Join The Conference Board Chief Economist Bart Van Ark as he leads a panel of experts in an enlightening discussion about the post-inauguration implications for worldwide growth, debt, and trade and a live analysis of President Trump's agenda for business and the economy.