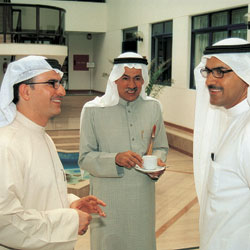 Middle East
The Conference Board offers valuable insights into how the Middle East fits within the global economy. A major recent report - "Managing Beyond Oil" - reviews productivity in the countries of the Gulf Cooperation Council, and outlines the implications for companies.
The Middle East Business Leaders' Council, formed in 1999, convenes local business leaders who are Associates of The Conference Board with representatives of multinational enterprises to discuss regional issues.
Researchers from The Conference Board make regular presentations in the region about corporate governance, human resources and economic development issues. We provide the opportunity for companies to understand this complex, fast-changing region and will tailor individual programmes to suit specific corporate requirements.
Products & Services
Peer Networks
Legal Council
Updates on EU competition law developments, building a European legal team, controlling outside costs, and the interface between legal and global management are principle items on this council's agenda.
Global Business Services Council
The Global Business Services Council is one of the first communities focused on serving the specific needs of the senior-most leaders in Europe working across business functions on a global basis.
Global Diversity & Inclusion Executives Council
Executives from European firms engage in strategic discussions on issues and challenges currently facing chief diversity officers. Members value the expert speakers, benchmarking opportunities, and ability to shape best and next practices in diversity.
Publications
The End of Cold, Hard Cash and the Global Shift toward Cashless Consumer Payments

We summarize the global shift to cashless consumer payments and the opportunities for consumer-facing businesses as they navigate the change.
(Executive Summary, August 2016)
The Conference Board Economics Watch® Emerging Markets View

Brexit-induced financial instability brings more uncertainty but leaves emerging markets' overall growth outlook for 2016 unchanged for now.
(Economics Watch Reports, July 2016)
The Conference Board Economics Watch® Emerging Markets View

Sentiment improved somewhat into the second quarter of 2016, but emerging markets' economic fundamentals are weak and the growth outlook remains fragile.
(Economics Watch Reports, May 2016)
Webcasts
Twelve Critical Behaviors that Highly Engaging Leaders Master
29 August, 2016 11:30 AM CET [11:30] (Brussels), 05:30 AM ET [05:30] (New York), 09:30 AM UTC [09:30]

Join this webcast to get insights from HR practitioners of global companies into how their leaders approach employee engagement and how their organizations support them in fostering a culture of engagement.
Embedding Cyber Risk Awareness
06 September, 2016 03:00 PM CET [15:00] (Brussels), 09:00 AM ET [09:00] (New York), 01:00 PM UTC [13:00]

Join this webcast to learn how DPDHL has developed a character to help grow cyber risk awareness. CPE credit available