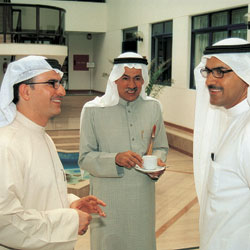 Middle East
The Conference Board offers valuable insights into how the Middle East fits within the global economy. A major recent report - "Managing Beyond Oil" - reviews productivity in the countries of the Gulf Cooperation Council, and outlines the implications for companies.
The Middle East Business Leaders' Council, formed in 1999, convenes local business leaders who are Associates of The Conference Board with representatives of multinational enterprises to discuss regional issues.
Researchers from The Conference Board make regular presentations in the region about corporate governance, human resources and economic development issues. We provide the opportunity for companies to understand this complex, fast-changing region and will tailor individual programmes to suit specific corporate requirements.
Products & Services
Peer Networks
Legal Council
Updates on EU competition law developments, building a European legal team, controlling outside costs, and the interface between legal and global management are principle items on this council's agenda.
Global Business Conduct Council
Senior executives responsible for shaping global ethics and compliance programs discuss current issues and challenges facing corporations globally. Members value the confidential dialogue, expert speakers and benchmarking opportunities.
Publications
Sustainability Practices 2016 Key Findings

One key finding from the 2016 Sustainability Practices Dashboard: while an increasing number of companies include sustainability performance metrics as a factor in executive compensation, they are routinely reticent to disclose the specifics of those metrics.
(Research Report, November 2016)
Digital Transformation: What Is It and What Does It Mean for Human Capital?

Based on a literature review, interviews with leading experts, and company examples, this report builds the foundation for a series of reports to be released in the next few years.
(Key Business Issues Listing, November 2016)
Webcasts
The Conference Board Economics Watch® - Emerging Markets View: Recap of the wild ride in 2016
15 December, 2016 10:00 AM ET [10:00] (New York), 03:00 PM UTC [15:00]

For emerging markets, the year of 2016 was a wild ride on the back of global uncertainties. Get a recap of what happened in key emerging markets during the year of 2016 and a preview of our new "Global Economic Index", which is an aggregate index of forward-looking indicators for the world economy. CPE credit available
The Influential Finance Leader
12 January, 2017 03:00 PM CET [15:00] (Brussels), 09:00 AM ET [09:00] (New York), 02:00 PM UTC [14:00]

Join this webcast as we explore practical strategies and key research on high-influence finance leadership. CPE credit available