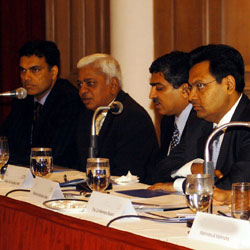 South Asia
The Conference Board's programs and activities in India, Pakistan, Bangladesh and Sri Lanka are designed to help senior decision makers in both Multi-national and local companies navigate the complex, dynamic economic and business climate in their respective countries and internationally. Programs include high level peer exchanges within our Councils, dialogue with in-house experts through live webcasts, economic research and business analysis. In support of our members in South Asia and around the world, The Conference Board brings its global perspective and expertise in such areas as economic and business cycle analysis, innovation, corporate governance, sustainability, human resources, and organizational capability to the unique South Asian business environment.
Products & Services
Conferences
Peer Networks
Publications
Webcasts
19 March, 2014 11:00 AM EST [11:00]
Human Capital Watch™: Human Capital Analytics @ Work
This webcast will focus on the use of analytics – from models that demonstrate the cause-and-effect relationship between people investment and business outcomes to demonstrating the ROI in those investments.
20 March, 2014 10:00 AM EST [10:00], 03:00 PM CET [15:00]
Risk Oversight: What Boards Need Going Forward


This webcast will examine current barriers to effective board risk oversight, and how boards can better identify and use the right risk information to inform their decisions on strategy.