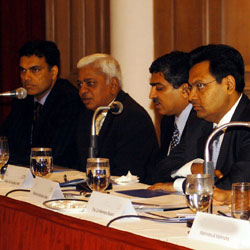 South Asia
The Conference Board's programs and activities in India, Pakistan, Bangladesh and Sri Lanka are designed to help senior decision makers in both Multi-national and local companies navigate the complex, dynamic economic and business climate in their respective countries and internationally. Programs include high level peer exchanges within our Councils, dialogue with in-house experts through live webcasts, economic research and business analysis. In support of our members in South Asia and around the world, The Conference Board brings its global perspective and expertise in such areas as economic and business cycle analysis, innovation, corporate governance, sustainability, human resources, and organizational capability to the unique South Asian business environment.
Products & Services
Peer Networks
South Asia Human Resources Leadership Council
HR Directors of large-cap companies meet to discuss the most salient human resources issues affecting the South Asia business community today.
South Asia Council on Governance & Risk Management
This council provides directors and top-management an exclusive forum for discussion of governance and risk management issues.
Global Council of Investor Relations Executives
Senior investor relations officers of large-capitalization companies in both Europe and the United States share best practices in a confidential and member-driven forum. Members value the intimate and candid conversations that develop in the meetings.
Publications
China Center Data Flash - Property sector continues to struggle as inventories are drawn down

Some observers have recently been touting a rebound in the real estate market, and while both sales and prices have improved in recent months, it is essential to keep in mind that actual construction and investment in the sector are still contracting.
(China Center Publications, September 2015)
The Conference Board Economics Watch® Emerging Markets View

The growth outlook for the rest of 2015 remains pessimistic.
(Economics Watch Reports, September 2015)
China Center Special Briefing Paper: Appraising Industrial Overcapacity – the Achilles Heel of Chinese Growth?

This China Center Special Briefing Paper examines China's current overcapacity challenges and outlines its history, deep-rooted causes, and the likely impact on future economic growth.
(China Center Publications, September 2015)
Webcasts
Human Capital Watch™: Talent Acquisition - Today's Priority for a Winning Tomorrow
21 October, 2015 11:00 AM ET [11:00] (New York), 03:00 PM UTC [15:00]

As businesses approach challenges in recruiting talent with the skills they need, speakers will discuss upcoming talent shortages and look at a number of strategies that will help you gain the competitive edge in the war for talent.
Sustaining Business Profitability Through Productivity Growth
28 October, 2015 03:00 PM CET [15:00] (Brussels), 10:00 AM ET [10:00] (New York), 02:00 PM UTC [14:00]

Recent research highlights productivity growth as a vital component for sustaining business profitability. Join us for this webcast, as we share our findings on productivity drivers in the United States and Europe, and explore how you can apply our insights to your business.