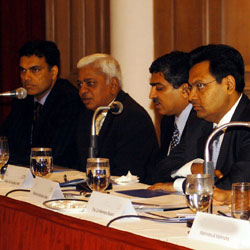 South Asia
The Conference Board's programs and activities in India, Pakistan, Bangladesh and Sri Lanka are designed to help senior decision makers in both Multi-national and local companies navigate the complex, dynamic economic and business climate in their respective countries and internationally. Programs include high level peer exchanges within our Councils, dialogue with in-house experts through live webcasts, economic research and business analysis. In support of our members in South Asia and around the world, The Conference Board brings its global perspective and expertise in such areas as economic and business cycle analysis, innovation, corporate governance, sustainability, human resources, and organizational capability to the unique South Asian business environment.
Products & Services
Peer Networks
Global Business Conduct Council
Senior executives responsible for shaping global ethics and compliance programs discuss current issues and challenges facing corporations globally. Members value the confidential dialogue, expert speakers and benchmarking opportunities.
Global Diversity & Inclusion Executives Council
Executives from European firms engage in strategic discussions on issues and challenges currently facing chief diversity officers. Members value the expert speakers, benchmarking opportunities, and ability to shape best and next practices in diversity.
Global Business Services Council
The Global Business Services Council is one of the first communities focused on serving the specific needs of the senior-most leaders in Europe working across business functions on a global basis.
Publications
Deciphering Labor and Skill Shortages in Asia with Workforce Analytics

This report profiles labor markets in China, India, Indonesia, and the Philippines and provides guidelines for using workforce analytics to address talent concerns in the region.
(Research Report, July 2016)
China Center Data Flash: Flat data in May -- another post-stimulus lull

Credit growth slowed for the second month in a row, and housing market hyperbole has begun to fade. The Q1 growth spikes in these two areas don't have sustainable momentum.
(China Center Publications, July 2016)
China Center Quick Note: China & Brexit

There are several ways to assess China's exposure to the events in Europe, including examining China's engagement with the UK and the EU in terms of international trade, FDI flows, and the RMB. Equally important, however, is to consider what Brexit means for China's engagement with Europe on a geo-economic and geopolitical scale.
(China Center Publications, July 2016)
Webcasts
Latest Tax Legislation Trends and Their Impact on Corporate Financing Strategy
26 July, 2016 03:00 PM CET [15:00] (Brussels), 09:00 AM ET [09:00] (New York), 01:00 PM UTC [13:00]

In this webcast we will hear from a corporate tax executive at Shell on how his interactions with his treasury counterpart are helping shape the company's financing strategy. CPE credit available
Governance Watch
04 August, 2016 12:00 PM ET [12:00] (New York), 04:00 PM UTC [16:00]

This webcast will focus on the investor engagement tactics used during the 2016 proxy season including activism, shareholder proposals, investor collaborations, and letter writing campaigns. CPE and CLE credit available.