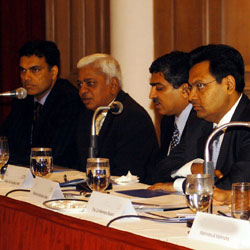 South Asia
The Conference Board's programs and activities in India, Pakistan, Bangladesh and Sri Lanka are designed to help senior decision makers in both Multi-national and local companies navigate the complex, dynamic economic and business climate in their respective countries and internationally. Programs include high level peer exchanges within our Councils, dialogue with in-house experts through live webcasts, economic research and business analysis. In support of our members in South Asia and around the world, The Conference Board brings its global perspective and expertise in such areas as economic and business cycle analysis, innovation, corporate governance, sustainability, human resources, and organizational capability to the unique South Asian business environment.
Products & Services
Peer Networks
China Human Resources Council
Meets to discuss issues and exchange best practices regarding recruiting, retaining, and motivating local staffs as member companies grow in the Greater China region.
Asia-Pacific Total Rewards Council
This Council provides senior Compensation & Benefits executives in the Asia-Pacific region a forum in which to share information, ideas, and create solutions to challenges facing companies doing business in the region.
Emerging Markets Human Resources Council
The Council provides an exclusive network for human resources professionals to exchange insights and to explore and better understand the HR challenges and opportunities relating to business development and growth in emerging markets.
Publications
China Center Research Brief: All signs point to much stronger environmental protection in China

Last winter's air pollution control plan in the larger Beijing area was unprecedented both in scale and intensity. The action plan was part of a much broader, central government-led effort to tackle China's pervasive air pollution problem and significantly ramp up environmental protection efforts in general.
(China Center Publications, April 2018)
Webcasts
Is GDPR the Death Knell for Human Capital Analytics?
June 28, 2018 03:00 PM CET [15:00] (Brussels), 09:00 AM ET [09:00] (New York), 01:00 PM UTC [13:00]

Many HR leaders are wondering whether the data protections under GDPR will tie their hands in human capital analytics (HCA). Is this the end of companies' new-found ability to generate business insights from human capital data? CPE, HRCI, and SHRM credit available
Economics Watch
July 11, 2018 11:00 AM ET [11:00] (New York), 03:00 PM UTC [15:00]

With unemployment rates reaching 50 year lows, firms must carefully analyze regional labor market dynamics to discover the best opportunities for obtaining talent. Join our expert panel as they discuss job market and wage growth conditions across states. CPE credit available