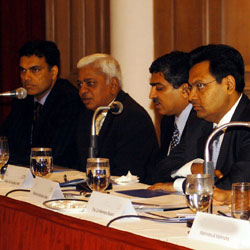 South Asia
The Conference Board's programs and activities in India, Pakistan, Bangladesh and Sri Lanka are designed to help senior decision makers in both Multi-national and local companies navigate the complex, dynamic economic and business climate in their respective countries and internationally. Programs include high level peer exchanges within our Councils, dialogue with in-house experts through live webcasts, economic research and business analysis. In support of our members in South Asia and around the world, The Conference Board brings its global perspective and expertise in such areas as economic and business cycle analysis, innovation, corporate governance, sustainability, human resources, and organizational capability to the unique South Asian business environment.
Products & Services
Peer Networks
Emerging Markets Supply Chain Management Council
The Council provides senior supply chain decision makers in emerging markets with a network of professional peers who meet regularly to exchange ideas, best practices, and innovations related to the supply chain and logistics functions.
Asia-Pacific Communication and Marketing Council
This council draws on the expertise of its members, augmented by insights of respected leaders in the fields of public relations, public affairs, investor and legal communications, employee relations, community relations and communications technologies.
Asia-Pacific Talent & Diversity Council
The mission of the Council is to provide its members, who are leaders in the areas of talent management, leadership development and organization effectiveness, with a forum for sharing best practices and actionable ideas.
Publications
Director Notes India: Board Meeting Attendance—Findings from a NIFTY 500 analysis

In spite of an Indian legal framework that offers directors many options to attend board meetings, attendance at NIFTY 500 companies is still down.
(Director Notes, December 2018)
Director Notes India: India at a Crossroads—Transitioning to a renewables-based electricity system

A fast-growing economy, increasing population, and more resource-intensive lifestyles is fueling India's energy demands.
(Director Notes, November 2018)
Webcasts
Global Leadership Forecast
December 11, 2018 10:00 AM ET [10:00] (New York), 03:00 PM UTC [15:00]

Join this interactive webcast on the topic of Rethinking Leadership Potential: Making the Most of High-Potential Talent, featuring Rebecca Ray from the Conference Board and Evan Sinar from DDI. HRCI, SHRM, and CPE credit available

Economics Watch
December 12, 2018 11:00 AM ET [11:00] (New York), 04:00 PM UTC [16:00]

The global value chains (GVCs) of tomorrow may differ starkly from the ones we see today. New technologies and economic trends appear to be reorganizing these global production networks in unexpected ways. CPE credit available