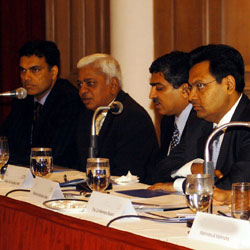 South Asia
The Conference Board's programs and activities in India, Pakistan, Bangladesh and Sri Lanka are designed to help senior decision makers in both Multi-national and local companies navigate the complex, dynamic economic and business climate in their respective countries and internationally. Programs include high level peer exchanges within our Councils, dialogue with in-house experts through live webcasts, economic research and business analysis. In support of our members in South Asia and around the world, The Conference Board brings its global perspective and expertise in such areas as economic and business cycle analysis, innovation, corporate governance, sustainability, human resources, and organizational capability to the unique South Asian business environment.
Products & Services
Peer Networks
Global CSR & Philanthropy Council
This council advances the practice of cross-border corporate social responsibility and strategic philanthropy on a global scale through continuous dialogue on latest trends, issues and solutions encountered, as well as inspiring practices.
Global Investor Relations Executives Council
Senior investor relations officers of large-capitalization companies in both Europe and the United States share best practices in a confidential and member-driven forum. Members value the intimate and candid conversations that develop in the meetings.
Publications
China Center Data Flash: Growth continued weakening in August

Data from the last two months reinforces our expectation of a moderate slowdown in the second half of 2017. A slowdown in investment growth will be the primary drag on growth, but resilience in consumption and exports should offset some of this drag in the short term.
(China Center Publications, September 2017)
China Center Chart Dive: Household spending ratio increased in rural areas but decreased in urban areas

Residents of rural China are beginning to save less in order to spend more. This is not the case in urban locations, although people in both areas are consuming more than ever.
(China Center Publications, September 2017)
China Center Deep Dive Exchange Session Report: Military Tensions in Northeast Asia and the South China Sea

In mid-September 2017, The Conference Board China Center convened nearly two dozen member company executives to compare perspectives and discuss what steps MNCs can take to dimension, plan for, and mitigate risks accompanying the increasingly tense geopolitical environment in East Asia.
(China Center Publications, September 2017)
Webcasts
Conscious Leadership
October 26, 2017 03:00 PM CET [15:00] (Brussels), 09:00 AM ET [09:00] (New York), 01:00 PM UTC [13:00]

Join this webcast to learn what it means to be a leader who uses the framework of Me + We + The World. HRCI, SHRM, and CPE credit available
Who Is Responsible for Employee Engagement?
November 01, 2017 11:00 AM ET [11:00] (New York), 03:00 PM UTC [15:00]

With an overall lack of engagement and its result on workforce productivity, we ask: Who is responsible for creating an engaging culture? Researchers and experts will discuss the latest DNA of Engagement report and offer actionable steps to foster a culture of engagement. HRCI, SHRM, and CPE credit available