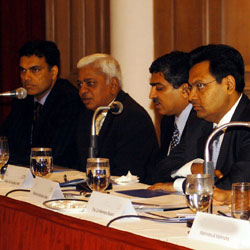 South Asia
The Conference Board's programs and activities in India, Pakistan, Bangladesh and Sri Lanka are designed to help senior decision makers in both Multi-national and local companies navigate the complex, dynamic economic and business climate in their respective countries and internationally. Programs include high level peer exchanges within our Councils, dialogue with in-house experts through live webcasts, economic research and business analysis. In support of our members in South Asia and around the world, The Conference Board brings its global perspective and expertise in such areas as economic and business cycle analysis, innovation, corporate governance, sustainability, human resources, and organizational capability to the unique South Asian business environment.
Products & Services
Peer Networks
Global Investor Relations Executives Council
Senior investor relations officers of large-capitalization companies in both Europe and the United States share best practices in a confidential and member-driven forum. Members value the intimate and candid conversations that develop in the meetings.
Global Human Resources Council
Allows senior most global HR executives to discuss current challenges and trends regarding the strategic and structural management of their firm's multinational human resources. Members value the confidential dialogue, expert speakers and benchmarking.
Global Business Services Council
The Global Business Services Council is one of the first communities focused on serving the specific needs of the senior-most leaders in the US working across business functions on a global basis.
Publications
The Conference Board Economics Watch® Emerging Markets View

Despite country-specific risks, emerging markets keep performing as solid contributors to global growth.
(Economics Watch Reports, August 2017)
China Center Data Flash: June data beats expectations, but marginal slowdown still likely in 2H

The marginal growth rebound posted in 1H was cyclical. However, an uptick in exports, the resilience in consumption growth, and tailwinds from the subsiding housing market boom and infrastructure spending have fueled the continuation of growth thus far into 2H.
(China Center Publications, August 2017)
China Center Chart Dive: China's labor compensation share of GDP is on the rise; this should be good for consumption in the near-term

High household savings rates have worked to constrain consumption in China for a long time. However, recent data suggests a decline in Chinese savings rates. This may partially explain the resilience of consumption growth in China, even as the country's overall economic growth continues to slow.
(China Center Publications, August 2017)
Webcasts
How can companies prepare to succeed in the circular economy?
07 September, 2017 03:00 PM CET [15:00] (Brussels), 09:00 AM ET [09:00] (New York), 01:00 PM UTC [13:00]

Join us as we illustrate how leading companies, such as Interface, are proactively making the shift to a circular economy model and how by doing so are not only reducing waste but also growing their bottom line.
The Conference Board Economics Watch®: GDP Rising
13 September, 2017 11:00 AM ET [11:00] (New York), 03:00 PM UTC [15:00]

Learn more about the underlying details driving changes to the domestic outlook which can help you better understand how demand will evolve for your company's products and services, as well as how the competitive landscape your firm presently faces may change. CPE credit available