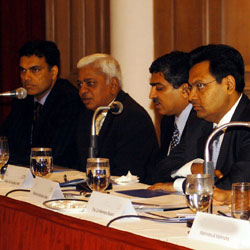 South Asia
The Conference Board's programs and activities in India, Pakistan, Bangladesh and Sri Lanka are designed to help senior decision makers in both Multi-national and local companies navigate the complex, dynamic economic and business climate in their respective countries and internationally. Programs include high level peer exchanges within our Councils, dialogue with in-house experts through live webcasts, economic research and business analysis. In support of our members in South Asia and around the world, The Conference Board brings its global perspective and expertise in such areas as economic and business cycle analysis, innovation, corporate governance, sustainability, human resources, and organizational capability to the unique South Asian business environment.
Products & Services
Conferences
Peer Networks
Global Social Investing Council

Advances the practice of cross-border corporate social responsibility and strategic philanthropy on a global scale through continuous dialogue on latest trends, issues and solutions encountered, as well as inspiring practices.

Global Operational Excellence Council

We provide a global forum for sharing state of the art practices and successful implementation strategies to achieve and sustain business excellence.

South Asia Human Resources Leadership Council

HR Directors of large-cap companies meet to discuss the most salient human resources issues affecting the South Asia business community today.
Publications
Webcasts
30 April, 2014 09:00 AM EST [09:00], 03:00 PM CET [15:00]
Managing the Audit Tender


In the Netherlands, companies are now required to change auditors every eight years and mandatory rotation is being considered at the EU level.

30 April, 2014 03:00 PM EST [15:00]
The Short View on China: Why 2014 will be a tough year


Only four months in and 2014 has already seen a marked increase in near-defaults throughout China's financial system, and weak growth and tough financing conditions are expected to continue.