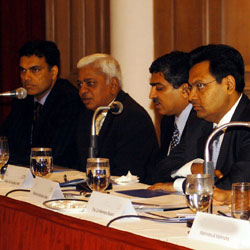 South Asia
The Conference Board's programs and activities in India, Pakistan, Bangladesh and Sri Lanka are designed to help senior decision makers in both Multi-national and local companies navigate the complex, dynamic economic and business climate in their respective countries and internationally. Programs include high level peer exchanges within our Councils, dialogue with in-house experts through live webcasts, economic research and business analysis. In support of our members in South Asia and around the world, The Conference Board brings its global perspective and expertise in such areas as economic and business cycle analysis, innovation, corporate governance, sustainability, human resources, and organizational capability to the unique South Asian business environment.
Products & Services
Peer Networks
Global Diversity & Inclusion Executives Council
Executives engage in strategic discussions on issues and challenges currently facing chief diversity officers. Members value the expert speakers, benchmarking opportunities, and ability to shape best and next practices in diversity.
South Asia Corporate Governance & Risk Council
This council provides directors and top-management an exclusive forum for discussion of governance and risk management issues.
South Asia Executive Coaching Council
This council gives members an opportunity to address sustainability challenges and compare notes to ensure they have the right strategies in place to identify and deal with environmental and social performance issues.
Publications
Inclusion + Innovation: DBS Bank Ltd

DBS Bank Ltd is one of four companies profiled in the 2016 Key Business Issues report Inclusion + Innovation: Leveraging Diversity of Thought to Generate Business Growth.
(Case Studies, February 2016)
Inclusion + Innovation: Leveraging Diversity of Thought to Generate Business Growth - Chief Talent Officer Strategic Implications

Our research finds that most organizations only have pockets of innovation. They can become more innovative by creating an inclusive culture.
(Key Business Issues, January 2016)
Webcasts
Governance Watch
16 February, 2016 12:00 PM ET [12:00] (New York), 05:00 PM UTC [17:00]

Join us for a discussion on international corporate governance trends and best practices. CPE and CLE credit available
Human Capital Watch™: Inclusion as a Key Lever to Drive Innovation
17 February, 2016 11:00 AM ET [11:00] (New York), 04:00 PM UTC [16:00]

Researchers from The Conference Board will discuss how HR can help align talent and business strategies for innovation and recruit leaders who support inclusion efforts, help employees gain the skillsets necessary to be innovative, and actively reward innovation. CPE credit available