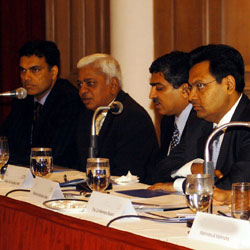 South Asia
The Conference Board's programs and activities in India, Pakistan, Bangladesh and Sri Lanka are designed to help senior decision makers in both Multi-national and local companies navigate the complex, dynamic economic and business climate in their respective countries and internationally. Programs include high level peer exchanges within our Councils, dialogue with in-house experts through live webcasts, economic research and business analysis. In support of our members in South Asia and around the world, The Conference Board brings its global perspective and expertise in such areas as economic and business cycle analysis, innovation, corporate governance, sustainability, human resources, and organizational capability to the unique South Asian business environment.
Products & Services
Peer Networks
Global CSR & Philanthropy Council
Advances the practice of cross-border corporate social responsibility and strategic philanthropy on a global scale through continuous dialogue on latest trends, issues and solutions encountered, as well as inspiring practices.
Global Business Conduct Council
Senior executives responsible for shaping global ethics and compliance programs discuss current issues and challenges facing corporations globally. Members value the confidential dialogue, expert speakers and benchmarking opportunities.
Global Business Services Council
The Global Business Services Council is one of the first communities focused on serving the specific needs of the senior-most leaders in Europe working across business functions on a global basis.
Publications
China Center Chart Dive: Mining Trump's China Tweets—Just 'Flash,' or Indicators of the New China Policy Ideology?

Analyzing President Trump's pre-inauguration Twitter statements on China may be one lens for assessing future policy directions.
(China Center Publications, February 2017)
The Conference Board Economics Watch® Emerging Markets View

Shocks and uncertainties moderate 2017 growth projections for several emerging economies.
(Economics Watch Reports, February 2017)
Webcasts
The Conference Board Economics Watch®
07 March, 2017 03:00 PM ET [15:00] (New York), 08:00 PM UTC [20:00]

This webcast will gather the most important decisions from the White House and consider their prospects on Capitol Hill, possibly in the courts, and in markets around the world. CPE credit available
The Conference Board Economics Watch® - Emerging Markets View
09 March, 2017 10:00 AM ET [10:00] (New York), 03:00 PM UTC [15:00]

In 2017, Brazil is expected to come out of the worse recession it has experienced in decades. But will the recovery materialize against a backdrop of slow global growth and rising uncertainties? This webcast will focus on our short-term growth projections for Brazil. CPE credit available