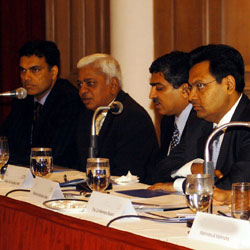 South Asia
The Conference Board's programs and activities in India, Pakistan, Bangladesh and Sri Lanka are designed to help senior decision makers in both Multi-national and local companies navigate the complex, dynamic economic and business climate in their respective countries and internationally. Programs include high level peer exchanges within our Councils, dialogue with in-house experts through live webcasts, economic research and business analysis. In support of our members in South Asia and around the world, The Conference Board brings its global perspective and expertise in such areas as economic and business cycle analysis, innovation, corporate governance, sustainability, human resources, and organizational capability to the unique South Asian business environment.
Products & Services
Peer Networks
Global CSR & Philanthropy Council
Advances the practice of cross-border corporate social responsibility and strategic philanthropy on a global scale through continuous dialogue on latest trends, issues and solutions encountered, as well as inspiring practices.
Global Business Conduct Council
Senior executives responsible for shaping global ethics and compliance programs discuss current issues and challenges facing corporations globally. Members value the confidential dialogue, expert speakers and benchmarking opportunities.
Publications
The Conference Board Economics Watch® Economic Series Report

Monthly economic series report
(Economics Watch Reports, January 2017)
China Center Data Flash: Less Supportive Monetary Policy—Expect Heightened Volatility

From the November data, we already see weakening signs in real estate investment and housing construction growth, the early stages of a housing market down-cycle. As supportive monetary policy and the housing market diminish as growth drivers, infrastructure investment becomes a more critical buffer to buoy growth.
(China Center Publications, January 2017)
China Center Chart Dive: China's Long March toward a Diminishing Labor Supply

China is currently experiencing a pronounced demographic shift that will have a serious impact on MNCs in China. Over the past decade, it has transformed from a nation with an abundance of young people to one with an increasingly aged population.
(China Center Publications, January 2017)
Webcasts
Human Capital Watch™: The Conference Board CEO Challenge® 2017
18 January, 2017 11:00 AM ET [11:00] (New York), 04:00 PM UTC [16:00]

What are the most pressing issues for CEOs in 2017? Join us to hear the strategies and tactics that help organizations thrive in an era of disruption, talent shortages, and digital transformation and how HR can support the business. CPE credit available
Window on America: Post-Inauguration Analysis
30 January, 2017 10:00 AM ET [10:00] (New York), 03:00 PM UTC [15:00]

Join The Conference Board Chief Economist Bart Van Ark as he leads a panel of experts in an enlightening discussion about the post-inauguration implications for worldwide growth, debt, and trade and a live analysis of President Trump's agenda for business and the economy.