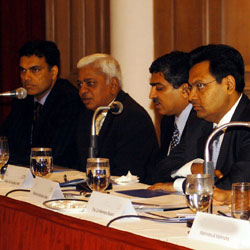 South Asia
The Conference Board's programs and activities in India, Pakistan, Bangladesh and Sri Lanka are designed to help senior decision makers in both Multi-national and local companies navigate the complex, dynamic economic and business climate in their respective countries and internationally. Programs include high level peer exchanges within our Councils, dialogue with in-house experts through live webcasts, economic research and business analysis. In support of our members in South Asia and around the world, The Conference Board brings its global perspective and expertise in such areas as economic and business cycle analysis, innovation, corporate governance, sustainability, human resources, and organizational capability to the unique South Asian business environment.
Products & Services
Peer Networks
Global Business Conduct Council
Senior executives responsible for shaping global ethics and compliance programs discuss current issues and challenges facing corporations globally. Members value the confidential dialogue, expert speakers and benchmarking opportunities.
South Asia Executive Coaching Council
This council gives members an opportunity to address sustainability challenges and compare notes to ensure they have the right strategies in place to identify and deal with environmental and social performance issues.
South Asia Corporate Governance & Risk Council
This council provides directors and top-management an exclusive forum for discussion of governance and risk management issues.
Publications
China Center Chart Dive: RMB devaluation — a guided market correction

Looking forward, a reasonable scenario is that depreciation will remain "guided" and gradual, in line pace-wise with recent trends.
(China Center Publications, June 2016)
China Center Quick Take: China's MSCI Rejection — Reform and Conform, or Don't Play

MSCI's decision to (again) exclude China's A Shares from its Emerging Markets Index is a surprise insofar as the global organization held to its standards rather than bend to China's.
(China Center Publications, June 2016)
China Center Data Flash: A Return to the Normal -- the economy cools in April

If credit growth continues slipping from the spike in Q1, asset prices -- including housing market prices -- are also likely to settle down in the second half of the year.
(China Center Publications, June 2016)
Webcasts
Book Discussion: Digital vs Human - How we'll live, love, and think in the future
11 July, 2016 03:00 PM CET [15:00] (Brussels), 09:00 AM ET [09:00] (New York), 01:00 PM UTC [13:00]

Join us for a witty but critical discussion with Richard Watson, author of the book Digital vs Human. We will discuss how the next 50 years will be about the relationship between people and technologies, how these inventions will undoubtedly change our lives, and to what end.
Human Capital Watch™: What's Next for Diversity & Inclusion
20 July, 2016 11:00 AM ET [11:00] (New York), 03:00 PM UTC [15:00]

How can D&I practitioners align their workforce and strategies to foster continued innovation? Hear experts discuss highlights and key themes from our latest D&I research and conference. CPE credit available