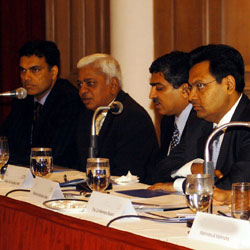 South Asia
The Conference Board's programs and activities in India, Pakistan, Bangladesh and Sri Lanka are designed to help senior decision makers in both Multi-national and local companies navigate the complex, dynamic economic and business climate in their respective countries and internationally. Programs include high level peer exchanges within our Councils, dialogue with in-house experts through live webcasts, economic research and business analysis. In support of our members in South Asia and around the world, The Conference Board brings its global perspective and expertise in such areas as economic and business cycle analysis, innovation, corporate governance, sustainability, human resources, and organizational capability to the unique South Asian business environment.
Products & Services
Peer Networks
Global Business Conduct Council
Senior executives responsible for shaping global ethics and compliance programs discuss current issues and challenges facing corporations globally. Members value the confidential dialogue, expert speakers and benchmarking opportunities.
Global Social Investing Council
Advances the practice of cross-border corporate social responsibility and strategic philanthropy on a global scale through continuous dialogue on latest trends, issues and solutions encountered, as well as inspiring practices.
Publications
China CEO Council Session Report - Getting through to 2022

A simplified summary of selected premises and insights from the June 2, 2016, China CEO Council meeting in Beijing. Some 30 MNC country heads and deputies attended the session, which was hosted by Microsoft. This report summarizes and supplements the PowerPoint workshop decks used for the session.
(China Center Publications, August 2016)
The Conference Board Economics Watch® Emerging Markets View

Despite modest improvement in manufacturing, persistent overcapacity continues to weigh on emerging markets' growth in 2016.
(Economics Watch Reports, August 2016)
China Center Quick Note: China's New &quotGoing Out&quot

China's previous Going Out campaign was dominated by large, old-economy, industrial SOEs, but that has changed rapidly over the past two years; new key players – both State and private – are now focused on new-economy innovation prizes.
(China Center Publications, August 2016)
Webcasts
Twelve Critical Behaviors that Highly Engaging Leaders Master
29 August, 2016 11:30 AM CET [11:30] (Brussels), 05:30 AM ET [05:30] (New York), 09:30 AM UTC [09:30]

Join this webcast to get insights from HR practitioners of global companies into how their leaders approach employee engagement and how their organizations support them in fostering a culture of engagement.
Embedding Cyber Risk Awareness
06 September, 2016 03:00 PM CET [15:00] (Brussels), 09:00 AM ET [09:00] (New York), 01:00 PM UTC [13:00]

Join this webcast to learn how DPDHL has developed a character to help grow cyber risk awareness. CPE credit available