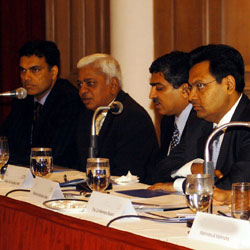 South Asia
The Conference Board's programs and activities in India, Pakistan, Bangladesh and Sri Lanka are designed to help senior decision makers in both Multi-national and local companies navigate the complex, dynamic economic and business climate in their respective countries and internationally. Programs include high level peer exchanges within our Councils, dialogue with in-house experts through live webcasts, economic research and business analysis. In support of our members in South Asia and around the world, The Conference Board brings its global perspective and expertise in such areas as economic and business cycle analysis, innovation, corporate governance, sustainability, human resources, and organizational capability to the unique South Asian business environment.
Products & Services
Peer Networks
Global CSR & Philanthropy Council
This council advances the practice of cross-border corporate social responsibility and strategic philanthropy on a global scale through continuous dialogue on latest trends, issues and solutions encountered, as well as inspiring practices.
Global Investor Relations Executives Council
Senior investor relations officers of large-capitalization companies in both Europe and the United States share best practices in a confidential and member-driven forum. Members value the intimate and candid conversations that develop in the meetings.
Global Business Services Council
The Global Business Services Council is one of the first communities focused on serving the specific needs of the senior-most leaders in the US working across business functions on a global basis.
Publications
Sustainability Practices 2017 Key Findings

Third-party verification of the claims in sustainability reports is on the rise, which is helping investors make better-informed decisions about companies' risks and opportunities. But companies could still be much more transparent.
(Research Report, December 2017)
Sustainability Practices Dashboard

The Conference Board Sustainability Practices Dashboard analyzes the most recent disclosure of environmental and social practices by public companies around the world.
(Research Report, December 2017)
Webcasts
Fueling Regeneration: The Future of Disaster Philanthropy
December 14, 2017 03:00 PM CET [15:00] (Brussels), 09:00 AM ET [09:00] (New York), 02:00 PM UTC [14:00]

Learn from experts on the front lines of disaster regeneration how disasters are intensifying due to climate change and how corporate philanthropy should respond. HRCI, SHRM, and CPE credit available
Human Capital Watch™: Digital Transformation
December 20, 2017 11:00 AM ET [11:00] (New York), 04:00 PM UTC [16:00]

How does the HR function change under digital transformation? Get an advance look at forthcoming research from The Conference Board to answer this and other key questions. CPE credit available