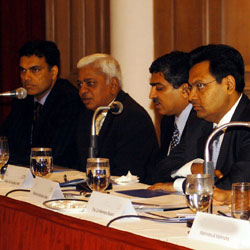 South Asia
The Conference Board's programs and activities in India, Pakistan, Bangladesh and Sri Lanka are designed to help senior decision makers in both Multi-national and local companies navigate the complex, dynamic economic and business climate in their respective countries and internationally. Programs include high level peer exchanges within our Councils, dialogue with in-house experts through live webcasts, economic research and business analysis. In support of our members in South Asia and around the world, The Conference Board brings its global perspective and expertise in such areas as economic and business cycle analysis, innovation, corporate governance, sustainability, human resources, and organizational capability to the unique South Asian business environment.
Products & Services
Peer Networks
China Communication and Marketing Council
Meets to discuss issues and exchange best practices such as branding, stakeholder relationships, public affairs, employee relations, community relations, interactive marketing and communication technologies issues with a strong focus on Greater China.
Emerging Markets Supply Chain Management Council
The Council provides senior supply chain decision makers in emerging markets with a network of professional peers who meet regularly to exchange ideas, best practices, and innovations related to the supply chain and logistics functions.
Asia-Pacific Total Rewards Council
This Council provides senior Compensation & Benefits executives in the Asia-Pacific region a forum in which to share information, ideas, and create solutions to challenges facing companies doing business in the region.
Publications
Global Leadership Forecast 2018

The Global Leadership Forecast is the largest research study of its kind, examining the state of leadership development practices and leader experiences across organizations in major industries around the globe.
(Publication, August 2018)
US - Japan Business Leaders Forum on Productivity 2019

The Conference Board engages in productivity dialogue among business leaders of Japan, the US, and Germany
(Publication, August 2018)
Webcasts
Advertising Under Pressure
September 26, 2018 03:00 PM CET [15:00] (Brussels), 09:00 AM ET [09:00] (New York), 01:00 PM UTC [13:00]

Hugues Rey, CEO Havas Media Group BeLux, joins us to discuss how data and dynamic creations enable us to reach the right person at the right moment on the right channel. CPE credit available
The CFO's Challenge
October 03, 2018 04:00 PM CET [16:00] (Brussels), 10:00 AM ET [10:00] (New York), 02:00 PM UTC [14:00]

Join our panel for this webcast as they detail key findings from this year's C-Suite Challenge™ with a specific focus on implications for CFO's. CPE credit available