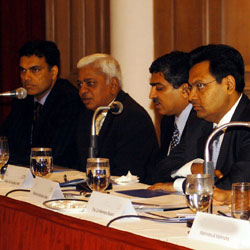 South Asia
The Conference Board's programs and activities in India, Pakistan, Bangladesh and Sri Lanka are designed to help senior decision makers in both Multi-national and local companies navigate the complex, dynamic economic and business climate in their respective countries and internationally. Programs include high level peer exchanges within our Councils, dialogue with in-house experts through live webcasts, economic research and business analysis. In support of our members in South Asia and around the world, The Conference Board brings its global perspective and expertise in such areas as economic and business cycle analysis, innovation, corporate governance, sustainability, human resources, and organizational capability to the unique South Asian business environment.
Products & Services
Peer Networks
Global Investor Relations Executives Council
Senior investor relations officers of large-capitalization companies in both Europe and the United States share best practices in a confidential and member-driven forum. Members value the intimate and candid conversations that develop in the meetings.
Publications
Drafting the 'Dream Team': Leveraging Analytics to Acquire Top Talent in Asia

Using workforce analytics, organizations can systematically examine and evaluate the quality of their talent acquisition strategies to identify and implement the most effective means for finding talent.
(Research Report, June 2017)
The Conference Board Economics Watch® Emerging Markets View

Recent downside risks challenge the outlook for emerging markets for remainder of the year.
(Economics Watch Reports, June 2017)
Webcasts
The Broken American Dream: A Discussion On The Future of Capitalism
29 June, 2017 03:00 PM CET [15:00] (Brussels), 09:00 AM ET [09:00] (New York), 01:00 PM UTC [13:00]

Join this webcast as we examine what is wrong with market economies not only in the United States but elsewhere as well, and how capitalism can be fixed to better serve society. CPE credit available

The Conference Board Economics Watch®
12 July, 2017 11:00 AM ET [11:00] (New York), 03:00 PM UTC [15:00]

When will the contradiction between low unemployment and manageable inflation and wage growth resolve itself? Join Senior Economist Brian Schaitkin and other experts as they try to get inside Janet Yellen's mind to explain what factors are keeping prices under control and when tighter labor markets will translate into higher inflation. CPE credit available