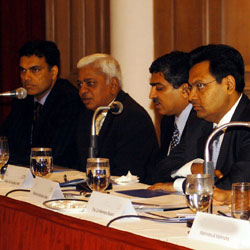 South Asia
The Conference Board's programs and activities in India, Pakistan, Bangladesh and Sri Lanka are designed to help senior decision makers in both Multi-national and local companies navigate the complex, dynamic economic and business climate in their respective countries and internationally. Programs include high level peer exchanges within our Councils, dialogue with in-house experts through live webcasts, economic research and business analysis. In support of our members in South Asia and around the world, The Conference Board brings its global perspective and expertise in such areas as economic and business cycle analysis, innovation, corporate governance, sustainability, human resources, and organizational capability to the unique South Asian business environment.
Products & Services
Peer Networks
Global Business Conduct Council
Senior executives responsible for shaping global ethics and compliance programs discuss current issues and challenges facing corporations globally. Members value the confidential dialogue, expert speakers and benchmarking opportunities.
Global Business Services Council
The Global Business Services Council is one of the first communities focused on serving the specific needs of the senior-most leaders in Europe working across business functions on a global basis.
Publications
20 Truths about Human Capital Analytics: Insights from the 2016 Human Capital Analytics Conference

As human capital analytics grows, it is no longer considered merely optional to HR strategy. Early adopters have used HCA to increase HR efficiency as well as overall business performance.
(Conference KeyNotes, December 2016)
Sustainability Practices Dashboard

The Conference Board Sustainability Practices Dashboard analyzes the most recent disclosure of environmental and social practices by public companies around the world.
(Research Report, November 2016)
Webcasts
Chinese Consumers and Their Demand for Financial Services
06 December, 2016 09:00 AM ET [09:00] (New York), 02:00 PM UTC [14:00]

New research finds untapped demand for financial services among Chinese households. Experts will describe the forces that drive this demand and how those forces will change in the next 10 years, unlocking an additional US$650 billion in consumer spending. CPE credit available
Governance Watch: Lessons Learned from Recent FCPA Enforcement Trends
06 December, 2016 12:00 PM ET [12:00] (New York), 05:00 PM UTC [17:00]

This webcast will focus on global anti-bribery and anti-corruption trends, spotlighting the results of the Foreign Corrupt Practices Act self-reporting pilot program launched this spring. CPE and CLE credit available.