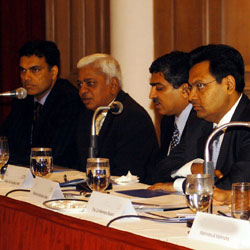 South Asia
The Conference Board's programs and activities in India, Pakistan, Bangladesh and Sri Lanka are designed to help senior decision makers in both Multi-national and local companies navigate the complex, dynamic economic and business climate in their respective countries and internationally. Programs include high level peer exchanges within our Councils, dialogue with in-house experts through live webcasts, economic research and business analysis. In support of our members in South Asia and around the world, The Conference Board brings its global perspective and expertise in such areas as economic and business cycle analysis, innovation, corporate governance, sustainability, human resources, and organizational capability to the unique South Asian business environment.
Products & Services
Peer Networks
South Asia Council on Governance & Risk Management
This council provides directors and top-management an exclusive forum for discussion of governance and risk management issues.
Council of Global Diversity & Inclusion Executives
Executives engage in strategic discussions on issues and challenges currently facing chief diversity officers. Members value the expert speakers, benchmarking opportunities, and ability to shape best and next practices in diversity.
Global Council on Business Conduct
Executives responsible for shaping global ethics and compliance programs discuss current issues and challenges facing corporations globally. Members value the confidential dialogue, expert speakers and benchmarking opportunities.
Publications
Big Data Doesn't Mean 'Big Brother' (Implications for Asia)

Human capital leaders in Asia should insist that their organizations build stronger capabilities in human capital analytics by reaching out to stakeholders, navigating data protection regulations, and garnering employee trust.
(Key Business Issues, September 2015)
The Conference Board Economics Watch® Emerging Markets View

There are strong headwinds ahead for major emerging economies.
(Economics Watch Reports, August 2015)
China Center Data Flash - 7% questionable for Q2...but June did see a touch of sequential acceleration

The NBS reported that official GDP growth for the second quarter came in at 7 percent y-o-y, unchanged from the first quarter's growth rate. Frankly, the headline growth print is suspect.
(China Center Publications, July 2015)
Webcasts
Driving Revenue Growth Through Sustainable Products and Services - Europe Focus
02 September, 2015 09:00 AM , 03:00 PM CET [15:00] (Brussels), 01:00 PM UTC [13:00]

This webcast presents the findings from a research collaboration that examines the extent to which sustainability is generating revenue, providing business growth opportunities, and stimulating innovation in products and services among a sample of S&P Global 100 companies.
Enhancing Your Global Career as a Senior Female Business Leader
08 September, 2015 03:00 PM CET [15:00] (Brussels), 09:00 AM ET [09:00] (New York), 01:00 PM UTC [13:00]

Join us for this webcast, when our guest speakers will give real-life examples of their career highlights and challenges as senior female business leaders.