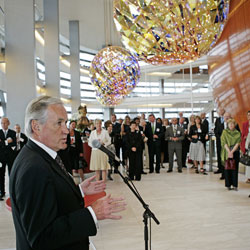 Europe
The Conference Board is dedicated to providing Europe's leading companies with the comparative knowledge and perspective they need to develop their regional and world-wide potential.
Products & Services
Conferences
19th Annual Global Business and Shared Services Conference
22 - 23 October, 2015 (New York, New York)
Peer Networks
Strategic Workforce Planning Council
This council takes on the challenge of implementing and maturing SWP to maximize its benefit. The meeting focus is participatory, the emphasis on relevant insights that members can use to manage risks and leverage talent.
Global Social Investing Council
Advances the practice of cross-border corporate social responsibility and strategic philanthropy on a global scale through continuous dialogue on latest trends, issues and solutions encountered, as well as inspiring practices.
Council on Health and Safety
Gives European safety managers the opportunity to exchange ideas on increasing the effectiveness of their health and safety programmes, and on promoting the active participation and commitment of employees.
Publications
China Center Data Flash - Property sector continues to struggle as inventories are drawn down

Some observers have recently been touting a rebound in the real estate market, and while both sales and prices have improved in recent months, it is essential to keep in mind that actual construction and investment in the sector are still contracting.
(China Center Publications, September 2015)
Moving to the Next Level: Insights from the 11th Annual Women's Leadership Conference

Women in business have come a long way, but moving to absolute parity with men requires continued planning and even consciousness raising on the part of both genders.
(Conference KeyNotes, September 2015)
Webcasts
Future-Skilling Your Workforce: People Ecosystem Matters
05 October, 2015 03:00 PM ET [15:00] (New York), 07:00 PM UTC [19:00]

New research from The Conference Board helps organizations break down functional silos, fostering greater alignment with business goals and strategies. This webcast will share future-skilling practices from practitioners at IBM and FedEx. HRCI and SHRM credit available.
Getting People Issues Right in Successful M&As
06 October, 2015 03:00 PM ET [15:00] (New York), 07:00 PM UTC [19:00]

This webcast will be an interactive and practical discussion explaining this issue and discussing strategies and actions to maximize the success in terms of how individuals work together in combined organizations. SHRM and PDU credits available.