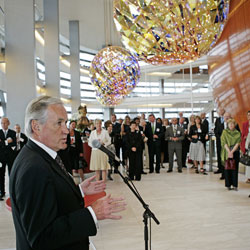 Europe
The Conference Board is dedicated to providing Europe's leading companies with the comparative knowledge and perspective they need to develop their regional and world-wide potential.
Products & Services
Peer Networks
Global Social Investing Council
Advances the practice of cross-border corporate social responsibility and strategic philanthropy on a global scale through continuous dialogue on latest trends, issues and solutions encountered, as well as inspiring practices.
Global Business Conduct Council
Senior executives responsible for shaping global ethics and compliance programs discuss current issues and challenges facing corporations globally. Members value the confidential dialogue, expert speakers and benchmarking opportunities.
Shared Services Council
The Shared Services Council in Europe brings together senior shared services executives to exchange best practices, strategies and innovations leading to the provision of competitive internal business support services.
Publications
Europe 2.0? Four Scenarios for Europe Post-Brexit

We present four scenarios for how the EU could fare in the medium term after the existential crisis of Brexit. In each scenario, some sectors and industries benefit more than others.
(Research Report, December 2016)
20 Truths about Human Capital Analytics: Insights from the 2016 Human Capital Analytics Conference

As human capital analytics grows, it is no longer considered merely optional to HR strategy. Early adopters have used HCA to increase HR efficiency as well as overall business performance.
(Conference KeyNotes, December 2016)
Webcasts
The Conference Board Economics Watch® - European View- 3 Things That Changed Business in 2016
14 December, 2016 03:00 PM CET [15:00] (Brussels), 09:00 AM ET [09:00] (New York), 02:00 PM UTC [14:00]

Next to discussing developments that affect the short-term outlook of the Euro Area economy, we will look back at 2016 and all major issues that influenced the economic outlook and the business environment. CPE credit available
Human Capital Watch™: Targeting Talent Shortages
21 December, 2016 11:00 AM ET [11:00] (New York), 04:00 PM UTC [16:00]

Experts from ROI Institute and The Conference Board will discuss how Human Resource professionals can use data to identify workers to fill job functions that will experience a shortage of qualified applicants over the next decade. CPE credit available