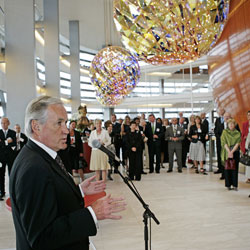 Europe
The Conference Board is dedicated to providing Europe's leading companies with the comparative knowledge and perspective they need to develop their regional and world-wide potential.
Products & Services
Conferences
The 2016 Big Data Seminar
27 - 28 September, 2016 (New York, NY)
3rd Annual Talent Acquisition Conference
29 - 30 September, 2016 (New York, NY)
Peer Networks
Economists Council
This Council brings together economists from the financial services and industrial communities to exchange views on the emerging economic environment.
Emerging Markets Human Resources Council
The Council provides an exclusive network for human resources professionals to exchange insights and to explore and better understand the HR challenges and opportunities relating to business development and growth in emerging markets.
Leadership, Talent & Learning Council
The Leadership, Talent & Learning Council in Europe focuses on identifying and promoting best practices on how to develop talent, create highly effective leaders and design "learning" organisations to improve business performance.
Publications
The Conference Board Economics Watch® European View

The Euro Area was on a moderate recovery path before the EU referendum. In reaction to Brexit, investors moved their capital toward less risky assets, bringing to the surface the weakness of the Italian banks and uncertainty around future investment decisions.
(Economics Watch Reports, July 2016)
Job Satisfaction: 2016 Edition: Tightening Labor Market Means More Opportunity, More Satisfaction

Nearly half of US workers (49.6 percent), the highest percentage since 2005, are satisfied with their jobs. The tightening labor market may be partly responsible for this uptick in sentiment.
(Research Report, July 2016)
Webcasts
Labor Shortages Abroad: Which countries will experience a tight labor market soon?
02 August, 2016 11:00 AM ET [11:00] (New York), 03:00 PM UTC [15:00]

Which countries are expected to face labor shortages? This webcast will analyze which mature and emerging markets will most likely experience labor shortages in the coming years. CPE, HRCI, and SHRM credit available
Governance Watch
04 August, 2016 12:00 PM ET [12:00] (New York), 04:00 PM UTC [16:00]

This webcast will focus on the investor engagement tactics used during the 2016 proxy season including activism, shareholder proposals, investor collaborations, and letter writing campaigns. CPE and CLE credit available.