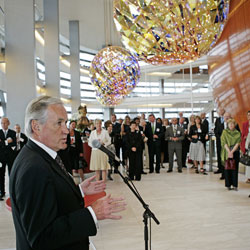 Europe
The Conference Board is dedicated to providing Europe's leading companies with the comparative knowledge and perspective they need to develop their regional and world-wide potential.
Products & Services
Conferences
The 2016 Big Data Seminar
27 - 28 September, 2016 (New York, NY)
3rd Annual Talent Acquisition Conference
29 - 30 September, 2016 (New York, NY)
Peer Networks
Leadership, Talent & Learning Council
The Leadership, Talent & Learning Council in Europe focuses on identifying and promoting best practices on how to develop talent, create highly effective leaders and design "learning" organisations to improve business performance.
Corporate Responsibility & Sustainability Council
The Conference Board's European Council on Corporate Responsibility and Sustainability provides senior executives of companies based in Europe with a programme and meeting place through which to deepen their knowledge, sharpen their skills and share expe
Total Rewards Council
The Total Rewards Council brings together senior executives; most of whom have a remit extending beyond Europe. It provides members with an opportunity to discuss the most pressing issues on their agendas, widen their perspective and share best practices.
Publications
Job Satisfaction: 2016 Edition: Tightening Labor Market Means More Opportunity, More Satisfaction

Nearly half of US workers (49.6 percent), the highest percentage since 2005, are satisfied with their jobs. The tightening labor market may be partly responsible for this uptick in sentiment.
(Research Report, July 2016)
25 Truths about Diversity & Inclusion: Insights from the 20th Annual Diversity & Inclusion Conference

The diversity and inclusion function is growing to encompass not only race and religion but also sexuality, ability, and thinking. Inclusion means understanding bias and disrupting old thought patterns.
(Conference KeyNotes, July 2016)
Webcasts
Latest Tax Legislation Trends and Their Impact on Corporate Financing Strategy
26 July, 2016 03:00 PM CET [15:00] (Brussels), 09:00 AM ET [09:00] (New York), 01:00 PM UTC [13:00]

In this webcast we will hear from a corporate tax executive at Shell on how his interactions with his treasury counterpart are helping shape the company's financing strategy. CPE credit available
Board Oversight: A key pillar of sustainability leadership
26 July, 2016 11:00 AM ET [11:00] (New York), 03:00 PM UTC [15:00]

Active engagement from the board of directors is a key determinant of sustainability leadership. This webcast examines the business practices that define leadership in corporate sustainability, with a special focus on the role of the board. CPE credit available