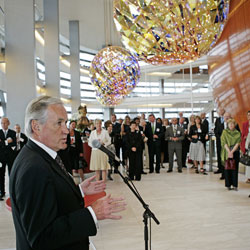 Europe
The Conference Board is dedicated to providing Europe's leading companies with the comparative knowledge and perspective they need to develop their regional and world-wide potential.
Products & Services
Peer Networks
Chief Audit Executives Council
This exclusive forum brings together internal audit leaders from many of the largest companies operating in Europe. Council members work together in an open and candid style, allowing a full exchange of views on trends, practices and challenges to buildin
Council on Environment and Product Stewardship
The European Council on Environment and Product Stewardship, existing since 1991, responds to public, government and corporate concern about the environment and sustainability as well as product stewardship issues.
Global Business Services Council
The Global Business Services Council is one of the first communities focused on serving the specific needs of the senior-most leaders working across business functions on a global basis.
Publications
StraightTalk® Global Economic Outlook 2016: Escaping the Global Economy's Holding Pattern

In 2016, the global economy will continue on a slow growth track for the fifth consecutive year, as mature economies continue to fly at a low altitude and emerging markets slow.
(Key Business Issues, November 2015)
Staying Ahead of Change and Preparing for 2020: Insights from the 2015 Corporate Brand and Reputation Conference

One of the best ways to build your brand is by getting the marketing, customer service, and sales teams to work together to provide the best customer experience possible.
(Conference KeyNotes, November 2015)
Webcasts
Emerging Practices in Cyber Risk Governance
03 December, 2015 03:00 PM ET [15:00] (New York), 08:00 PM UTC [20:00]

This webcast will provide an overview of how companies can incorporate cyber risk into their existing risk/enterprise risk management (ERM) work and their existing governance structures. CPE credit available.
The Conference Board Economics Watch®
08 December, 2015 03:00 PM ET [15:00] (New York), 08:00 PM UTC [20:00]

Taking stock: What were the main trends in the US economy in 2015, and what are we likely to see in 2016. CPE credit available.