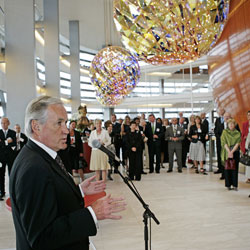 Europe
The Conference Board is dedicated to providing Europe's leading companies with the comparative knowledge and perspective they need to develop their regional and world-wide potential.
Products & Services
Conferences
3rd Annual Talent Acquisition Conference
29 - 30 September, 2016 (New York, NY)
The Future of Digital Transformation and Innovation unConference
06 October, 2016 (Brussels, Belgium)
Peer Networks
Global Social Investing Council
Advances the practice of cross-border corporate social responsibility and strategic philanthropy on a global scale through continuous dialogue on latest trends, issues and solutions encountered, as well as inspiring practices.
Total Rewards Council
The Total Rewards Council brings together senior executives; most of whom have a remit extending beyond Europe. It provides members with an opportunity to discuss the most pressing issues on their agendas, widen their perspective and share best practices.
Leadership, Talent & Learning Council
The Leadership, Talent & Learning Council in Europe focuses on identifying and promoting best practices on how to develop talent, create highly effective leaders and design "learning" organisations to improve business performance.
Publications
The Conference Board Economics Watch® European View

Reactions three months after the Brexit referendum show greater-than-expected resilience in the Euro Area. But can growth be sustained?
(Economics Watch Reports, September 2016)
Unlocking Value from Integrated Corporate Communications and Marketing

We look at the trend toward integrating corporate communications and marketing and consider the various ways that these two functions working together can contribute value to corporations.
(Key Business Issues, September 2016)
Webcasts
Driving Leadership Development through Coaching
03 October, 2016 03:00 PM CET [15:00] (Brussels), 09:00 AM ET [09:00] (New York), 01:00 PM UTC [13:00]

Join this webcast and hear strategies of how companies are implementing cutting-edge coaching initiatives. HRCI, SHRM, and CCE credit available
Inclusive Talent Management - How Business can Thrive in an Age of Diversity
04 October, 2016 02:30 PM CET [14:30] (Brussels), 08:30 AM ET [08:30] (New York), 12:30 PM UTC [12:30]

Join our guest authors Stephen Frost and Danny Kalman as they argue that companies need to align talent management with diversity and inclusion if they want to gain competitive advantage. HRCI & SHRM credit available