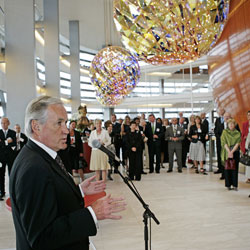 Europe
The Conference Board is dedicated to providing Europe's leading companies with the comparative knowledge and perspective they need to develop their regional and world-wide potential.
Products & Services
Conferences
The Engagement Institute 2016 Summit
03 - 04 November, 2016 (Detroit, MI)
Diversity and Inclusion: Design the Future of Your Practice
01 - 02 December, 2016 (San Francisco, CA)
Peer Networks
Emerging Markets Human Resources Council
The Council provides an exclusive network for human resources professionals to exchange insights and to explore and better understand the HR challenges and opportunities relating to business development and growth in emerging markets.
Procurement Leadership Council
Focuses on the strategic issues of reducing overall business costs, improving quality of supply, and enhancing customer service.
Economists Council
This Council brings together economists from the financial services and industrial communities to exchange views on the emerging economic environment.
Publications
Key Dimensions of Effective CEO Succession

This strategic overview for the C-suite provides a road map to help CEOs and directors organize succession planning, integrate it with board responsibilities, and ultimately define it as an ongoing element of business strategy.
(Key Business Issues, October 2016)
CEO Succession Practices: 2016 Edition

CEO Succession Practices: 2016 Edition analyzes all CEO succession events at S&P 500 companies over the last 15 years with additional analysis based on 2016 survey findings.
(Key Business Issues, October 2016)
Webcasts
What Is Digital Transformation and What Does It Mean for Human Capital?
08 November, 2016 04:00 PM CET [16:00] (Brussels), 10:00 AM ET [10:00] (New York), 03:00 PM UTC [15:00]

Join this webcast as our panelists outline the implications of digital transformation for human capital, with company examples from Europe, Asia-Pacific, and North America. HRCI and SHRM credit available
The Conference Board Economics Watch® - European View
09 November, 2016 03:00 PM CET [15:00] (Brussels), 09:00 AM ET [09:00] (New York), 02:00 PM UTC [14:00]

This webcast will discuss developments that affect the short-term outlook of the Euro Area economy, we will analyze the results of the new estimates of the Global Economic Outlook. CPE credit available