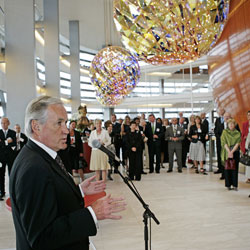 Europe
The Conference Board is dedicated to providing Europe's leading companies with the comparative knowledge and perspective they need to develop their regional and world-wide potential.
Products & Services
Conferences
The 2016 Big Data Seminar
27 - 28 September, 2016 (New York, NY)
3rd Annual Talent Acquisition Conference
29 - 30 September, 2016 (New York, NY)
Peer Networks
Environment and Product Stewardship Council
The Environment and Product Stewardship Council in Europe, was established in 1991 and brings together Environment Leaders from multi-national companies to learn best practices, strategies and new solutions to environmental issues.
Global Business Women Leaders Council II
The focus on the progression and advancement of women on to boards and women in to senior executive roles continues to gain momentum so this Council brings together high-achieving European females within global organisations – women who make their mark.
Health and Safety Council
This council gives European safety managers the opportunity to exchange ideas on increasing the effectiveness of their health and safety programmes, and on promoting the active participation and commitment of employees.
Publications
The Conference Board Economics Watch® European View

This month, we try to read the earliest data on confidence and industrial production to understand what impact Brexit will have on the real economy. Surveys show so far a modest negative impact in 2016 in the Euro Area but a much larger slump in the UK.
(Economics Watch Reports, August 2016)
The Brexit Effect: Unpacking the Impact of Uncertainty on the Economy

Low confidence, high uncertainty, and postponed investment decisions are some of the short-term impacts we can expect from the United Kingdom's stunning decision to leave the European Union.
(Executive Action Report, August 2016)
Webcasts
Twelve Critical Behaviors that Highly Engaging Leaders Master
29 August, 2016 11:30 AM CET [11:30] (Brussels), 05:30 AM ET [05:30] (New York), 09:30 AM UTC [09:30]

Join this webcast to get insights from HR practitioners of global companies into how their leaders approach employee engagement and how their organizations support them in fostering a culture of engagement.
Embedding Cyber Risk Awareness
06 September, 2016 03:00 PM CET [15:00] (Brussels), 09:00 AM ET [09:00] (New York), 01:00 PM UTC [13:00]

Join this webcast to learn how DPDHL has developed a character to help grow cyber risk awareness. CPE credit available