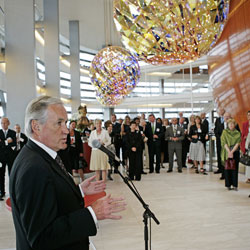 Europe
The Conference Board is dedicated to providing Europe's leading companies with the comparative knowledge and perspective they need to develop their regional and world-wide potential.
Products & Services
Peer Networks
Global Business Conduct Council
Senior executives responsible for shaping global ethics and compliance programs discuss current issues and challenges facing corporations globally. Members value the confidential dialogue, expert speakers and benchmarking opportunities.
Talent Acquisition Executives Council
As talent acquisition leaders in Europe, our goal is to develop and implement strategies and tactics that enable our companies to hire the right talent at the right time.
Financial Executives & Controllers Council
This council is designed for European senior executives and directors with responsibility for financial control of international industrial and commercial companies.
Publications
The Conference Board Economics Watch® European View

The latest data for 2016 suggest somewhat of an uptick in growth toward the end of the year. Yet we expect Euro Area growth to somewhat moderate in 2017 and UK growth to slow down significantly amid Brexit-induced effects as well as a generally maturing business cycle.
(Economics Watch Reports, January 2017)
Divergent Views/Common Ground: The Leadership Perspectives of C-Suite Executives and Millennial Leaders

This report sheds light on the leadership values and preferences of these two cohorts, and in light of the findings, outlines the steps organizations can take for enhanced performance.
(Research Report, January 2017)
25 Truths about Succession Management: Insights from the 12th Succession Management Conference

Companies have fewer candidates to take over the top spot today than they did five years ago. Boards should take key steps to insure a smooth transition at the top.
(Conference KeyNotes, December 2016)
Webcasts
Understanding the Blockchain and Its Potential—Much More than Just Bitcoin!
26 January, 2017 03:00 PM CET [15:00] (Brussels), 09:00 AM ET [09:00] (New York), 02:00 PM UTC [14:00]

The world is divided into two groups: those who think the blockchain is groundbreaking technology, and those who are still trying to figure out how it works. Whichever group you are in, join us to discuss the potential of this technology. CPE credit available
Window on America: Post-Inauguration Analysis
30 January, 2017 04:00 PM CET [16:00] (Brussels), 10:00 AM ET [10:00] (New York), 03:00 PM UTC [15:00]

Join The Conference Board Chief Economist Bart Van Ark as he leads a panel of experts in an enlightening discussion about the post-inauguration implications for worldwide growth, debt, and trade and a live analysis of President Trump's agenda for business and the economy.