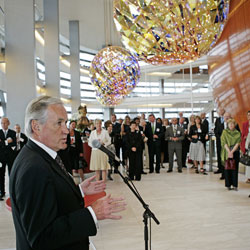 Europe
The Conference Board is dedicated to providing Europe's leading companies with the comparative knowledge and perspective they need to develop their regional and world-wide potential.
Products & Services
Conferences
15th Annual Sustainability Summit
22 - 23 June, 2016 (New York, NY)
3rd Annual Talent Acquisition Conference
29 - 30 September, 2016 (New York, NY)
Peer Networks
Strategic Risk Management Council
The European Strategic Risk Management Council is designed for senior executives with the responsibility for assessing and implementing risk management programmes in their organisations.
Emerging Markets Mergers and Acquisitions Council
The Council provides senior executives in charge of Mergers and Acquisitions for Emerging Markets, including Asia, with a network of professional peers.
Global Human Resources Council
Allows senior most global HR executives to discuss current challenges and trends regarding the strategic and structural management of their firm's multinational human resources. Members value the confidential dialogue, expert speakers and benchmarking.
Publications
The Conference Board Human Capital in Review™: Focus on Voices from Europe

This publication explores hot topics within human capital research from a European perspective and provides actionable summaries of contemporary literature.
(Human Capital in Review, February 2016)
Inclusion + Innovation: Leveraging Diversity of Thought to Generate Business Growth - Chief Talent Officer Strategic Implications

Our research finds that most organizations only have pockets of innovation. They can become more innovative by creating an inclusive culture.
(Key Business Issues, January 2016)
Webcasts
The Conference Board Economics Watch®
09 February, 2016 03:00 PM ET [15:00] (New York), 08:00 PM UTC [20:00]

Join us as experts discuss the varying economic performance across states as measured by the labor market tightness, the impact of lower oil and commodity prices, and demographic trends. CPE credit available
The Conference Board Economics Watch® - European View
10 February, 2016 03:00 PM CET [15:00] (Brussels), 09:00 AM ET [09:00] (New York), 02:00 PM UTC [14:00]

Despite increased risks, both internal and external, the European economy will continue to expand throughout 2016. In this webcast we will take a deep dive into the most pressing issues with regards to the short-term outlook. CPE credit available