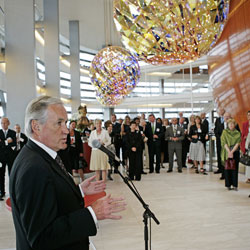 Europe
The Conference Board is dedicated to providing Europe's leading companies with the comparative knowledge and perspective they need to develop their regional and world-wide potential.
Products & Services
Conferences
15th Annual Sustainability Summit
22 - 23 June, 2016 (New York, NY)
3rd Annual Talent Acquisition Conference
29 - 30 September, 2016 (New York, NY)
Peer Networks
Compliance and Ethics Council
Executives focus on how to respond to European and international compliance rules and regulations.
Council of Economists
This Council brings together economists from the financial services and industrial communities to exchange views on the emerging economic environment.
Strategic Risk Management Council
The European Strategic Risk Management Council is designed for senior executives with the responsibility for assessing and implementing risk management programmes in their organisations.
Publications
The Conference Board Human Capital in Review™: Focus on Voices from Europe

This publication explores hot topics within human capital research from a European perspective and provides actionable summaries of contemporary literature.
(Human Capital in Review, February 2016)
Inclusion + Innovation: Leveraging Diversity of Thought to Generate Business Growth - Chief Talent Officer Strategic Implications

Our research finds that most organizations only have pockets of innovation. They can become more innovative by creating an inclusive culture.
(Key Business Issues, January 2016)
Webcasts
Governance Watch
16 February, 2016 12:00 PM ET [12:00] (New York), 05:00 PM UTC [17:00]

Join us for a discussion on international corporate governance trends and best practices. CPE and CLE credit available
Human Capital Watch™: Inclusion as a Key Lever to Drive Innovation
17 February, 2016 11:00 AM ET [11:00] (New York), 04:00 PM UTC [16:00]

Researchers from The Conference Board will discuss how HR can help align talent and business strategies for innovation and recruit leaders who support inclusion efforts, help employees gain the skillsets necessary to be innovative, and actively reward innovation. CPE credit available