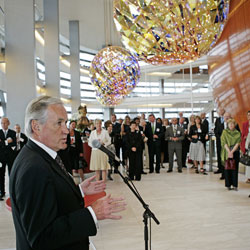 Europe
The Conference Board is dedicated to providing Europe's leading companies with the comparative knowledge and perspective they need to develop their regional and world-wide potential.
Products & Services
Conferences
Peer Networks
Chief Audit Executive Council

This exclusive forum brings together internal audit leaders from many of the largest companies operating in Europe. Council members work together in an open and candid style, allowing a full exchange of views on trends, practices and challenges to buildin

Global Council of Investor Relations Executives

Senior investor relations officers of large-capitalization companies in both Europe and the United States share best practices in a confidential and member-driven forum. Members value the intimate and candid conversations that develop in the meetings.

The Pensions Council

This inter-disciplinary Council brings together pension managers, human resource executives, and financial executives to discuss issues of common concern.
Publications
Allianz SE


A company profile from the 2015 report Driving Revenue Growth through Sustainable Products and Services.

(Case Study, June 2015)
BASF


A company profile from the 2015 report Driving Revenue Growth through Sustainable Products and Services.

(Case Study, June 2015)
Webcasts
07 July, 2015 09:00 AM EST [09:00], 03:00 PM CET [15:00]
Human Capital Analytics: A Practitioner's View
Join us for this webcast as we tackle the most frequently asked question about human capital analytics: "What are the capabilities that my team needs to successfully start with human capital analytics?"
09 July, 2015 03:00 PM EST [15:00]
Big Data Doesn't Mean Big Brother
Big data about the workforce can improve productivity and innovation, yet many employers have legal and ethical concerns. New research describes practical steps companies can take to leverage this next generation of human capital analytics. HRCI credit