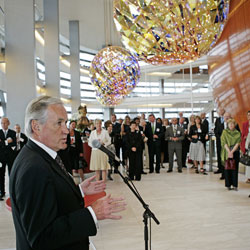 Europe
The Conference Board is dedicated to providing Europe's leading companies with the comparative knowledge and perspective they need to develop their regional and world-wide potential.
Products & Services
Peer Networks
Procurement Leadership Council
Focuses on the strategic issues of reducing overall business costs, improving quality of supply, and enhancing customer service.
Council on International Compensation and Benefits
Discussions focus on the policies and challenges connected with the salaries and benefits of international personnel, including local nationals as well as expatriates. Members value the confidential and high level dialogue that develops.
Global Business Services Council
The Global Business Services Council is one of the first communities focused on serving the specific needs of the senior-most leaders working across business functions on a global basis.
Publications
StraightTalk® Global Economic Outlook 2016: Escaping the Global Economy's Holding Pattern

In 2016, the global economy will continue on a slow growth track for the fifth consecutive year, as mature economies continue to fly at a low altitude and emerging markets slow.
(Key Business Issues, November 2015)
Staying Ahead of Change and Preparing for 2020: Insights from the 2015 Corporate Brand and Reputation Conference

One of the best ways to build your brand is by getting the marketing, customer service, and sales teams to work together to provide the best customer experience possible.
(Conference KeyNotes, November 2015)
Webcasts
Green Products and Services in Finance: Insights from Allianz
24 November, 2015 03:00 PM CET [15:00] (Brussels), 09:00 AM ET [09:00] (New York), 02:00 PM UTC [14:00]

This webcast presents insights from one of the world's largest investors in wind and solar energy projects. We will discuss the company's sustainability strategy and its successes and challenges.
Book Discussion: The Art of Possible
25 November, 2015 03:00 PM CET [15:00] (Brussels), 09:00 AM ET [09:00] (New York), 02:00 PM UTC [14:00]

Using the latest findings of neuroscience, executive coach and author Kate Tojeiro helps others recognize what is really possible in everyday life and develop the "can do" attitude required to achieve goals faster.