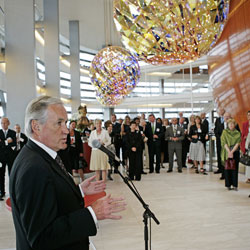 Europe
The Conference Board is dedicated to providing Europe's leading companies with the comparative knowledge and perspective they need to develop their regional and world-wide potential.
Products & Services
Conferences
Peer Networks
Council of Economists

This Council brings together economists from the financial services and industrial communities to exchange views on the emerging economic environment.

Council on Shared Services

Members of this network of senior shared services executives exchange concepts, experiences, best practices, and innovations leading to the provision of competitive internal business support services.

Council for Diversity in Business

Members identify emerging issues in the Diversity and Inclusion fields and discuss appropriate business responses.
Publications
Getting a Handle on Energy (Strategic Overview)


Continued energy volatility will produce clear winners and losers. This strategic overview presents a series of scenarios based on various price trajectories and estimates their impact on the business environment.

(Key Business Issues, April 2015)
Getting a Handle on Energy: Global Growth Scenarios in Times of Changing Oil Prices


Continued oil price volatility and adjustments in production levels and energy composition have the potential to drastically rearrange the global energy landscape in the next few years, producing clear winners and losers.

(Key Business Issues, April 2015)
CEO Succession Practices: 2015 Edition


CEO Succession Practices: 2015 Edition documents CEO turnover among S&P 500 companies, provides an analysis of annual data dating back to 2001, and discusses the correlation between CEO succession and company performance.

 

(Research Report, April 2015)
Webcasts