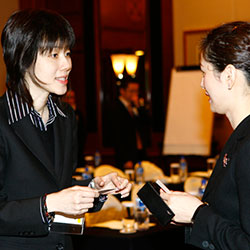 Asia
The Conference Board Asia helps member companies navigate the ever-changing business climate in India, Southeast Asia, greater China and Australasia. The Conference Board's unique perspective on the global economy gives both local and multinational member companies a strategic edge on issues that affect their business.
From our offices in Hong Kong, Mumbai, and Singapore, we provide resources and events for decision makers like you in this complex region. Our members in Asia can access an array of information and content on corporate leadership, economy and business environment, and human capital. Executives from member companies benefit from The Conference Board's global and Asia-specific research and reports, an indispensable webcast program (live and on demand), complimentary entry to senior executive briefings, direct access to world-renowned subject-matter experts, eligibility to join Asia and Emerging Markets peer learning groups, and unlimited support from the Ask TCB business information service.
The bottom line? The Conference Board tracks economic developments and business trends in the region and abroad so you have the tools you need to navigate them successfully.
Products & Services
Conferences
22nd Annual Leadership Development Conference
05 - 06 May, 2016 (New York, NY)
Storytelling for Business Seminar
18 May, 2016 (New York, NY)
Peer Networks
China Communication and Marketing Council
Meets to discuss issues and exchange best practices such as branding, stakeholder relationships, public affairs, employee relations, community relations, interactive marketing and communication technologies issues with a strong focus on Greater China.
Emerging Markets Risk & Compliance Council
This council provides invaluable opportunities for senior risk, compliance and ethics executives in Asia-Pacific and Emerging Markets to exchange experiences, access relevant research and expertise.
Emerging Markets Supply Chain Management Council
The Council provides senior supply chain decision makers in emerging markets with a network of professional peers who meet regularly to exchange ideas, best practices, and innovations related to the supply chain and logistics functions.
Publications
Inclusion + Innovation: DBS Bank Ltd

DBS Bank Ltd is one of four companies profiled in the 2016 Key Business Issues report Inclusion + Innovation: Leveraging Diversity of Thought to Generate Business Growth.
(Case Studies, February 2016)
Inclusion + Innovation: Leveraging Diversity of Thought to Generate Business Growth - Chief Talent Officer Strategic Implications

Our research finds that most organizations only have pockets of innovation. They can become more innovative by creating an inclusive culture.
(Key Business Issues, January 2016)
Webcasts
Governance Watch
16 February, 2016 12:00 PM ET [12:00] (New York), 05:00 PM UTC [17:00]

Join us for a discussion on international corporate governance trends and best practices. CPE and CLE credit available
Human Capital Watch™: Inclusion as a Key Lever to Drive Innovation
17 February, 2016 11:00 AM ET [11:00] (New York), 04:00 PM UTC [16:00]

Researchers from The Conference Board will discuss how HR can help align talent and business strategies for innovation and recruit leaders who support inclusion efforts, help employees gain the skillsets necessary to be innovative, and actively reward innovation. CPE credit available