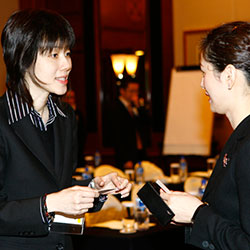 Asia
The Conference Board Asia helps member companies navigate the ever-changing business climate in India, Southeast Asia, greater China and Australasia. The Conference Board's unique perspective on the global economy gives both local and multinational member companies a strategic edge on issues that affect their business.
From our offices in Hong Kong, Mumbai, and Singapore, we provide resources and events for decision makers like you in this complex region. Our members in Asia can access an array of information and content on corporate leadership, economy and business environment, and human capital. Executives from member companies benefit from The Conference Board's global and Asia-specific research and reports, an indispensable webcast program (live and on demand), complimentary entry to senior executive briefings, direct access to world-renowned subject-matter experts, eligibility to join Asia and Emerging Markets peer learning groups, and unlimited support from the Ask TCB business information service.
The bottom line? The Conference Board tracks economic developments and business trends in the region and abroad so you have the tools you need to navigate them successfully.
Products & Services
Peer Networks
Asia-Pacific Talent Acquisition Council
The Council provides senior talent acquisition decision makers in Asia-Pacific with a network of professional peers who meet regularly to exchange ideas, best practices, and innovations related to talent acquisition strategies and operations functions.
China Communication and Marketing Council
Meets to discuss issues and exchange best practices such as branding, stakeholder relationships, public affairs, employee relations, community relations, interactive marketing and communication technologies issues with a strong focus on Greater China.
China Human Resources Council
Meets to discuss issues and exchange best practices regarding recruiting, retaining, and motivating local staffs as member companies grow in the Greater China region.
Publications
The rise in internet access in emerging markets is expanding consumers' horizons and fueling their demand for new ways to pay for the products and services of the modern economy.
(Research Report, August 2016)
China CEO Council Session Report - Getting through to 2022

A simplified summary of selected premises and insights from the June 2, 2016, China CEO Council meeting in Beijing. Some 30 MNC country heads and deputies attended the session, which was hosted by Microsoft. This report summarizes and supplements the PowerPoint workshop decks used for the session.
(China Center Publications, August 2016)
The Conference Board Economics Watch® Emerging Markets View

Despite modest improvement in manufacturing, persistent overcapacity continues to weigh on emerging markets' growth in 2016.
(Economics Watch Reports, August 2016)
Webcasts
Embedding Cyber Risk Awareness
06 September, 2016 03:00 PM CET [15:00] (Brussels), 09:00 AM ET [09:00] (New York), 01:00 PM UTC [13:00]

Join this webcast to learn how DPDHL has developed a character to help grow cyber risk awareness. CPE credit available
Developing Leaders Who Engage, Inspire, and Move People to Act
07 September, 2016 01:00 PM ET [13:00] (New York), 05:00 PM UTC [17:00]

CEO coach Suzanne Bates will discuss the 15 qualities that enable leaders to build trust, win credibility, and inspire effort, based on her new book All the Leader You Can Be: The Science of Achieving Extraordinary Executive Presence. HRCI, SHRM, and CCE credits available