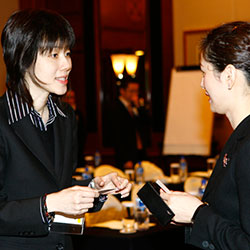 Asia
The Conference Board Asia helps member companies navigate the ever-changing business climate in India, Southeast Asia, greater China and Australasia. The Conference Board's unique perspective on the global economy gives both local and multinational member companies a strategic edge on issues that affect their business.
From our offices in Hong Kong, Mumbai, and Singapore, we provide resources and events for decision makers like you in this complex region. Our members in Asia can access an array of information and content on corporate leadership, economy and business environment, and human capital. Executives from member companies benefit from The Conference Board's global and Asia-specific research and reports, an indispensable webcast program (live and on demand), complimentary entry to senior executive briefings, direct access to world-renowned subject-matter experts, eligibility to join Asia and Emerging Markets peer learning groups, and unlimited support from the Ask TCB business information service.
The bottom line? The Conference Board tracks economic developments and business trends in the region and abroad so you have the tools you need to navigate them successfully.
Products & Services
Peer Networks
Asia-Pacific Total Rewards Council
This Council provides senior Compensation & Benefits executives in the Asia-Pacific region a forum in which to share information, ideas, and create solutions to challenges facing companies doing business in the region.
China Human Resources Council
Meets to discuss issues and exchange best practices regarding recruiting, retaining, and motivating local staffs as member companies grow in the Greater China region.
Asia-Pacific Communication and Marketing Council
This council draws on the expertise of its members, augmented by insights of respected leaders in the fields of public relations, public affairs, investor and legal communications, employee relations, community relations and communications technologies.
Publications
20 Truths about Human Capital Analytics: Insights from the 2016 Human Capital Analytics Conference

As human capital analytics grows, it is no longer considered merely optional to HR strategy. Early adopters have used HCA to increase HR efficiency as well as overall business performance.
(Conference KeyNotes, December 2016)
Sustainability Practices Dashboard

The Conference Board Sustainability Practices Dashboard analyzes the most recent disclosure of environmental and social practices by public companies around the world.
(Research Report, November 2016)
Webcasts
The Conference Board Economics Watch® - Emerging Markets View: Recap of the wild ride in 2016
15 December, 2016 10:00 AM ET [10:00] (New York), 03:00 PM UTC [15:00]

For emerging markets, the year of 2016 was a wild ride on the back of global uncertainties. Get a recap of what happened in key emerging markets during the year of 2016 and a preview of our new "Global Economic Index", which is an aggregate index of forward-looking indicators for the world economy. CPE credit available
Human Capital Watch™: Targeting Talent Shortages
21 December, 2016 11:00 AM ET [11:00] (New York), 04:00 PM UTC [16:00]

Experts from ROI Institute and The Conference Board will discuss how Human Resource professionals can use data to identify workers to fill job functions that will experience a shortage of qualified applicants over the next decade. CPE credit available