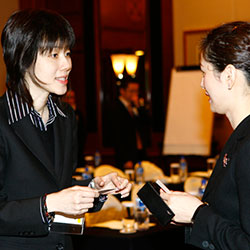 Asia
The Conference Board Asia helps member companies navigate the ever-changing business climate in India, Southeast Asia, greater China and Australasia. The Conference Board's unique perspective on the global economy gives both local and multinational member companies a strategic edge on issues that affect their business.
From our offices in Hong Kong, Mumbai, and Singapore, we provide resources and events for decision makers like you in this complex region. Our members in Asia can access an array of information and content on corporate leadership, economy and business environment, and human capital. Executives from member companies benefit from The Conference Board's global and Asia-specific research and reports, an indispensable webcast program (live and on demand), complimentary entry to senior executive briefings, direct access to world-renowned subject-matter experts, eligibility to join Asia and Emerging Markets peer learning groups, and unlimited support from the Ask TCB business information service.
The bottom line? The Conference Board tracks economic developments and business trends in the region and abroad so you have the tools you need to navigate them successfully.
Products & Services
Conferences
12th Annual Women's Leadership Conference
16 - 17 June, 2016 (New York, NY)
Peer Networks
Emerging Markets Risk & Compliance Council
This council provides invaluable opportunities for senior risk, compliance and ethics executives in Asia-Pacific and Emerging Markets to exchange experiences, access relevant research and expertise.
Asia-Pacific Compensation & Benefits Council
This Council provides senior Compensation & Benefits executives in the Asia-Pacific region a forum in which to share information, ideas, and create solutions to challenges facing companies doing business in the region.
Asia-Pacific Talent & Diversity Council
The mission of the Council is to provide its members, who are leaders in the areas of talent management, leadership development and organization effectiveness, with a forum for sharing best practices and actionable ideas.
Publications
The Conference Board Economics Watch® Emerging Markets View

Sentiment improved somewhat into the second quarter of 2016, but emerging markets' economic fundamentals are weak and the growth outlook remains fragile.
(Economics Watch Reports, May 2016)
Global Economic Outlook 2016: Sub-Saharan Africa: Climbing a Steeper Hill?

As sub-Saharan Africa's growth pains continue in the coming decade, businesses must adopt a range of strategies to succeed across different groups of economies (undiversified, agricultural, frontier, and fragile) in the region.
(Key Business Issues, May 2016)
Navigating the Digital Economy: Capturing the Benefits from Increased Flexibility and Cost Reductions – CFO Implications

The New Digital Economy has potential to significantly impact cost and revenue models. Revisiting these models and understanding the dynamics of this new context are a priority for financial executives.
(Key Business Issues, May 2016)
Webcasts
Engaging Hearts and Minds of All Your Employees: What Leaders Need to Know and Do
03 June, 2016 03:00 PM CET [15:00] (Brussels), 09:00 AM ET [09:00] (New York), 01:00 PM UTC [13:00]

Join this webcast for insights from HR practitioners of global companies into how their leaders approach employee engagement and how their organizations support them in fostering a culture of engagement.
Governance Watch
14 June, 2016 12:00 PM ET [12:00] (New York), 04:00 PM UTC [16:00]

The focus of this webcast will be on the new SEC guidance on non-GAAP financial measures, as well as their use and misuse. The webcast will address the history, regulatory regime and concerns raised by the practice of using such measures. CPE and CLE credit available.