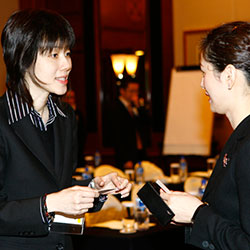 Asia
The Conference Board Asia helps member companies navigate the ever-changing business climate in India, Southeast Asia, greater China and Australasia. The Conference Board's unique perspective on the global economy gives both local and multinational member companies a strategic edge on issues that affect their business.
From our offices in Hong Kong, Mumbai, and Singapore, we provide resources and events for decision makers like you in this complex region. Our members in Asia can access an array of information and content on corporate leadership, economy and business environment, and human capital. Executives from member companies benefit from The Conference Board's global and Asia-specific research and reports, an indispensable webcast program (live and on demand), complimentary entry to senior executive briefings, direct access to world-renowned subject-matter experts, eligibility to join Asia and Emerging Markets peer learning groups, and unlimited support from the Ask TCB business information service.
The bottom line? The Conference Board tracks economic developments and business trends in the region and abroad so you have the tools you need to navigate them successfully.
Products & Services
Peer Networks
China Human Resources Council
Meets to discuss issues and exchange best practices regarding recruiting, retaining, and motivating local staffs as member companies grow in the Greater China region.
Asia-Pacific Talent & Diversity Council
The mission of the Council is to provide its members, who are leaders in the areas of talent management, leadership development and organization effectiveness, with a forum for sharing best practices and actionable ideas.
Publications
Deciphering Labor and Skill Shortages in Asia with Workforce Analytics

This report profiles labor markets in China, India, Indonesia, and the Philippines and provides guidelines for using workforce analytics to address talent concerns in the region.
(Research Report, July 2016)
The Conference Board Economics Watch® Emerging Markets View

Brexit-induced financial instability brings more uncertainty but leaves emerging markets' overall growth outlook for 2016 unchanged for now.
(Economics Watch Reports, July 2016)
The Conference Board Human Capital in Review™: Voices from Asia

In the face of Asia's tightening talent market—with rising concerns about inadequate skilled labor coupled with millennials' expectation of work/life balance—companies must enhance their talent pipelines to outperform their competitors.
(Human Capital in Review, July 2016)
Webcasts
Latest Tax Legislation Trends and Their Impact on Corporate Financing Strategy
26 July, 2016 03:00 PM CET [15:00] (Brussels), 09:00 AM ET [09:00] (New York), 01:00 PM UTC [13:00]

In this webcast we will hear from a corporate tax executive at Shell on how his interactions with his treasury counterpart are helping shape the company's financing strategy. CPE credit available
Governance Watch
04 August, 2016 12:00 PM ET [12:00] (New York), 04:00 PM UTC [16:00]

This webcast will focus on the investor engagement tactics used during the 2016 proxy season including activism, shareholder proposals, investor collaborations, and letter writing campaigns. CPE and CLE credit available.