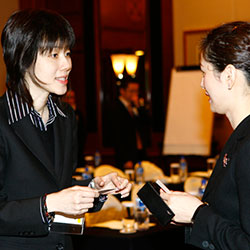 Asia
The Conference Board Asia helps member companies navigate the ever-changing business climate in India, Southeast Asia, greater China and Australasia. The Conference Board's unique perspective on the global economy gives both local and multinational member companies a strategic edge on issues that affect their business.
From our offices in Hong Kong, Mumbai, and Singapore, we provide resources and events for decision makers like you in this complex region. Our members in Asia can access an array of information and content on corporate leadership, economy and business environment, and human capital. Executives from member companies benefit from The Conference Board's global and Asia-specific research and reports, an indispensable webcast program (live and on demand), complimentary entry to senior executive briefings, direct access to world-renowned subject-matter experts, eligibility to join Asia and Emerging Markets peer learning groups, and unlimited support from the Ask TCB business information service.
The bottom line? The Conference Board tracks economic developments and business trends in the region and abroad so you have the tools you need to navigate them successfully.
Products & Services
Peer Networks
Asia-Pacific Talent & Diversity Council
The mission of the Council is to provide its members, who are leaders in the areas of talent management, leadership development and organization effectiveness, with a forum for sharing best practices and actionable ideas.
Asia-Pacific Total Rewards Council
This Council provides senior Compensation & Benefits executives in the Asia-Pacific region a forum in which to share information, ideas, and create solutions to challenges facing companies doing business in the region.
Asia-Pacific Human Resources Council
Members exchange insights and best practices regarding how to manage regional human resources issues in the context of today's global business environment.
Publications
The Conference Board Economics Watch® Emerging Markets View

Emerging economies are likely to have another challenging year in 2016.
(Economics Watch Reports, September 2016)
China Center Quick Note: Back to Basics -- The CCP at 95

Since assuming command of the Communist Party of China (CCP) in late 2012, Xi Jinping has overseen one of the most fundamental transformations of the party in at least three decades. Already, this shift has effectively changed, and will continue to change, the government relations requirements for MNCs in China.
(China Center Publications, September 2016)
Webcasts
Driving Leadership Development through Coaching
03 October, 2016 03:00 PM CET [15:00] (Brussels), 09:00 AM ET [09:00] (New York), 01:00 PM UTC [13:00]

Join this webcast and hear strategies of how companies are implementing cutting-edge coaching initiatives. HRCI, SHRM, and CCE credit available
Inclusive Talent Management - How Business can Thrive in an Age of Diversity
04 October, 2016 02:30 PM CET [14:30] (Brussels), 08:30 AM ET [08:30] (New York), 12:30 PM UTC [12:30]

Join our guest authors Stephen Frost and Danny Kalman as they argue that companies need to align talent management with diversity and inclusion if they want to gain competitive advantage. HRCI & SHRM credit available