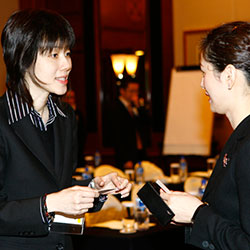 Asia
The Conference Board Asia helps member companies navigate the ever-changing business climate in India, Southeast Asia, greater China and Australasia. The Conference Board's unique perspective on the global economy gives both local and multinational member companies a strategic edge on issues that affect their business.
From our offices in Hong Kong, Mumbai, and Singapore, we provide resources and events for decision makers like you in this complex region. Our members in Asia can access an array of information and content on corporate leadership, economy and business environment, and human capital. Executives from member companies benefit from The Conference Board's global and Asia-specific research and reports, an indispensable webcast program (live and on demand), complimentary entry to senior executive briefings, direct access to world-renowned subject-matter experts, eligibility to join Asia and Emerging Markets peer learning groups, and unlimited support from the Ask TCB business information service.
The bottom line? The Conference Board tracks economic developments and business trends in the region and abroad so you have the tools you need to navigate them successfully.
Products & Services
Peer Networks
China Human Resources Council
Meets to discuss issues and exchange best practices regarding recruiting, retaining, and motivating local staffs as member companies grow in the Greater China region.
Global Business Conduct Council
Senior executives responsible for shaping global ethics and compliance programs discuss current issues and challenges facing corporations globally. Members value the confidential dialogue, expert speakers and benchmarking opportunities.
Publications
Corporate Philanthropy in China, 2nd Edition: Creating Impact amid Challenges

Despite enormous growth in China's nonprofit sector, charitable giving remains small compared to that of many Western countries. This report examines how a lack of transparency and available data complicate corporate philanthropy planning.
(Research Report, October 2016)
Key Dimensions of Effective CEO Succession

This strategic overview for the C-suite provides a road map to help CEOs and directors organize succession planning, integrate it with board responsibilities, and ultimately define it as an ongoing element of business strategy.
(Key Business Issues, October 2016)
Webcasts
What Is Digital Transformation and What Does It Mean for Human Capital?
08 November, 2016 04:00 PM CET [16:00] (Brussels), 10:00 AM ET [10:00] (New York), 03:00 PM UTC [15:00]

Join this webcast as our panelists outline the implications of digital transformation for human capital, with company examples from Europe, Asia-Pacific, and North America. HRCI and SHRM credit available
Window on America: The US Election Results and its Impact
10 November, 2016 09:00 AM ET [09:00] (New York), 02:00 PM UTC [14:00]

Join us right after the US elections to see what a Clinton or a Trump victory might mean for economic health, immigration and trade policy, and business prospects worldwide.