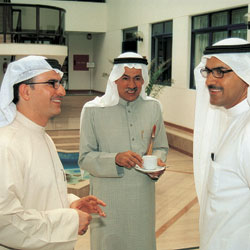 Middle East
The Conference Board offers valuable insights into how the Middle East fits within the global economy. A major recent report - "Managing Beyond Oil" - reviews productivity in the countries of the Gulf Cooperation Council, and outlines the implications for companies.
The Middle East Business Leaders' Council, formed in 1999, convenes local business leaders who are Associates of The Conference Board with representatives of multinational enterprises to discuss regional issues.
Researchers from The Conference Board make regular presentations in the region about corporate governance, human resources and economic development issues. We provide the opportunity for companies to understand this complex, fast-changing region and will tailor individual programmes to suit specific corporate requirements.
Products & Services
Peer Networks
Global Investor Relations Executives Council
Senior investor relations officers of large-capitalization companies in both Europe and the United States share best practices in a confidential and member-driven forum. Members value the intimate and candid conversations that develop in the meetings.
Legal Council
Updates on EU competition law developments, building a European legal team, controlling outside costs, and the interface between legal and global management are principle items on this council's agenda.
Global Business Services Council
The Global Business Services Council is one of the first communities focused on serving the specific needs of the senior-most leaders in the US working across business functions on a global basis.
Publications
25 Truths about Joint Ventures

More and more, companies are looking to joint ventures: to help topline growth, allay local fears about loss of intellectual property to foreign competitors, and to help companies enter new international markets.
(Conference KeyNotes, April 2017)
There are two kinds of companies: those that have been hacked and those that don't know it yet. Cyber risk is not just an IT concern, but a crucial business issue.
(Conference KeyNotes, April 2017)
Webcasts
How can companies prepare to succeed in the circular economy?
07 September, 2017 03:00 PM CET [15:00] (Brussels), 09:00 AM ET [09:00] (New York), 01:00 PM UTC [13:00]

Join us as we illustrate how leading companies, such as Interface, are proactively making the shift to a circular economy model and how by doing so are not only reducing waste but also growing their bottom line.
Governance Watch
12 September, 2017 12:00 PM ET [12:00] (New York), 04:00 PM UTC [16:00]

SAVE THE DATE. Thoughtful discussion with Former SEC Chief Litigator, corporate exec and governance expert on recent high-profile whistleblower cases, the intersection of these cases with legal privilege, and possible lasting implications. CPE and CLE credit available.