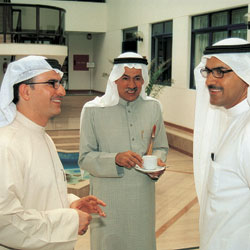 Middle East
The Conference Board offers valuable insights into how the Middle East fits within the global economy. A major recent report - "Managing Beyond Oil" - reviews productivity in the countries of the Gulf Cooperation Council, and outlines the implications for companies.
The Middle East Business Leaders' Council, formed in 1999, convenes local business leaders who are Associates of The Conference Board with representatives of multinational enterprises to discuss regional issues.
Researchers from The Conference Board make regular presentations in the region about corporate governance, human resources and economic development issues. We provide the opportunity for companies to understand this complex, fast-changing region and will tailor individual programmes to suit specific corporate requirements.
Products & Services
Peer Networks
Global Business Conduct Council
Senior executives responsible for shaping global ethics and compliance programs discuss current issues and challenges facing corporations globally. Members value the confidential dialogue, expert speakers and benchmarking opportunities.
Global CSR & Philanthropy Council
Advances the practice of cross-border corporate social responsibility and strategic philanthropy on a global scale through continuous dialogue on latest trends, issues and solutions encountered, as well as inspiring practices.
Global Rewards and Mobility Council
Discussions focus on the policies and challenges connected with the salaries and benefits of international personnel, including local nationals as well as expatriates. Members value the confidential and high level dialogue that develops.
Publications
Introducing the Connected Spender: The Digital Consumer of the Future (Executive Summary)

Reaching consumers through income-based approaches is an insufficient and outdated predictor of consumer spending. Our research defines a new concept, "connected spenders," that better enables companies to effectively reach consumers who are ready and able to spend on goods and services.
(The Demand Institute, February 2017)
CEO Challenge 2017: Leading through Risk, Disruption, and Transformation

The biggest challenges for CEOs in 2017 come from global volatility and unprecedented disruption. Leaders are coping by focusing on talent, culture, and fiscal discipline, according to our annual CEO survey.
(Key Business Issues, January 2017)
Webcasts
Governance Watch
14 March, 2017 12:00 PM ET [12:00] (New York), 04:00 PM UTC [16:00]

Hosted in collaboration with Cleary Gottlieb, Governance Watch is designed to address the latest developments in corporate governance through bi-monthly webcasts featuring provocative expert guests and insights. CPE and CLE credit available.
4 Phases of Women's Careers: Becoming Gender Bilingual
28 March, 2017 03:00 PM CET [15:00] (Brussels), 09:00 AM ET [09:00] (New York), 01:00 PM UTC [13:00]

Join our guest author for a discussion of her newly released book: a simple, holistic, forehead-smacking career guide that boils it down to the essential. CPE credit available