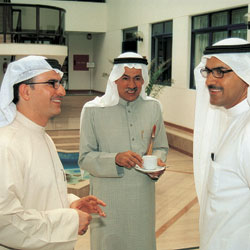 Middle East
The Conference Board offers valuable insights into how the Middle East fits within the global economy. A major recent report - "Managing Beyond Oil" - reviews productivity in the countries of the Gulf Cooperation Council, and outlines the implications for companies.
The Middle East Business Leaders' Council, formed in 1999, convenes local business leaders who are Associates of The Conference Board with representatives of multinational enterprises to discuss regional issues.
Researchers from The Conference Board make regular presentations in the region about corporate governance, human resources and economic development issues. We provide the opportunity for companies to understand this complex, fast-changing region and will tailor individual programmes to suit specific corporate requirements.
Products & Services
Peer Networks
Emerging Markets Corporate Compliance and Ethics Council
This council provides invaluable opportunities for senior compliance and ethics executives in Asia-Pacific and Emerging Markets to exchange experiences, access relevant research and expertise.
Publications
Dynamic employee value propositions can strengthen your company's employee recruitment, retention, and engagement. Each generation of the workforce is in a unique part of the employee life cycle and has different needs.
(Key Business Issues Listing, February 2018)
25 Truths about Joint Ventures

More and more, companies are looking to joint ventures: to help topline growth, allay local fears about loss of intellectual property to foreign competitors, and to help companies enter new international markets.
(Conference KeyNotes, April 2017)
Webcasts
Digital Business Models And Their Analysis
January 03, 2019 03:00 PM CET [15:00] (Brussels), 09:00 AM ET [09:00] (New York), 02:00 PM UTC [14:00]

Join this webcast to find out about new digital business models, current best practices, and strategy lessons that can be learned from start-ups. CPE credit available
Transforming Customer Experience in B2B
February 20, 2019 03:00 PM CET [15:00] (Brussels), 09:00 AM ET [09:00] (New York), 02:00 PM UTC [14:00]

Join this webcast as our guest, Thilo Rüdt von Collenberg, Associate Partner at McKinsey, shares key learnings from the consulting firm's client work on what it takes to achieve significant improvements in B2B customer experience.
Blogs
Making Intangibles Tangible—Linking Corporate Attributes to Market Cap
An organization's culture of innovation can be a robust predictor of financial performance, which highlights the importance to companies of measuring intangible assets. With intangible assets growing exponentially as a component of enterprise value, it is unproductive to allow them to go unmanaged. (Society for New Communications Research Blog, December 2018)
President George H.W. Bush was a Catalyst for Building Corporate Volunteer Programs
Corporate volunteering is now a global practice that was boosted by President George H.W. Bush's founding of Points of Light and the National Council on Workplace Volunteering. As the country remembers the 41st President, reflecting on his work to encourage employees to use their expertise in service to their communities can help motivate companies and their employees to continue his legacy. (Corporate Citizenship & Philanthropy Blog, December 2018)
Corporate Giving Increases 15 Percent Over Three Years
Total corporate giving has increased more than 15 percent over three years to a record $23.8 billion, as companies have become more generous. The growing economy and favorable tax cuts have left some companies with healthy cash reserves and many have promised to direct a portion to their communities. (Corporate Citizenship & Philanthropy Blog, November 2018)