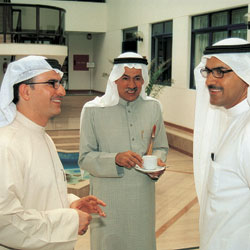 Middle East
The Conference Board offers valuable insights into how the Middle East fits within the global economy. A major recent report - "Managing Beyond Oil" - reviews productivity in the countries of the Gulf Cooperation Council, and outlines the implications for companies.
The Middle East Business Leaders' Council, formed in 1999, convenes local business leaders who are Associates of The Conference Board with representatives of multinational enterprises to discuss regional issues.
Researchers from The Conference Board make regular presentations in the region about corporate governance, human resources and economic development issues. We provide the opportunity for companies to understand this complex, fast-changing region and will tailor individual programmes to suit specific corporate requirements.
Products & Services
Peer Networks
Global CSR & Philanthropy Council
This council advances the practice of cross-border corporate social responsibility and strategic philanthropy on a global scale through continuous dialogue on latest trends, issues and solutions encountered, as well as inspiring practices.
Shared Services Council
The Shared Services Council in Europe brings together senior shared services executives to exchange best practices, strategies and innovations leading to the provision of competitive internal business support services.
Publications
25 Truths about Joint Ventures

More and more, companies are looking to joint ventures: to help topline growth, allay local fears about loss of intellectual property to foreign competitors, and to help companies enter new international markets.
(Conference KeyNotes, April 2017)
There are two kinds of companies: those that have been hacked and those that don't know it yet. Cyber risk is not just an IT concern, but a crucial business issue.
(Conference KeyNotes, April 2017)
Webcasts
Conscious Leadership Part I
March 06, 2018 03:00 PM CET [15:00] (Brussels), 09:00 AM ET [09:00] (New York), 02:00 PM UTC [14:00]

Join this three-part series as Gina Hayden, author and co-founder of The Global Center for Conscious Leadership, takes us through the concept of conscious leadership. Part 1 will focus on how you can set about developing conscious leaders within your organization. HRCI, SHRM, and CPE credit available
Conscious Leadership Part II
June 14, 2018 03:00 PM CET [15:00] (Brussels), 09:00 AM ET [09:00] (New York), 01:00 PM UTC [13:00]

Join this three-part series as Gina Hayden, author and co-founder of The Global Center for Conscious Leadership, takes us through the concept of conscious leadership. Part 2 will focus on creating engaged workplaces. HRCI, SHRM, and CPE credit available
Blogs
Running NFL Social Media On Game Day—An Interview With Dave Feldman
Dave Feldman, Sr Director of Digital at the NFL, is running one of the biggest, most complex, real-time social content teams on the planet. With this level of content creation, distribution and management, it's all about strategy, scalable process, extreme coordination and everyone and I mean everyone, must be on their A game. So, when I sat down for a full hour long interview with Dave to talk about the social content machine of the NFL, I was hanging on every word. (Society for New Communications Research Blog, February 2018)
Implications for Blockchain in Corporate Citizenship and Philanthropy
It's impossible to avoid the furor surrounding cryptocurrencies these days. Looking beyond the price fluctuations of crypto markets, examining the blockchain infrastructure that supports the currencies is a fascinating exercise. The use of blockchain in companies has some interesting implications for citizenship and philanthropy. Blockchain could add a level of transparency and authenticity to corporate practices and resulting communications that could help to rebuild trust in business. (Citizenship and Philanthropy Blog, February 2018)
BlackRock Makes an Extraordinary Challenge to Business
Last month Laurence Fink, CEO of BlackRock, laid down a challenge to the business community. Or, perhaps, it's more accurate to call it a warning. His message: Make societal progress part of your strategic plan or suffer the consequences. (Society for New Communications Research Blog, February 2018)