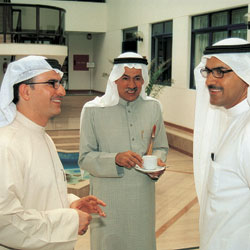 Middle East
The Conference Board offers valuable insights into how the Middle East fits within the global economy. A major recent report - "Managing Beyond Oil" - reviews productivity in the countries of the Gulf Cooperation Council, and outlines the implications for companies.
The Middle East Business Leaders' Council, formed in 1999, convenes local business leaders who are Associates of The Conference Board with representatives of multinational enterprises to discuss regional issues.
Researchers from The Conference Board make regular presentations in the region about corporate governance, human resources and economic development issues. We provide the opportunity for companies to understand this complex, fast-changing region and will tailor individual programmes to suit specific corporate requirements.
Products & Services
Peer Networks
Global Business Services Council
The Global Business Services Council is one of the first communities focused on serving the specific needs of the senior-most leaders in Europe working across business functions on a global basis.
Global CSR & Philanthropy Council
This council advances the practice of cross-border corporate social responsibility and strategic philanthropy on a global scale through continuous dialogue on latest trends, issues and solutions encountered, as well as inspiring practices.
Global Business Conduct Council
Senior executives responsible for shaping global ethics and compliance programs discuss current issues and challenges facing corporations globally. Members value the confidential dialogue, expert speakers and benchmarking opportunities.
Publications
25 Truths about Joint Ventures

More and more, companies are looking to joint ventures: to help topline growth, allay local fears about loss of intellectual property to foreign competitors, and to help companies enter new international markets.
(Conference KeyNotes, April 2017)
There are two kinds of companies: those that have been hacked and those that don't know it yet. Cyber risk is not just an IT concern, but a crucial business issue.
(Conference KeyNotes, April 2017)
Webcasts
The Broken American Dream: A Discussion On The Future of Capitalism
29 June, 2017 03:00 PM CET [15:00] (Brussels), 09:00 AM ET [09:00] (New York), 01:00 PM UTC [13:00]

Join this webcast as we examine what is wrong with market economies not only in the United States but elsewhere as well, and how capitalism can be fixed to better serve society. CPE credit available

Governance Watch
11 July, 2017 12:00 PM ET [12:00] (New York), 04:00 PM UTC [16:00]

Is your company ready to handle an international dispute? Join our July webcast as experts in governance and cross-border disputes share their insights on global crisis management. Save the date! CPE and CLE credit available.