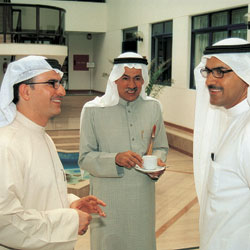 Middle East
The Conference Board offers valuable insights into how the Middle East fits within the global economy. A major recent report - "Managing Beyond Oil" - reviews productivity in the countries of the Gulf Cooperation Council, and outlines the implications for companies.
The Middle East Business Leaders' Council, formed in 1999, convenes local business leaders who are Associates of The Conference Board with representatives of multinational enterprises to discuss regional issues.
Researchers from The Conference Board make regular presentations in the region about corporate governance, human resources and economic development issues. We provide the opportunity for companies to understand this complex, fast-changing region and will tailor individual programmes to suit specific corporate requirements.
Products & Services
Peer Networks
Emerging Markets Corporate Compliance and Ethics Council
This council provides invaluable opportunities for senior compliance and ethics executives in Asia-Pacific and Emerging Markets to exchange experiences, access relevant research and expertise.
Publications
Dynamic employee value propositions can strengthen your company's employee recruitment, retention, and engagement. Each generation of the workforce is in a unique part of the employee life cycle and has different needs.
(Key Business Issues Listing, February 2018)
25 Truths about Joint Ventures

More and more, companies are looking to joint ventures: to help topline growth, allay local fears about loss of intellectual property to foreign competitors, and to help companies enter new international markets.
(Conference KeyNotes, April 2017)
Webcasts
Digital Business Models And Their Analysis
January 03, 2019 03:00 PM CET [15:00] (Brussels), 09:00 AM ET [09:00] (New York), 02:00 PM UTC [14:00]

Join this webcast to find out about new digital business models, current best practices, and strategy lessons that can be learned from start-ups. CPE credit available
Toggling! Enhancing Your Strategic Capabilities to Step-change Your Innovation Results
January 15, 2019 04:00 PM CET [16:00] (Brussels), 10:00 AM ET [10:00] (New York), 03:00 PM UTC [15:00]

Join this webcast as our guest, Pam Henderson, PhD, founder and CEO of innovation strategy firm NewEdge, Inc., discusses five ways you can become more strategic in your thinking by becoming comfortable with toggling. CPE credit available
Blogs
Do the Right Thing
"Ethical public relations (PR)" is a phrase many see as an oxymoron, but as an ever-changing world brings new challenges to the corporate sector, the PR profession is in need of standards to help promote an ethical focus. Institutions leading the way in terms of ethics will focus on models of networked collaboration and values-based choices, where accountability, reliability, transparency, fairness and flexibility are handled in a more self-organized way. (Society for New Communications Research Blog, December 2018)
Living Your Purpose: Driving and Measuring Business Adoption
Leading businesses are turning to purpose to articulate their mission, power growth, unite and motivate the organization, and become future-ready in a world of non-stop change. Companies can and should use purpose intentionally to figure out how to run their businesses. (Corporate Citizenship & Philanthropy Blog, December 2018)
Q&A with Daniel Sunderland: Deloitte Chief Auditor's Perspectives on the Job Description of a Corporate Director
This Q&A with Daniel Sunderland discusses the job of the corporate director from his perspective as Chief Auditor at Deloitte. He touches on topics like the influence of the external auditor in the job of the corporate director and the definition of tone at the top. (The Governance Center Blog, December 2018)