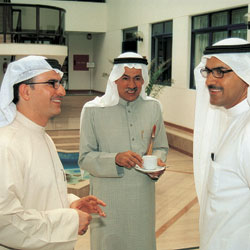 Middle East
The Conference Board offers valuable insights into how the Middle East fits within the global economy. A major recent report - "Managing Beyond Oil" - reviews productivity in the countries of the Gulf Cooperation Council, and outlines the implications for companies.
The Middle East Business Leaders' Council, formed in 1999, convenes local business leaders who are Associates of The Conference Board with representatives of multinational enterprises to discuss regional issues.
Researchers from The Conference Board make regular presentations in the region about corporate governance, human resources and economic development issues. We provide the opportunity for companies to understand this complex, fast-changing region and will tailor individual programmes to suit specific corporate requirements.
Products & Services
Peer Networks
Global Investor Relations Executives Council
Senior investor relations officers of large-capitalization companies in both Europe and the United States share best practices in a confidential and member-driven forum. Members value the intimate and candid conversations that develop in the meetings.
Global Human Resources Council
Allows senior most global HR executives to discuss current challenges and trends regarding the strategic and structural management of their firm's multinational human resources. Members value the confidential dialogue, expert speakers and benchmarking.
Publications
25 Truths about Joint Ventures

More and more, companies are looking to joint ventures: to help topline growth, allay local fears about loss of intellectual property to foreign competitors, and to help companies enter new international markets.
(Conference KeyNotes, April 2017)
There are two kinds of companies: those that have been hacked and those that don't know it yet. Cyber risk is not just an IT concern, but a crucial business issue.
(Conference KeyNotes, April 2017)
Webcasts
Conscious Leadership
October 26, 2017 03:00 PM CET [15:00] (Brussels), 09:00 AM ET [09:00] (New York), 01:00 PM UTC [13:00]

Join this webcast to learn what it means to be a leader who uses the framework of Me + We + The World. HRCI, SHRM, and CPE credit available
Governance Watch
November 14, 2017 12:00 PM ET [12:00] (New York), 05:00 PM UTC [17:00]

Hosted in collaboration with Cleary Gottlieb, Governance Watch is designed to address the latest developments in corporate governance through bi-monthly webcasts featuring provocative expert guests and insights. CPE and CLE credit available.
Blogs
Three environmental and social issues that can't be ignored
Climate risk reporting, board diversity, and sustainability reporting are three issues worth keeping an eye on if the 2017 proxy season is any indication of shareholder sentiment. (The Governance Center Blog, October 2017)
Nonprofit Board Leadership: A Team Approach
Leadership succession planning for the position of chair is often a daunting exercise for nonprofit boards. Most nonprofits understand that the position is highly consequential for the strategic and financial success of the organization. Nonprofits will be stronger, however, if the chair is recognized as the leader of the board leadership team, rather than a soloist. (Giving Thoughts Blog, October 2017)
How to Engage the C-suite about Social Media with Authority and Confidence
"Social media takes time to build," said one of the participants in the webinar on social media and the C-suite that I co-presented for the Society for New Communications Research (SNCR) of The Conference Board earlier this month. It underscores a primary reality for communicators looking to engage their leaders in helping them understand the strategic value of social media in the long term as a legitimate business tool. (Society for New Communications Research Blog, October 2017)