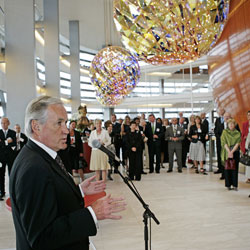 Europe
The Conference Board is dedicated to providing Europe's leading companies with the comparative knowledge and perspective they need to develop their regional and world-wide potential.
Products & Services
Conferences
23rd Annual Leadership Development Conference - New York
04 - 05 May, 2017 (New York, NY)
13th Annual Women's Leadership Conference
09 - 10 May, 2017 (New York, NY)
Peer Networks
Corporate Governance Council
Discusses the dramatic changes that are affecting boards of directors in Europe and how they might best respond to these changes in order to drive business forward and meet the needs of their investors and stakeholders.
Cyber Risk and Security Management Council
This European council provides a groundbreaking, cross-functional forum with a focus on networking and problem-solving to inform companies about organizational, governance, legal, comm and technical responses to governing information use and protection
Talent Acquisition Executives Council
As talent acquisition leaders in Europe, our goal is to develop and implement strategies and tactics that enable our companies to hire the right talent at the right time.
Publications
The Conference Board Economics Watch® European View

There is a widespread perception that the business climate in the Euro Area is improving. Available data - other than surveys - match these optimistic expectations only to some extent.
(Economics Watch Reports, April 2017)
25 Truths about Joint Ventures

More and more, companies are looking to joint ventures: to help topline growth, allay local fears about loss of intellectual property to foreign competitors, and to help companies enter new international markets.
(Conference KeyNotes, April 2017)
Webcasts
Designing an Agile Organization: Approaches, Challenges, and Lessons Learned
24 April, 2017 01:00 PM ET [13:00] (New York), 05:00 PM UTC [17:00]

Learn from a top organizational design expert and strategist about the benefits of undertaking organization transformation in an agile way, and discover how top industry professionals from Cigna and IBM have worked to build agility in their own organizations. HRCI, SHRM, and CPE credit available
Window On Trade
26 April, 2017 11:00 AM ET [11:00] (New York), 03:00 PM UTC [15:00]

This panel discussion with The Conference Board and external experts focuses on the recent shift toward protectionist sentiments: What is happening around the globe? What does it mean for global trade and value chains? And how should business respond? CPE credit available