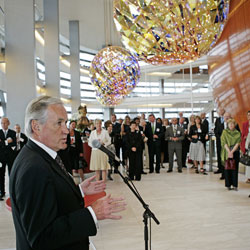 Europe
The Conference Board is dedicated to providing Europe's leading companies with the comparative knowledge and perspective they need to develop their regional and world-wide potential.
Products & Services
Peer Networks
Total Rewards Council
The Total Rewards Council brings together senior executives; most of whom have a remit extending beyond Europe. It provides members with an opportunity to discuss the most pressing issues on their agendas, widen their perspective and share best practices.
Human Resources Executives Council
The HR Executives Council brings together the most senior European based HR Executive who wants to optimize their performance and that of their business.
Global Business Conduct Council
Senior executives responsible for shaping global ethics and compliance programs discuss current issues and challenges facing corporations globally. Members value the confidential dialogue, expert speakers and benchmarking opportunities.
Publications
The Conference Board Economics Watch® European View

Uncertainty remains the buzzword, yet the European economies are surprisingly resilient.
(Economics Watch Reports, February 2017)
The Conference Board Economics Watch® United States View

Base scenario continues to suggest a modest upside for the US economic outlook.
(Economics Watch Reports, February 2017)
Webcasts
Sharpening Your Innovation Strategy
21 February, 2017 04:00 PM CET [16:00] (Brussels), 10:00 AM ET [10:00] (New York), 03:00 PM UTC [15:00]

Join us for this webcast as our guest speaker explains how Applying Opportunity Thinking to your options and then looking at them with Four Lenses, helps you improve your chances of success! CPE credit available
The Conference Board Economics Watch® - European View
08 March, 2017 03:00 PM CET [15:00] (Brussels), 09:00 AM ET [09:00] (New York), 02:00 PM UTC [14:00]

After first discussing developments that affect the short-term outlook of the Euro Area economy, this webcast will then focus on Italy, in an attempt to provide our viewers with a better understanding about what keeps the economy afloat despite the country's slow growth and high public debt. CPE credit available