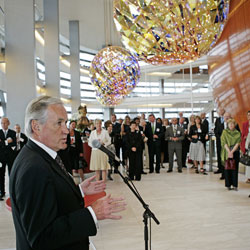 Europe
The Conference Board is dedicated to providing Europe's leading companies with the comparative knowledge and perspective they need to develop their regional and world-wide potential.
Products & Services
Peer Networks
The Engagement Institute Europe
The Engagement Institute provides a forum for leaders and seasoned practitioners to share innovative strategies and practical ideas in order to articulate the impact of human capital investments. Through interaction with cohorts in the US and Europe (and
Customer Experience Council
The Council's mission is to gain insights in Customer Experience across industries and regions by providing a global peer-to-peer benchmarking and best-practice sharing program.
Publications
The Conference Board Economics Watch® European View

The Euro Area economy continues to grow, even though growth has been losing steam.
(Economics Watch Reports, October 2018)
Is GDPR the Death Knell for Human Capital Analytics?

In a post-GDPR world where data privacy is a growing concern, companies must earn the trust of employees, job applicants, and contingent workers if they want to continue analyzing human capital data to generate business insights.
(Key Business Issues, September 2018)
Webcasts
Sustainable Procurement — Lessons from Leading Companies
October 23, 2018 03:00 PM CET [15:00] (Brussels), 09:00 AM ET [09:00] (New York), 01:00 PM UTC [13:00]

Join us for this webcast as we discuss and present the findings from our latest research on Sustainable Procurement – Lessons from Leading Companies. CPE credit available
EU Circular Economy Package
November 13, 2018 03:00 PM CET [15:00] (Brussels), 09:00 AM ET [09:00] (New York), 02:00 PM UTC [14:00]

Join us for this webcast as we look at the concept of circular economy and discuss the opportunities and risks associated with the EU Circular Economy Package. CPE credit available
Blogs
Measuring Success in Making a Difference
Companies need to build a mechanism to gauge consumers' preferences for causes and integrate that with a measurement framework across all stakeholders of an organization. Sumair Sayani, vice president at Nielsen and Consumer Dynamics co-Center leader, suggests what this model might look like. (Consumer Dynamics Center Blog, October 2018)
Executive Series: The "Creative" Dilemma
Creativity is important to developing new ideas and opportunities, but certain corporate cultures can stifle it. Employees have a responsibility to exercise their own creativity for the benefit of themselves and the business. In communications, creativity should be nurtured in three areas in particular: writing, uncovering stories, and ideation. If companies want to promote new ideas and opportunities, being open to employees' creativity is a good start. (Society for New Communications Research Blog, October 2018)
Nonprofit Board Experience Develops Employees for Leadership
Eighty percent of people who serve on nonprofit boards describe themselves as better leaders, the result of developing skills like board governance, networking, strategic planning, and communication. By supporting meaningful leadership and community engagement, companies that promote nonprofit board service help to grow employees' value to the company. (Citizenship and Philanthropy Blog, October 2018)