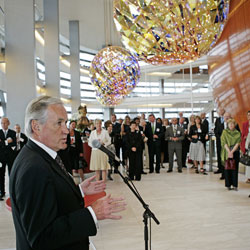 Europe
The Conference Board is dedicated to providing Europe's leading companies with the comparative knowledge and perspective they need to develop their regional and world-wide potential.
Products & Services
Conferences
Procurement 2018 and Beyond
November 14 - 15, 2017 (New York, NY)
Social Media & HR Seminar
December 07 - 08, 2017 (New York, NY)
Peer Networks
Legal Council
Updates on EU competition law developments, building a European legal team, controlling outside costs, and the interface between legal and global management are principle items on this council's agenda.
Innovation Council
The European Council on Innovation (formerly the European Council on Research, Development & Innovation) is a network of leaders in the area of technical innovation.
Strategic Risk Management Council
The European Strategic Risk Management Council is designed for senior executives with the responsibility for assessing and implementing risk management programmes in their organisations.
Publications
The Conference Board Economics Watch® European View

Labor market data confirm that the business cycle is beginning to mature.
(Economics Watch Reports, October 2017)
Keeping the "Dream Team:" Leveraging Analytics to Retain Top Talent in Asia

This report highlights the talent retention challenges faced by employers in Asia and sheds light on how organizations can leverage human capital analytics to aid their retention strategies.
(Research Report, September 2017)
China Center Chart Dive: China's economic accommodation of North Korea appears to be decreasing

New data show that China appears to be substantively squeezing the economic lifeline to North Korea that it has maintained for decades.
(China Center Publications, September 2017)
Webcasts
Right Makes Might: Building a Stronger Organization Through A Culture of Ethics
October 23, 2017 11:00 AM ET [11:00] (New York), 03:00 PM UTC [15:00]

Come away with actionable strategies to more effectively identify challenges, measure results, and strengthen a culture of ethics in your organization. HRCI, SHRM, and CPE credit available
Conscious Leadership
October 26, 2017 03:00 PM CET [15:00] (Brussels), 09:00 AM ET [09:00] (New York), 01:00 PM UTC [13:00]

Join this webcast to learn what it means to be a leader who uses the framework of Me + We + The World. HRCI, SHRM, and CPE credit available
Blogs
Three environmental and social issues that can't be ignored
Climate risk reporting, board diversity, and sustainability reporting are three issues worth keeping an eye on if the 2017 proxy season is any indication of shareholder sentiment. (The Governance Center Blog, October 2017)
Nonprofit Board Leadership: A Team Approach
Leadership succession planning for the position of chair is often a daunting exercise for nonprofit boards. Most nonprofits understand that the position is highly consequential for the strategic and financial success of the organization. Nonprofits will be stronger, however, if the chair is recognized as the leader of the board leadership team, rather than a soloist. (Giving Thoughts Blog, October 2017)
How to Engage the C-suite about Social Media with Authority and Confidence
"Social media takes time to build," said one of the participants in the webinar on social media and the C-suite that I co-presented for the Society for New Communications Research (SNCR) of The Conference Board earlier this month. It underscores a primary reality for communicators looking to engage their leaders in helping them understand the strategic value of social media in the long term as a legitimate business tool. (Society for New Communications Research Blog, October 2017)