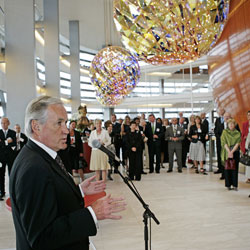 Europe
The Conference Board is dedicated to providing Europe's leading companies with the comparative knowledge and perspective they need to develop their regional and world-wide potential.
Products & Services
Peer Networks
Leadership, Talent & Learning Council
The Leadership, Talent & Learning Council in Europe focuses on identifying and promoting best practices on how to develop talent, create highly effective leaders and design "learning" organisations to improve business performance.
Compliance and Ethics Council
Executives in Europe focus on how to respond to European and international compliance rules and regulations.
Human Capital Analytics Council
The Human Capital Analytics Council provides a forum for leaders and seasoned practitioners to share innovative strategies and practical ideas in order to articulate the impact of human capital investments.
Publications
ESG Initiatives Survey Findings

The Conference Board undertook a survey to examine ESG initiatives through a business perspective, reviewing their relevance and value. This document presents the survey findings.
(PowerPoint, May 2018)
The Conference Board Economics Watch® European View

The Euro Area economy moderated in Q1, and growth is likely to moderate further for the remainder of the year.
(Economics Watch Reports, May 2018)
Webcasts
Who is accountable for gender balance within organizations?
May 30, 2018 03:00 PM CET [15:00] (Brussels), 09:00 AM ET [09:00] (New York), 01:00 PM UTC [13:00]

This webcast will explore the question of gender balance and the idea of who holds responsibility for this within an organization. HRCI, SHRM, and CPE credit available
A Marriage of Algorithms and Human Capital - Part II
June 05, 2018 03:00 PM CET [15:00] (Brussels), 09:00 AM ET [09:00] (New York), 01:00 PM UTC [13:00]

Part II will focus on predictive analytics and the new technology developments that are helping it enhance business and strategic workforce decisions. HRCI, SHRM, and CPE credit available
Blogs
Could the Facebook Scandal Slow Down Digital Healthcare?
If global health is being reshaped by technologies such as wearables, artificial intelligence and blockchain, then data—and lots of it—is fueling this transformation. But patient fears about privacy and misuse of data, potentially influenced by the Facebook data breach, threatens to slow the development and uptake of digital health innovations. (Society for New Communications Research Blog, May 2018)
Science Based Targets – What Is It All About?
Science Based Targets (SBTs) for greenhouse gas (GHG) reduction are increasingly being discussed, however what they entail in detail is often not well understood.In contrast to a simple incremental approach, targets are considered 'science-based', if they aim at carbon reduction in accordance with the internationally agreed global climate change targets. In this blog, we want to give a very brief overview of the approach and its application. (Sustainability Center Blog, May 2018)
Participate in the 2018 Business Contributions to the Arts Survey
The 2018 Business Contributions to the Arts survey, conducted by The Conference Board and Americans for the Arts, is open until Friday, June 8. Please share your data regarding your organization's support for the arts to help us provide important benchmarking information to the corporate philanthropy and arts communities. The survey should take no more than 15-20 minutes to complete. (Citizenship and Philanthropy Blog, May 2018)