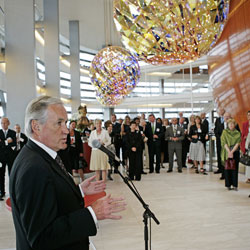 Europe
The Conference Board is dedicated to providing Europe's leading companies with the comparative knowledge and perspective they need to develop their regional and world-wide potential.
Products & Services
Peer Networks
Corporate Responsibility & Sustainability Council
The Conference Board's European Council on Corporate Responsibility and Sustainability provides senior executives of companies based in Europe with a programme and meeting place through which to deepen their knowledge, and sharpen their skills
Chief Financial Officers Council
The Chief Financial Officers Council is an exclusive and invitation-only forum that brings together global CFOs from leading companies in EMEA, to discuss the issues affecting them.
Procurement Leadership Council
Focuses on the strategic issues of reducing overall business costs, improving quality of supply, and enhancing customer service.
Publications
Global Economy Center Newsletter - November 2018

The growth of the global economy seems fairly steady at just over 3 percent in 2018/19 but will gradually drop below 3 percent by the early 2020s
(Newsletter, November 2018)
Five Ways Companies Use Signposts of Innovation

We spoke with leaders of member companies involved with innovation at a large US defense contractor and at specialty materials company Eastman Chemical Company to find out which aspects of the signposts they find most useful.
(Publication, November 2018)
Webcasts
Digital Business Models And Their Analysis
January 03, 2019 03:00 PM CET [15:00] (Brussels), 09:00 AM ET [09:00] (New York), 02:00 PM UTC [14:00]

Join this webcast to find out about new digital business models, current best practices, and strategy lessons that can be learned from start-ups. CPE credit available
Transforming Customer Experience in B2B
February 20, 2019 03:00 PM CET [15:00] (Brussels), 09:00 AM ET [09:00] (New York), 02:00 PM UTC [14:00]

Join this webcast as our guest, Thilo Rüdt von Collenberg, Associate Partner at McKinsey, shares key learnings from the consulting firm's client work on what it takes to achieve significant improvements in B2B customer experience.
Blogs
Making Intangibles Tangible—Linking Corporate Attributes to Market Cap
An organization's culture of innovation can be a robust predictor of financial performance, which highlights the importance to companies of measuring intangible assets. With intangible assets growing exponentially as a component of enterprise value, it is unproductive to allow them to go unmanaged. (Society for New Communications Research Blog, December 2018)
President George H.W. Bush was a Catalyst for Building Corporate Volunteer Programs
Corporate volunteering is now a global practice that was boosted by President George H.W. Bush's founding of Points of Light and the National Council on Workplace Volunteering. As the country remembers the 41st President, reflecting on his work to encourage employees to use their expertise in service to their communities can help motivate companies and their employees to continue his legacy. (Corporate Citizenship & Philanthropy Blog, December 2018)
Corporate Giving Increases 15 Percent Over Three Years
Total corporate giving has increased more than 15 percent over three years to a record $23.8 billion, as companies have become more generous. The growing economy and favorable tax cuts have left some companies with healthy cash reserves and many have promised to direct a portion to their communities. (Corporate Citizenship & Philanthropy Blog, November 2018)