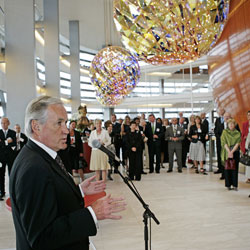 Europe
The Conference Board is dedicated to providing Europe's leading companies with the comparative knowledge and perspective they need to develop their regional and world-wide potential.
Products & Services
Conferences
The 2017 Resilience & Well-Being Conference
05 - 06 October, 2017 (New York, NY)
Procurement 2018 and Beyond
14 - 15 November, 2017 (New York, NY)
Peer Networks
Diversity and Inclusion in Business Council
This Council was established in 2000 in Europe, to identify emerging issues and best practice in the Diversity and Inclusion fields, and to help shape and communicate appropriate business responses.
Global Pensions and Benefits Council
This inter-disciplinary Council brings together pension managers, human resource executives, and financial executives to discuss issues of common concern.
Global Business Women Leaders Council II
The focus on the progression and advancement of women on to boards and women in to senior executive roles continues to gain momentum so this Council brings together high-achieving European females within global organisations – women who make their mark.
Publications
The Conference Board Economics Watch® European View

The business cycle of the Euro Area continues to strengthen but does not translate into higher profit growth.
(Economics Watch Reports, August 2017)
US Leaving Paris Accord: Much Ado About Nothing?

Most sustainability executives expect business to continue as usual. But there are a few risks to watch out for…
(Council Perspectives, August 2017)
Webcasts
How can companies prepare to succeed in the circular economy?
07 September, 2017 03:00 PM CET [15:00] (Brussels), 09:00 AM ET [09:00] (New York), 01:00 PM UTC [13:00]

Join us as we illustrate how leading companies, such as Interface, are proactively making the shift to a circular economy model and how by doing so are not only reducing waste but also growing their bottom line.
Governance Watch
12 September, 2017 12:00 PM ET [12:00] (New York), 04:00 PM UTC [16:00]

SAVE THE DATE. Thoughtful discussion with Former SEC Chief Litigator, corporate exec and governance expert on recent high-profile whistleblower cases, the intersection of these cases with legal privilege, and possible lasting implications. CPE and CLE credit available.