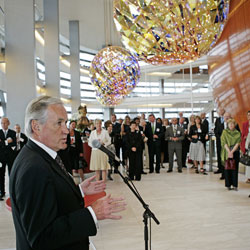 Europe
The Conference Board is dedicated to providing Europe's leading companies with the comparative knowledge and perspective they need to develop their regional and world-wide potential.
Products & Services
Conferences
Cybersecurity Seminar: Crucial Collaborations
January 18 - 19, 2018 (New York, NY)
15th Annual Executive Coaching Conference
March 20 - 21, 2018 (New York, NY)
Peer Networks
Economists and Corporate Strategists Council
This Council brings together economists and corporate strategists from the financial services and industrial communities to exchange views on the emerging economic environment.
Human Resources Executives Council
The HR Executives Council brings together the most senior European based HR Executive who wants to optimize their performance and that of their business.
Global CSR & Philanthropy Council
This council advances the practice of cross-border corporate social responsibility and strategic philanthropy on a global scale through continuous dialogue on latest trends, issues and solutions encountered, as well as inspiring practices.
Publications
The Conference Board Economics Watch® European View

The Euro Area economy ends 2017 on an expansionary path that is quite robust, and consumers are feeling the positivity.
(Economics Watch Reports, December 2017)
Sustainability Practices Dashboard

The Conference Board Sustainability Practices Dashboard analyzes the most recent disclosure of environmental and social practices by public companies around the world.
(Research Report, December 2017)
Webcasts
Human Capital Watch™: Digital Transformation
December 20, 2017 11:00 AM ET [11:00] (New York), 04:00 PM UTC [16:00]

How does the HR function change under digital transformation? Get an advance look at forthcoming research from The Conference Board to answer this and other key questions. CPE credit available
AI & Co.– Potential and Implications for Finance Leaders
January 11, 2018 03:00 PM CET [15:00] (Brussels), 09:00 AM ET [09:00] (New York), 02:00 PM UTC [14:00]

Join this webcast to find out what possibilities AI offers the finance functions and which capabilities modern finance leaders should develop to fully leverage their potential. CPE credit available
Blogs
How Companies Can Recruit and Retain the Best and Most Diverse Workforces by Offering Board-Matching Programs
Employees are more likely to work and stay at companies that help match them to nonprofit boards in addition to providing funds to the nonprofits where they serve. This is one of the most powerful findings of Better World Leadership: The Nonprofit Board Leadership Study, released last month. (Giving Thoughts Blog, December 2017)
Companies Can, and Should, Address Sexual Misconduct No Matter Where It Happens
The past few weeks have seen an extraordinary increase in awareness, and acknowledgement, that sexual assault, harassment, coercion, and improprieties happen in the workplace with appalling frequency, and that perpetrators must be held accountable by their employers and by society. I hope that it will now be much, much harder for any American workplace to turn a blind eye (or worse) when an employee raises such an allegation. (Giving Thoughts Blog, December 2017)
Marketers Reluctantly Coming to Terms with their Role in Fake News Crisis
A new study by the Society for New Communications Research of The Conference Board (SNCR) shows that while marketers are now aware of their inadvertent participation, they are ambivalent about what ought to change—and are reluctant to alter their own business practices. (Society for New Communications Research Blog, December 2017)