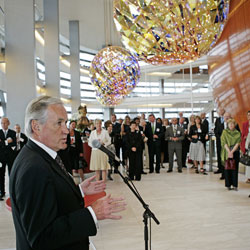 Europe
The Conference Board is dedicated to providing Europe's leading companies with the comparative knowledge and perspective they need to develop their regional and world-wide potential.
Products & Services
Conferences
22nd Annual Corporate Communications Conference
22 - 23 May, 2017 (New York, NY)
16th Annual Sustainability Summit
18 - 19 July, 2017 (New York, NY)
Peer Networks
Economists Council
This Council brings together economists from the financial services and industrial communities to exchange views on the emerging economic environment.
Chief Audit Executives Council
This exclusive forum brings together internal audit leaders from many of the largest companies operating in Europe. Council members work together in an open and candid style, allowing a full exchange of views on trends, practices and challenges.
Global Rewards and Mobility Council
Discussions focus on the policies and challenges connected with the salaries and benefits of international personnel, including local nationals as well as expatriates. Members value the confidential and high level dialogue that develops.
Publications
The Conference Board Economics Watch® European View

Expected increases in investment could make Europe's recovery more solid,
(Economics Watch Reports, May 2017)
Signposts of Innovation: Toward Better Innovation Metrics for Business—A Primer

Despite the importance of innovation, companies often lack a comprehensive framework to measure it. This report reviews approaches to measure innovation and presents a comprehensive, flexible framework to guide business decisions.
(Key Business Issues, May 2017)
Webcasts
Window on America
24 May, 2017 11:00 AM ET [11:00] (New York), 03:00 PM UTC [15:00]

This live hour-long program is the latest installment in a series of Window on America panel discussions looking at President Trump's administration as it wraps up its first 100 days in office. CPE credit available
Seeing the Unseen
31 May, 2017 04:00 PM CET [16:00] (Brussels), 10:00 AM ET [10:00] (New York), 02:00 PM UTC [14:00]

Join us for this webcast to hear about 5 new principles that are challenging the traditional approach to market research. CPE credit available