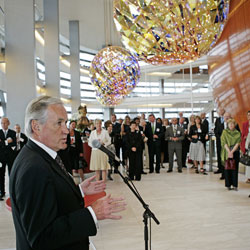 Europe
The Conference Board is dedicated to providing Europe's leading companies with the comparative knowledge and perspective they need to develop their regional and world-wide potential.
Products & Services
Peer Networks
Tax Executives Council
This Council brings together heads of tax and/or senior finance executives responsible for tax from multinational companies. Its agenda focuses on how the tax issue will impact corporations in the future, and how executives can respond to challenges.
Corporate Responsibility & Sustainability Council
The Conference Board's European Council on Corporate Responsibility and Sustainability provides senior executives of companies based in Europe with a programme and meeting place through which to deepen their knowledge, and sharpen their skills
Total Rewards Council
The Total Rewards Council brings together senior executives; most of whom have a remit extending beyond Europe. It provides members with an opportunity to discuss the most pressing issues on their agendas, widen their perspective and share best practices.
Publications
Global Growth Projections for The Conference Board Global Economic Outlook 2019

This paper presents the methodology for The Conference Board Global Economic Outlook 2019, which includes growth projections of GDP and underlying supply-side components for 33 mature and 36 emerging market economies for 2019-2028.
(Economics Program Working Paper Series, December 2018)
The Conference Board Economics Watch® European View

While economic growth moderates, internal risks have become more visible, especially in Italy and the UK.
(Economics Watch Reports, December 2018)
Webcasts
Digital Business Models And Their Analysis
January 03, 2019 03:00 PM CET [15:00] (Brussels), 09:00 AM ET [09:00] (New York), 02:00 PM UTC [14:00]

Join this webcast to find out about new digital business models, current best practices, and strategy lessons that can be learned from start-ups. CPE credit available
Toggling! Enhancing Your Strategic Capabilities to Step-change Your Innovation Results
January 15, 2019 04:00 PM CET [16:00] (Brussels), 10:00 AM ET [10:00] (New York), 03:00 PM UTC [15:00]

Join this webcast as our guest, Pam Henderson, PhD, founder and CEO of innovation strategy firm NewEdge, Inc., discusses five ways you can become more strategic in your thinking by becoming comfortable with toggling. CPE credit available
Blogs
Do the Right Thing
"Ethical public relations (PR)" is a phrase many see as an oxymoron, but as an ever-changing world brings new challenges to the corporate sector, the PR profession is in need of standards to help promote an ethical focus. Institutions leading the way in terms of ethics will focus on models of networked collaboration and values-based choices, where accountability, reliability, transparency, fairness and flexibility are handled in a more self-organized way. (Society for New Communications Research Blog, December 2018)
Japanese companies lead sustainability disclosure, but are reporting requirements incentivizing compliance over substance?
Findings from a global study of corporate sustainability reporting reveals that companies in Japan have the highest overall sustainability disclosure rate. The findings raise the fundamental question of why companies report and whether reporting regulations are incentivizing compliance over substance. (Sustainability Center Blog, December 2018)
Living Your Purpose: Driving and Measuring Business Adoption
Leading businesses are turning to purpose to articulate their mission, power growth, unite and motivate the organization, and become future-ready in a world of non-stop change. Companies can and should use purpose intentionally to figure out how to run their businesses. (Corporate Citizenship & Philanthropy Blog, December 2018)