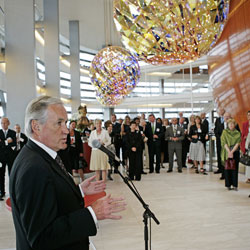 Europe
The Conference Board is dedicated to providing Europe's leading companies with the comparative knowledge and perspective they need to develop their regional and world-wide potential.
Products & Services
Peer Networks
Global Business Conduct Council
Senior executives responsible for shaping global ethics and compliance programs discuss current issues and challenges facing corporations globally. Members value the confidential dialogue, expert speakers and benchmarking opportunities.
Talent Acquisition Executives Council
As talent acquisition leaders in Europe, our goal is to develop and implement strategies and tactics that enable our companies to hire the right talent at the right time.
Global Pensions and Benefits Council
This inter-disciplinary Council brings together pension managers, human resource executives, and financial executives to discuss issues of common concern.
Publications
DNA of Engagement 2017: Engagement Ecosystem

DNA of Engagement 2017: Engagement Ecosystem
(Key Business Issues, February 2017)
DNA of Engagement 2017 Diagnostic Tool

Diagnostic tool: DNA of Engagement 2017
(Key Business Issues, February 2017)
DNA of Engagement: CEO Business Implications

Higher levels of employee engagement lead to greater productivity. This report outlines six strategies CEOs can implement to help employees play a greater role in managing their own engagement.
(Key Business Issues, February 2017)
Webcasts
The Conference Board Economics Watch® - European View
08 March, 2017 03:00 PM CET [15:00] (Brussels), 09:00 AM ET [09:00] (New York), 02:00 PM UTC [14:00]

After first discussing developments that affect the short-term outlook of the Euro Area economy, this webcast will then focus on Italy, in an attempt to provide our viewers with a better understanding about what keeps the economy afloat despite the country's slow growth and high public debt. CPE credit available
Governance Watch
14 March, 2017 12:00 PM ET [12:00] (New York), 04:00 PM UTC [16:00]

Hosted in collaboration with Cleary Gottlieb, Governance Watch is designed to address the latest developments in corporate governance through bi-monthly webcasts featuring provocative expert guests and insights. CPE and CLE credit available.