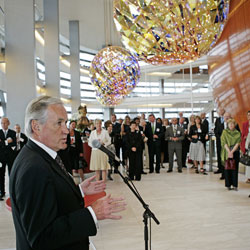 Europe
The Conference Board is dedicated to providing Europe's leading companies with the comparative knowledge and perspective they need to develop their regional and world-wide potential.
Products & Services
Peer Networks
Human Capital Analytics Council
The Council provides a forum for European based leaders and seasoned practitioners to share innovative strategies and practical ideas in order to articulate the impact of human capital investments.
Economists and Corporate Strategists Council
This Council brings together economists and corporate strategists from the financial services and industrial communities to exchange views on the emerging economic environment.
Mergers & Acquisitions Council
The European Council on Mergers and Acquisitions is designed to help companies plan and implement value creating acquisitions, mergers and divestitures by sharing best practices, ideas and experiences in their M&A related activities.
Publications
The Conference Board Economics Watch® European View

With global growth plateauing and with ongoing trade disputes, it is unlikely that net exports will continue to be a strong driver of growth in the Euro Area. The Euro Area economy will continue to moderate through the end of 2018.
(Economics Watch Reports, July 2018)
The Long Arm of the Law: GDPR's Impact on HR Data (Executive Summary)

GDPR mandates that human capital data, much of which qualifies as "sensitive," be protected vigorously. What's HR's role in protecting the personal data of employees, applicants, and contingent workers?
(Key Business Issues, June 2018)
Webcasts
A Marriage of Algorithms and Human Capital - Part III
September 04, 2018 03:00 PM CET [15:00] (Brussels), 09:00 AM ET [09:00] (New York), 01:00 PM UTC [13:00]

Part III will focus on strategic workforce planning and EY's "Monte Carlo" simulations. HRCI, SHRM, and CPE credit available
Conscious Leadership Part III
September 06, 2018 03:00 PM CET [15:00] (Brussels), 09:00 AM ET [09:00] (New York), 01:00 PM UTC [13:00]

Join this three-part series as Gina Hayden, author and co-founder of The Global Center for Conscious Leadership, takes us through the concept of conscious leadership. Part 3 will focus on business as a force for good. HRCI, SHRM, and CPE credit available
Blogs
Recession Signals from the UK Leading Economic Index
Is a recession on the horizon in the UK? The short answer to this question is: yes. The probability of a recession in the near term has risen substantially. The UK business cycle is maturing and the lack of certainty around Brexit makes it difficult for consumers and businesses to make plans about the future. These are the ingredients that recessions are made of. The long answer requires an in-depth (and wonkish) analysis of The Conference Board Leading Economic Index for the UK. (Global Economy Center Blog, July 2018)
Corporate Communications: Let the Sun Shine
"Let the sun shine" could have been the slogan for the The Conference Board's 2018 Corporate Communications Conference, held June 26-27. More than 150 corporate communicators took home new ideas to effectively get their messages out. Here are a couple quick-hit concepts from our speakers from great companies like Hilton, BASF, Boeing, State Farm, Love's Travel Stops, Mars, American Express, IBM, Aflac, Seattle City Light, UPS, Bank of America Merchant Services, DuPont, Bridge Consulting. (Society for New Communications Research Blog, July 2018)
If You Don't Measure Yourself, Others Will Measure You
Whether it's the 24-hour news cycle, social media, annual reports, internal messages, or stakeholder requests, the need for clear, understandable, and relatable corporate social responsibility (CSR) information from companies is increasing. Some stakeholders want metrics, others want stories. Either way, timeliness and transparency are key. So, which data and disclosures are relevant and/or required? (Citizenship and Philanthropy Blog, July 2018)