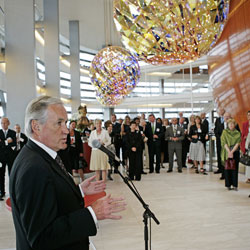 Europe
The Conference Board is dedicated to providing Europe's leading companies with the comparative knowledge and perspective they need to develop their regional and world-wide potential.
Products & Services
Conferences
16th Annual Sustainability Summit
18 - 19 July, 2017 (New York, NY)
The 2017 Resilience & Well-Being Conference
05 - 06 October, 2017 (New York, NY)
Peer Networks
Chief Audit Executives Council
This exclusive forum brings together internal audit leaders from many of the largest companies operating in Europe. Council members work together in an open and candid style, allowing a full exchange of views on trends, practices and challenges.
Emerging Markets Human Resources Council
The Council provides an exclusive network for human resources professionals to exchange insights and to explore and better understand the HR challenges and opportunities relating to business development and growth in emerging markets.
Advancing Women in Leadership Council
The focus on the advancement of women onto boards and into senior executive roles continues to gain momentum; this is a unique opportunity to discuss from an organizational perspective how to connect, support and equip European female leaders.
Publications
Just What Is the Corporate Director's Job?: Proxy Advisors' Perspectives on the Board Member's Job Description

When describing the job of a public company board member, proxy advisors were not naturally inclined to draw up a list of qualifications and responsibilities.
(Key Business Issues, June 2017)
The Conference Board Economics Watch® European View

Eurozone exporters are not (yet) fully benefiting from global trade growth
(Economics Watch Reports, June 2017)
StraightTalk® Global Economic Outlook 2017: Can the Recent Upswing Put Global Growth Back on Track?

The latest estimates of monthly leading economic indicators and quarterly GDP growth indicate that rising confidence among business and consumers in recent quarters has translated into a small positive impact on the real economy.
(StraightTalk®, June 2017)
Webcasts
Window On the Europe Elections
28 June, 2017 11:00 AM ET [11:00] (New York), 03:00 PM UTC [15:00]

Join Conference Board experts and European thought leaders to examine how the global business environment will be impacted by the recent string of elections in the Netherlands, France and the UK as well as those upcoming in German and Italy. CPE credit available
The Broken American Dream: A Discussion On The Future of Capitalism
29 June, 2017 03:00 PM CET [15:00] (Brussels), 09:00 AM ET [09:00] (New York), 01:00 PM UTC [13:00]

Join this webcast as we examine what is wrong with market economies not only in the United States but elsewhere as well, and how capitalism can be fixed to better serve society. CPE credit available