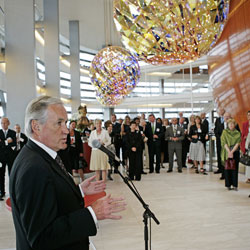 Europe
The Conference Board is dedicated to providing Europe's leading companies with the comparative knowledge and perspective they need to develop their regional and world-wide potential.
Products & Services
Conferences
15th Annual Executive Coaching Conference
March 20 - 21, 2018 (New York, NY)
Peer Networks
Health and Safety Council
The council brings together Health & Safety Global Leaders, from different industries and countries and large companies across EMEA, to exchange knowledge, best practices, approaches on effectiveness of their programmes and priorities.
Chief Financial Officers Council
The Chief Financial Officers Council is an exclusive and invitation-only forum that brings together global CFOs from leading companies in EMEA, to discuss the issues affecting them.
Global Business Services Council
The Global Business Services Council is one of the first communities focused on serving the specific needs of the senior-most leaders in the US working across business functions on a global basis.
Publications
Trading Up: With Global Growth Finally on the Rise, Is the Trade Recovery Sustainable?

This report, which introduces a new global value chain dataset tool, examines whether the trade recovery is sustainable and why reevaluating global operations strategy using current data is so critical.
(Key Business Issues, February 2018)
The Conference Board Economics Watch® United States View

Market volatility adds a note of caution to the strong 2018 outlook.
(Economics Watch Reports, February 2018)
The Conference Board Economics Watch® European View

The Euro Area economy keeps hitting new highs.
(Economics Watch Reports, February 2018)
Webcasts
Conscious Leadership Part I
March 06, 2018 03:00 PM CET [15:00] (Brussels), 09:00 AM ET [09:00] (New York), 02:00 PM UTC [14:00]

Join this three-part series as Gina Hayden, author and co-founder of The Global Center for Conscious Leadership, takes us through the concept of conscious leadership. Part 1 will focus on how you can set about developing conscious leaders within your organization. HRCI, SHRM, and CPE credit available
Conscious Leadership Part II
June 14, 2018 03:00 PM CET [15:00] (Brussels), 09:00 AM ET [09:00] (New York), 01:00 PM UTC [13:00]

Join this three-part series as Gina Hayden, author and co-founder of The Global Center for Conscious Leadership, takes us through the concept of conscious leadership. Part 2 will focus on creating engaged workplaces. HRCI, SHRM, and CPE credit available
Blogs
Running NFL Social Media On Game Day—An Interview With Dave Feldman
Dave Feldman, Sr Director of Digital at the NFL, is running one of the biggest, most complex, real-time social content teams on the planet. With this level of content creation, distribution and management, it's all about strategy, scalable process, extreme coordination and everyone and I mean everyone, must be on their A game. So, when I sat down for a full hour long interview with Dave to talk about the social content machine of the NFL, I was hanging on every word. (Society for New Communications Research Blog, February 2018)
Implications for Blockchain in Corporate Citizenship and Philanthropy
It's impossible to avoid the furor surrounding cryptocurrencies these days. Looking beyond the price fluctuations of crypto markets, examining the blockchain infrastructure that supports the currencies is a fascinating exercise. The use of blockchain in companies has some interesting implications for citizenship and philanthropy. Blockchain could add a level of transparency and authenticity to corporate practices and resulting communications that could help to rebuild trust in business. (Citizenship and Philanthropy Blog, February 2018)
Sustainability Reporting: Quality over Quantity
Corporate sustainability reporting—the disclosure of environmental, Social, and governance (ESG) practices—continues to transition from an exercise in transparency to a more targeted and strategic mechanism for companies to engage with stakeholders. Recent analysis by The Conference Board captures trends in the disclosure of environmental and social practices by large public companies around the world. (Sustainability Center Blog, February 2018)