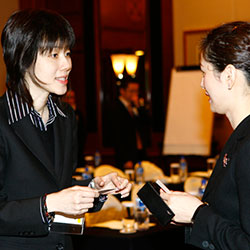 Asia
The Conference Board Asia helps member companies navigate the ever-changing business climate in India, Southeast Asia, greater China and Australasia. The Conference Board's unique perspective on the global economy gives both local and multinational member companies a strategic edge on issues that affect their business.
From our offices in Hong Kong and Singapore, we provide resources and events for decision makers like you in this complex region. Our members in Asia can access an array of information and content on corporate leadership, economy and business environment, and human capital. Executives from member companies benefit from The Conference Board's global and Asia-specific research and reports, an indispensable webcast program (live and on demand), complimentary entry to senior executive briefings, direct access to world-renowned subject-matter experts, eligibility to join Asia and Emerging Markets peer learning groups, and unlimited support from the Ask TCB business information service.
The bottom line? The Conference Board tracks economic developments and business trends in the region and abroad so you have the tools you need to navigate them successfully.
Products & Services
Peer Networks
Emerging Markets Mergers and Acquisitions Council
The Council provides senior executives in charge of Mergers and Acquisitions for Emerging Markets, including Asia, with a network of professional peers.
Emerging Markets Supply Chain Management Council
The Council provides senior supply chain decision makers in emerging markets with a network of professional peers who meet regularly to exchange ideas, best practices, and innovations related to the supply chain and logistics functions.
Emerging Markets Corporate Compliance and Ethics Council
This council provides invaluable opportunities for senior compliance and ethics executives in Asia-Pacific and Emerging Markets to exchange experiences, access relevant research and expertise.
Publications
The Conference Board Economics Watch® Economic Series Report

Monthly economic series report.
(Economics Watch Reports, September 2018)
The Conference Board Economics Watch® Emerging Markets View

Amid intense external challenges, the economic outlook for major emerging economies weakens.
(Economics Watch Reports, September 2018)
Human Capital in Review™: Voices from Asia, Vol. 2, No. 2

This issue of Human Capital in Review focuses on the latest talent trends and human capital analytics developments, as well as effective practice to engage and retain talent in Asia.
(Human Capital in Review, September 2018)
Webcasts
Advertising Under Pressure
September 26, 2018 03:00 PM CET [15:00] (Brussels), 09:00 AM ET [09:00] (New York), 01:00 PM UTC [13:00]

Hugues Rey, CEO Havas Media Group BeLux, joins us to discuss how data and dynamic creations enable us to reach the right person at the right moment on the right channel. CPE credit available
The CFO's Challenge
October 03, 2018 04:00 PM CET [16:00] (Brussels), 10:00 AM ET [10:00] (New York), 02:00 PM UTC [14:00]

Join our panel for this webcast as they detail key findings from this year's C-Suite Challenge™ with a specific focus on implications for CFO's. CPE credit available
Blogs
The Risk of a UK Recession is Growing
Continued uncertainty over the outcome of Brexit negotiations is not helping. Unemployment in the UK now stands at its lowest level in four decades. Gross domestic product growth at the start of the third quarter of 2018 also shows an economy in decent shape, having grown faster than in the prior two quarters. (Global Economy Center Blog, September 2018)
CEO Activism in 2018
Nearly half of Americans believe CEOs can influence the government, although that doesn't necessarily mean the country thinks CEOs should speak out about social issues. Americans are split on whether company leaders should try to use their influence in the public domain, but doing so could benefit the business, since nearly half of the country would be more likely to purchase from a company whose CEO has taken a stance on an issue that they agree with. (Citizenship and Philanthropy Blog, September 2018)
Executive Series: Bosses—The Great Ones
Recognizing and appreciating the positive influence of great bosses can help you understand what you value in your career. Great bosses know how to cultivate loyalty for life from the people who work for them. They treat you as a trusted partner, make you feel smart, give you great work, serve as a mentor, and do the unexpected. But working for a great boss can be a once-in-a-lifetime experience, so it's important for employees to notice when it's happening and show some gratitude. (Society for New Communications Research Blog, September 2018)