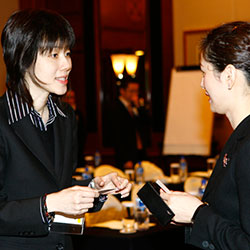 Asia
The Conference Board Asia helps member companies navigate the ever-changing business climate in India, Southeast Asia, greater China and Australasia. The Conference Board's unique perspective on the global economy gives both local and multinational member companies a strategic edge on issues that affect their business.
From our offices in Hong Kong and Singapore, we provide resources and events for decision makers like you in this complex region. Our members in Asia can access an array of information and content on corporate leadership, economy and business environment, and human capital. Executives from member companies benefit from The Conference Board's global and Asia-specific research and reports, an indispensable webcast program (live and on demand), complimentary entry to senior executive briefings, direct access to world-renowned subject-matter experts, eligibility to join Asia and Emerging Markets peer learning groups, and unlimited support from the Ask TCB business information service.
The bottom line? The Conference Board tracks economic developments and business trends in the region and abroad so you have the tools you need to navigate them successfully.
Products & Services
Peer Networks
China Communication and Marketing Council
Meets to discuss issues and exchange best practices such as branding, stakeholder relationships, public affairs, employee relations, community relations, interactive marketing and communication technologies issues with a strong focus on Greater China.
Workforce Analytics Institute Council
The Workforce Analytics Institute (WAI) Council brings together a community of HR and Business leaders to equip them with the research, tools, methodologies and training to move from Strategic Workforce Planning through to understanding and utilizing work
Asia-Pacific Total Rewards Council
This Council provides senior Compensation & Benefits executives in the Asia-Pacific region a forum in which to share information, ideas, and create solutions to challenges facing companies doing business in the region.
Publications
StraightTalk® Global Economic Outlook 2018: Will Trade Barriers Derail the Global Economy?

For now, the global economy seems barely shaken by trade policy tensions. But as the business cycle ages, it will become more important to monitor risk factors.
(StraightTalk®, July 2018)
The Conference Board Economics Watch® Economic Series Report

Monthly economic series report.
(Economics Watch Reports, July 2018)
Webcasts
Human Capital Watch™
July 18, 2018 11:00 AM ET [11:00] (New York), 03:00 PM UTC [15:00]

Learn how digital transformation changes the role of HR and what knowledge and skills HR leaders need to have to thrive in this new environment. CPE credit available
Book Discussion: "Dear Chairman" with Jeff Gramm
July 26, 2018 12:00 PM ET [12:00] (New York), 04:00 PM UTC [16:00]

Join this book discussion webcast to gain a deeper understanding of the public company/shareholder relationship, and the lessons that managers, investors, and board members alike can take away from this history.
Blogs
Recession Signals from the UK Leading Economic Index
Is a recession on the horizon in the UK? The short answer to this question is: yes. The probability of a recession in the near term has risen substantially. The UK business cycle is maturing and the lack of certainty around Brexit makes it difficult for consumers and businesses to make plans about the future. These are the ingredients that recessions are made of. The long answer requires an in-depth (and wonkish) analysis of The Conference Board Leading Economic Index for the UK. (Global Economy Center Blog, July 2018)
Corporate Communications: Let the Sun Shine
"Let the sun shine" could have been the slogan for the The Conference Board's 2018 Corporate Communications Conference, held June 26-27. More than 150 corporate communicators took home new ideas to effectively get their messages out. Here are a couple quick-hit concepts from our speakers from great companies like Hilton, BASF, Boeing, State Farm, Love's Travel Stops, Mars, American Express, IBM, Aflac, Seattle City Light, UPS, Bank of America Merchant Services, DuPont, Bridge Consulting. (Society for New Communications Research Blog, July 2018)
If You Don't Measure Yourself, Others Will Measure You
Whether it's the 24-hour news cycle, social media, annual reports, internal messages, or stakeholder requests, the need for clear, understandable, and relatable corporate social responsibility (CSR) information from companies is increasing. Some stakeholders want metrics, others want stories. Either way, timeliness and transparency are key. So, which data and disclosures are relevant and/or required? (Citizenship and Philanthropy Blog, July 2018)