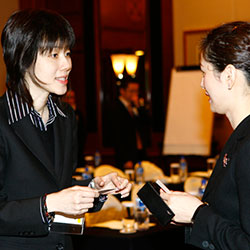 Asia
The Conference Board Asia helps member companies navigate the ever-changing business climate in India, Southeast Asia, greater China and Australasia. The Conference Board's unique perspective on the global economy gives both local and multinational member companies a strategic edge on issues that affect their business.
From our offices in Hong Kong, Mumbai, and Singapore, we provide resources and events for decision makers like you in this complex region. Our members in Asia can access an array of information and content on corporate leadership, economy and business environment, and human capital. Executives from member companies benefit from The Conference Board's global and Asia-specific research and reports, an indispensable webcast program (live and on demand), complimentary entry to senior executive briefings, direct access to world-renowned subject-matter experts, eligibility to join Asia and Emerging Markets peer learning groups, and unlimited support from the Ask TCB business information service.
The bottom line? The Conference Board tracks economic developments and business trends in the region and abroad so you have the tools you need to navigate them successfully.
Products & Services
Peer Networks
Workforce Analytics Institute Council
The Workforce Analytics Institute (WAI) Council brings together a community of HR and Business leaders to equip them with the research, tools, methodologies and training to move from Strategic Workforce Planning through to understanding and utilizing work
China Human Resources Council
Meets to discuss issues and exchange best practices regarding recruiting, retaining, and motivating local staffs as member companies grow in the Greater China region.
Global Business Conduct Council
Senior executives responsible for shaping global ethics and compliance programs discuss current issues and challenges facing corporations globally. Members value the confidential dialogue, expert speakers and benchmarking opportunities.
Publications
China Center Data Flash: Growth continued weakening in August

Data from the last two months reinforces our expectation of a moderate slowdown in the second half of 2017. A slowdown in investment growth will be the primary drag on growth, but resilience in consumption and exports should offset some of this drag in the short term.
(China Center Publications, September 2017)
China Center Chart Dive: Household spending ratio increased in rural areas but decreased in urban areas

Residents of rural China are beginning to save less in order to spend more. This is not the case in urban locations, although people in both areas are consuming more than ever.
(China Center Publications, September 2017)
China Center Deep Dive Exchange Session Report: Military Tensions in Northeast Asia and the South China Sea

In mid-September 2017, The Conference Board China Center convened nearly two dozen member company executives to compare perspectives and discuss what steps MNCs can take to dimension, plan for, and mitigate risks accompanying the increasingly tense geopolitical environment in East Asia.
(China Center Publications, September 2017)
Webcasts
Conscious Leadership
October 26, 2017 03:00 PM CET [15:00] (Brussels), 09:00 AM ET [09:00] (New York), 01:00 PM UTC [13:00]

Join this webcast to learn what it means to be a leader who uses the framework of Me + We + The World. HRCI, SHRM, and CPE credit available
Who Is Responsible for Employee Engagement?
November 01, 2017 11:00 AM ET [11:00] (New York), 03:00 PM UTC [15:00]

With an overall lack of engagement and its result on workforce productivity, we ask: Who is responsible for creating an engaging culture? Researchers and experts will discuss the latest DNA of Engagement report and offer actionable steps to foster a culture of engagement. HRCI, SHRM, and CPE credit available
Blogs
Three environmental and social issues that can't be ignored
Climate risk reporting, board diversity, and sustainability reporting are three issues worth keeping an eye on if the 2017 proxy season is any indication of shareholder sentiment. (The Governance Center Blog, October 2017)
Nonprofit Board Leadership: A Team Approach
Leadership succession planning for the position of chair is often a daunting exercise for nonprofit boards. Most nonprofits understand that the position is highly consequential for the strategic and financial success of the organization. Nonprofits will be stronger, however, if the chair is recognized as the leader of the board leadership team, rather than a soloist. (Giving Thoughts Blog, October 2017)
How to Engage the C-suite about Social Media with Authority and Confidence
"Social media takes time to build," said one of the participants in the webinar on social media and the C-suite that I co-presented for the Society for New Communications Research (SNCR) of The Conference Board earlier this month. It underscores a primary reality for communicators looking to engage their leaders in helping them understand the strategic value of social media in the long term as a legitimate business tool. (Society for New Communications Research Blog, October 2017)