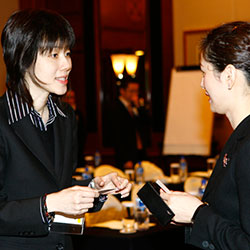 Asia
The Conference Board Asia helps member companies navigate the ever-changing business climate in India, Southeast Asia, greater China and Australasia. The Conference Board's unique perspective on the global economy gives both local and multinational member companies a strategic edge on issues that affect their business.
From our offices in Hong Kong, Mumbai, and Singapore, we provide resources and events for decision makers like you in this complex region. Our members in Asia can access an array of information and content on corporate leadership, economy and business environment, and human capital. Executives from member companies benefit from The Conference Board's global and Asia-specific research and reports, an indispensable webcast program (live and on demand), complimentary entry to senior executive briefings, direct access to world-renowned subject-matter experts, eligibility to join Asia and Emerging Markets peer learning groups, and unlimited support from the Ask TCB business information service.
The bottom line? The Conference Board tracks economic developments and business trends in the region and abroad so you have the tools you need to navigate them successfully.
Products & Services
Conferences
Peer Networks
Asia-Pacific Talent & Diversity Council
The mission of the Council is to provide its members, who are leaders in the areas of talent management, leadership development and organization effectiveness, with a forum for sharing best practices and actionable ideas.
Emerging Markets Supply Chain Management Council
The Council provides senior supply chain decision makers in emerging markets with a network of professional peers who meet regularly to exchange ideas, best practices, and innovations related to the supply chain and logistics functions.
Global Investor Relations Executives Council
Senior investor relations officers of large-capitalization companies in both Europe and the United States share best practices in a confidential and member-driven forum. Members value the intimate and candid conversations that develop in the meetings.
Publications
Trading Up: With Global Growth Finally on the Rise, Is the Trade Recovery Sustainable?

This report, which introduces a new global value chain dataset tool, examines whether the trade recovery is sustainable and why reevaluating global operations strategy using current data is so critical.
(Key Business Issues, February 2018)
The Conference Board Economics Watch® Emerging Markets View

The global growth outlook keeps strengthening, but growth momentum differs significantly across emerging countries.
(Economics Watch Reports, February 2018)
China Center Research Brief: CFIUS Reform Set to Disrupt Business as Usual for MNCs in China

The reform and empowerment of the Committee on Foreign Investment in the United States (CFIUS) has the potential to dramatically disrupt many traditional partnership approaches MNCs have been using in China for many years – including co-investment arrangements that have become popular recently.
(China Center Publications, February 2018)
Webcasts
Conscious Leadership Part I
March 06, 2018 03:00 PM CET [15:00] (Brussels), 09:00 AM ET [09:00] (New York), 02:00 PM UTC [14:00]

Join this three-part series as Gina Hayden, author and co-founder of The Global Center for Conscious Leadership, takes us through the concept of conscious leadership. Part 1 will focus on how you can set about developing conscious leaders within your organization. HRCI, SHRM, and CPE credit available
Economics Watch
March 14, 2018 11:00 AM ET [11:00] (New York), 03:00 PM UTC [15:00]

The struggle to attract talent is only going to get fiercer as a strong global economy combined with aging populations in mature markets and China will help today's tight labor market become a new normal. Learn more about current labor market conditions in the US, Europe, and other mature economies and strategies for operating in tighter labor markets. CPE credit available
Blogs
Three Digital Tools That Improve PR
If the idea of technology invading the practice of PR freaks you out a little, perhaps all you need is a different perspective. Yes, technology can be daunting, but it can also make your life a lot easier, help you achieve better results and demonstrate the value of your work. (Society for New Communications Research Blog, February 2018)
Working Together to Get Every Child Learning
In 2015, Pearson launched the "Every Child Learning" partnership with Save the Children to deliver high-quality education to Syrian refugees and vulnerable children in Jordan, and to innovate new solutions that improve the delivery of education in emergency and conflict-affected settings. We are doing this through a combination of program funding, collaborative R&D, and joint advocacy. (Citizenship and Philanthropy Blog, February 2018)
Q&A with Robert Bostrom: A Corporate Secretary Shares Lessons Learned from Crises
Currently senior vice president, corporate secretary, and general counsel of Abercrombie & Fitch Co., Robert Bostrom has spent the past three decades working in the corporate legal field. As part of The Conference Board board member job description series, he shares his perspective on the corporate director's job. (The Governance Center Blog, February 2018)