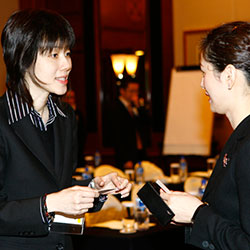 Asia
The Conference Board Asia helps member companies navigate the ever-changing business climate in India, Southeast Asia, greater China and Australasia. The Conference Board's unique perspective on the global economy gives both local and multinational member companies a strategic edge on issues that affect their business.
From our offices in Hong Kong, Mumbai, and Singapore, we provide resources and events for decision makers like you in this complex region. Our members in Asia can access an array of information and content on corporate leadership, economy and business environment, and human capital. Executives from member companies benefit from The Conference Board's global and Asia-specific research and reports, an indispensable webcast program (live and on demand), complimentary entry to senior executive briefings, direct access to world-renowned subject-matter experts, eligibility to join Asia and Emerging Markets peer learning groups, and unlimited support from the Ask TCB business information service.
The bottom line? The Conference Board tracks economic developments and business trends in the region and abroad so you have the tools you need to navigate them successfully.
Products & Services
Peer Networks
Global Investor Relations Executives Council
Senior investor relations officers of large-capitalization companies in both Europe and the United States share best practices in a confidential and member-driven forum. Members value the intimate and candid conversations that develop in the meetings.
Emerging Markets Human Resources Council
The Council provides an exclusive network for human resources professionals to exchange insights and to explore and better understand the HR challenges and opportunities relating to business development and growth in emerging markets.
Asia-Pacific Talent Acquisition Council
The Council provides senior talent acquisition decision makers in Asia-Pacific with a network of professional peers who meet regularly to exchange ideas, best practices, and innovations related to talent acquisition strategies and operations functions.
Publications
China Center Chart Dive: Mining Trump's China Tweets—Just 'Flash,' or Indicators of the New China Policy Ideology?

Analyzing President Trump's pre-inauguration Twitter statements on China may be one lens for assessing future policy directions.
(China Center Publications, February 2017)
The Conference Board Economics Watch® Emerging Markets View

Shocks and uncertainties moderate 2017 growth projections for several emerging economies.
(Economics Watch Reports, February 2017)
Webcasts
The Conference Board Economics Watch®
07 March, 2017 03:00 PM ET [15:00] (New York), 08:00 PM UTC [20:00]

This webcast will gather the most important decisions from the White House and consider their prospects on Capitol Hill, possibly in the courts, and in markets around the world. CPE credit available
The Conference Board Economics Watch® - Emerging Markets View
09 March, 2017 10:00 AM ET [10:00] (New York), 03:00 PM UTC [15:00]

In 2017, Brazil is expected to come out of the worse recession it has experienced in decades. But will the recovery materialize against a backdrop of slow global growth and rising uncertainties? This webcast will focus on our short-term growth projections for Brazil. CPE credit available