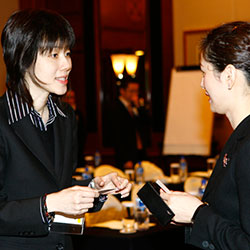 Asia
The Conference Board Asia helps member companies navigate the ever-changing business climate in India, Southeast Asia, greater China and Australasia. The Conference Board's unique perspective on the global economy gives both local and multinational member companies a strategic edge on issues that affect their business.
From our offices in Hong Kong, Mumbai, and Singapore, we provide resources and events for decision makers like you in this complex region. Our members in Asia can access an array of information and content on corporate leadership, economy and business environment, and human capital. Executives from member companies benefit from The Conference Board's global and Asia-specific research and reports, an indispensable webcast program (live and on demand), complimentary entry to senior executive briefings, direct access to world-renowned subject-matter experts, eligibility to join Asia and Emerging Markets peer learning groups, and unlimited support from the Ask TCB business information service.
The bottom line? The Conference Board tracks economic developments and business trends in the region and abroad so you have the tools you need to navigate them successfully.
Products & Services
Peer Networks
Global Diversity & Inclusion Executives Council
Executives engage in strategic discussions on issues and challenges currently facing Chief Diversity Officers. Members value the expert speakers, benchmarking opportunities, and ability to shape best and next practices in diversity.
Asia-Pacific Chief Legal Officers' Council
The Asia-Pacific Council of Chief Legal Officers provides invaluable opportunities for senior General Counsels in the Asia-Pacific region to exchange experiences, access relevant research and expertise, and gain insights into new initiatives.
Global Rewards and Mobility Council
Discussions focus on the policies and challenges connected with the salaries and benefits of international personnel, including local nationals as well as expatriates. Members value the confidential and high level dialogue that develops.
Publications
18 Truths about Sustainability: Insights from the 16th Annual Sustainability Summit

Sustainability reporting needs to be built into everyday business activities, especially since it has become a tool to attract mainstream investors.
(Conference KeyNotes, August 2017)
Blurring External Boundaries: Case Studies from L'Oréal, Travelex, and Haier

Company profiles from L'Oréal, Travelex, and Haier show that digital transformation enables and often requires collaboration between organizations. If necessity is the mother of invention, then digital transformation is the necessity that drives companies that were once separate, self-reliant entities to reach out to other organizations and individuals.
(Case Studies, August 2017)
Webcasts
How can companies prepare to succeed in the circular economy?
07 September, 2017 03:00 PM CET [15:00] (Brussels), 09:00 AM ET [09:00] (New York), 01:00 PM UTC [13:00]

Join us as we illustrate how leading companies, such as Interface, are proactively making the shift to a circular economy model and how by doing so are not only reducing waste but also growing their bottom line.
The Conference Board Economics Watch®: GDP Rising
13 September, 2017 11:00 AM ET [11:00] (New York), 03:00 PM UTC [15:00]

Learn more about the underlying details driving changes to the domestic outlook which can help you better understand how demand will evolve for your company's products and services, as well as how the competitive landscape your firm presently faces may change. CPE credit available