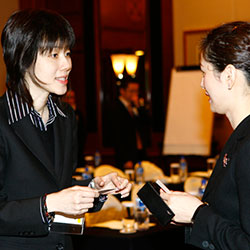 Asia
The Conference Board Asia helps member companies navigate the ever-changing business climate in India, Southeast Asia, greater China and Australasia. The Conference Board's unique perspective on the global economy gives both local and multinational member companies a strategic edge on issues that affect their business.
From our offices in Hong Kong, Mumbai, and Singapore, we provide resources and events for decision makers like you in this complex region. Our members in Asia can access an array of information and content on corporate leadership, economy and business environment, and human capital. Executives from member companies benefit from The Conference Board's global and Asia-specific research and reports, an indispensable webcast program (live and on demand), complimentary entry to senior executive briefings, direct access to world-renowned subject-matter experts, eligibility to join Asia and Emerging Markets peer learning groups, and unlimited support from the Ask TCB business information service.
The bottom line? The Conference Board tracks economic developments and business trends in the region and abroad so you have the tools you need to navigate them successfully.
Products & Services
Peer Networks
Global Rewards and Mobility Council
Discussions focus on the policies and challenges connected with the salaries and benefits of international personnel, including local nationals as well as expatriates. Members value the confidential and high level dialogue that develops.
Asia-Pacific Chief Legal Officers' Council
The Asia-Pacific Council of Chief Legal Officers provides invaluable opportunities for senior General Counsels in the Asia-Pacific region to exchange experiences, access relevant research and expertise, and gain insights into new initiatives.
Asia-Pacific Total Rewards Council
This Council provides senior Compensation & Benefits executives in the Asia-Pacific region a forum in which to share information, ideas, and create solutions to challenges facing companies doing business in the region.
Publications
Drafting the 'Dream Team': Leveraging Analytics to Acquire Top Talent in Asia

Using workforce analytics, organizations can systematically examine and evaluate the quality of their talent acquisition strategies to identify and implement the most effective means for finding talent.
(Research Report, June 2017)
The Conference Board Economics Watch® Emerging Markets View

Recent downside risks challenge the outlook for emerging markets for remainder of the year.
(Economics Watch Reports, June 2017)
A Roadmap to Sustainable Supply Chain Standards: Decoding Progress, Challenges, and Best Practices

This report is a resource for understanding how sustainable supply chain standards and codes of conduct are evolving, and how companies can adapt to increasing demands for global transparency and accountability.
(Key Business Issues, June 2017)
Webcasts
The Broken American Dream: A Discussion On The Future of Capitalism
29 June, 2017 03:00 PM CET [15:00] (Brussels), 09:00 AM ET [09:00] (New York), 01:00 PM UTC [13:00]

Join this webcast as we examine what is wrong with market economies not only in the United States but elsewhere as well, and how capitalism can be fixed to better serve society. CPE credit available

The Conference Board Economics Watch®
12 July, 2017 11:00 AM ET [11:00] (New York), 03:00 PM UTC [15:00]

A complimentary series for member companies to help executives stay on top of changing business and economic conditions worldwide. CPE credit available