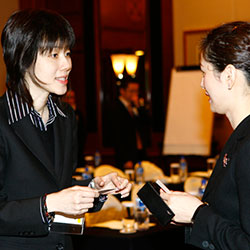 Asia
The Conference Board Asia helps member companies navigate the ever-changing business climate in India, Southeast Asia, greater China and Australasia. The Conference Board's unique perspective on the global economy gives both local and multinational member companies a strategic edge on issues that affect their business.
From our offices in Hong Kong and Singapore, we provide resources and events for decision makers like you in this complex region. Our members in Asia can access an array of information and content on corporate leadership, economy and business environment, and human capital. Executives from member companies benefit from The Conference Board's global and Asia-specific research and reports, an indispensable webcast program (live and on demand), complimentary entry to senior executive briefings, direct access to world-renowned subject-matter experts, eligibility to join Asia and Emerging Markets peer learning groups, and unlimited support from the Ask TCB business information service.
The bottom line? The Conference Board tracks economic developments and business trends in the region and abroad so you have the tools you need to navigate them successfully.
Products & Services
Peer Networks
Asia-Pacific Human Resources Council
Members exchange insights and best practices regarding how to manage regional human resources issues in the context of today's global business environment.
Emerging Markets Supply Chain Management Council
The Council provides senior supply chain decision makers in emerging markets with a network of professional peers who meet regularly to exchange ideas, best practices, and innovations related to the supply chain and logistics functions.
Workforce Analytics Institute Council
The Workforce Analytics Institute (WAI) Council brings together a community of HR and Business leaders to equip them with the research, tools, methodologies and training to move from Strategic Workforce Planning through to understanding and utilizing work
Publications
Director Notes India: Responsible Business Practices—India Perspective

This Director Note examines the emerging trends around sustainability and business responsibility for top Indian companies.
(Director Notes, October 2018)
The Conference Board Economics Watch® Economic Series Report

Monthly economic series report.
(Economics Watch Reports, September 2018)
The Conference Board Economics Watch® Emerging Markets View

Amid intense external challenges, the economic outlook for major emerging economies weakens.
(Economics Watch Reports, September 2018)
Webcasts
Sustainable Procurement — Lessons from Leading Companies
October 23, 2018 03:00 PM CET [15:00] (Brussels), 09:00 AM ET [09:00] (New York), 01:00 PM UTC [13:00]

Join us for this webcast as we discuss and present the findings from our latest research on Sustainable Procurement – Lessons from Leading Companies. CPE credit available
Global Leadership Forecast
November 13, 2018 10:00 AM ET [10:00] (New York), 03:00 PM UTC [15:00]

Join this interactive webcast on the topic of Building A Coaching Culture & Mentoring For Impact, featuring Amy Lui Abel from The Conference Board and Stephanie Neal from DDI. HRCI, SHRM, CPE, and CCE credit available
Blogs
Measuring Success in Making a Difference
Companies need to build a mechanism to gauge consumers' preferences for causes and integrate that with a measurement framework across all stakeholders of an organization. Sumair Sayani, vice president at Nielsen and Consumer Dynamics co-Center leader, suggests what this model might look like. (Consumer Dynamics Center Blog, October 2018)
Executive Series: The "Creative" Dilemma
Creativity is important to developing new ideas and opportunities, but certain corporate cultures can stifle it. Employees have a responsibility to exercise their own creativity for the benefit of themselves and the business. In communications, creativity should be nurtured in three areas in particular: writing, uncovering stories, and ideation. If companies want to promote new ideas and opportunities, being open to employees' creativity is a good start. (Society for New Communications Research Blog, October 2018)
Nonprofit Board Experience Develops Employees for Leadership
Eighty percent of people who serve on nonprofit boards describe themselves as better leaders, the result of developing skills like board governance, networking, strategic planning, and communication. By supporting meaningful leadership and community engagement, companies that promote nonprofit board service help to grow employees' value to the company. (Citizenship and Philanthropy Blog, October 2018)