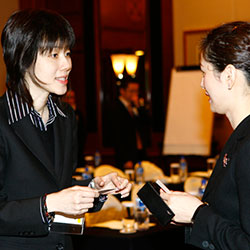 Asia
The Conference Board Asia helps member companies navigate the ever-changing business climate in India, Southeast Asia, greater China and Australasia. The Conference Board's unique perspective on the global economy gives both local and multinational member companies a strategic edge on issues that affect their business.
From our offices in Hong Kong, Mumbai, and Singapore, we provide resources and events for decision makers like you in this complex region. Our members in Asia can access an array of information and content on corporate leadership, economy and business environment, and human capital. Executives from member companies benefit from The Conference Board's global and Asia-specific research and reports, an indispensable webcast program (live and on demand), complimentary entry to senior executive briefings, direct access to world-renowned subject-matter experts, eligibility to join Asia and Emerging Markets peer learning groups, and unlimited support from the Ask TCB business information service.
The bottom line? The Conference Board tracks economic developments and business trends in the region and abroad so you have the tools you need to navigate them successfully.
Products & Services
Conferences
Peer Networks
Global Diversity & Inclusion Executives Council
Executives engage in strategic discussions on issues and challenges currently facing Chief Diversity Officers. Members value the expert speakers, benchmarking opportunities, and ability to shape best and next practices in diversity.
India Strategic Human Resources Council
The India Strategic HR Council is a unique forum that fuses the insights of HR practitioners, with the insights of Business leaders. The Council will create a roadmap to develop plans for transformational change and high-performance culture building.
Asia-Pacific Shared Services Council
The Council is composed of senior executives responsible for global or regional shared services and business services in the Asia-Pacific region. Members exchange insights and best practices regarding how to manage multifunctional shared services stakes.
Publications
Sustainability Practices 2017 Key Findings

Third-party verification of the claims in sustainability reports is on the rise, which is helping investors make better-informed decisions about companies' risks and opportunities. But companies could still be much more transparent.
(Research Report, December 2017)
Sustainability Practices Dashboard

The Conference Board Sustainability Practices Dashboard analyzes the most recent disclosure of environmental and social practices by public companies around the world.
(Research Report, December 2017)
Webcasts
Fueling Regeneration: The Future of Disaster Philanthropy
December 14, 2017 03:00 PM CET [15:00] (Brussels), 09:00 AM ET [09:00] (New York), 02:00 PM UTC [14:00]

Learn from experts on the front lines of disaster regeneration how disasters are intensifying due to climate change and how corporate philanthropy should respond. HRCI, SHRM, and CPE credit available
Human Capital Watch™: Digital Transformation
December 20, 2017 11:00 AM ET [11:00] (New York), 04:00 PM UTC [16:00]

How does the HR function change under digital transformation? Get an advance look at forthcoming research from The Conference Board to answer this and other key questions. CPE credit available
Blogs
How Companies Can Recruit and Retain the Best and Most Diverse Workforces by Offering Board-Matching Programs
Employees are more likely to work and stay at companies that help match them to nonprofit boards in addition to providing funds to the nonprofits where they serve. This is one of the most powerful findings of Better World Leadership: The Nonprofit Board Leadership Study, released last month. (Giving Thoughts Blog, December 2017)
Companies Can, and Should, Address Sexual Misconduct No Matter Where It Happens
The past few weeks have seen an extraordinary increase in awareness, and acknowledgement, that sexual assault, harassment, coercion, and improprieties happen in the workplace with appalling frequency, and that perpetrators must be held accountable by their employers and by society. I hope that it will now be much, much harder for any American workplace to turn a blind eye (or worse) when an employee raises such an allegation. (Giving Thoughts Blog, December 2017)
Marketers Reluctantly Coming to Terms with their Role in Fake News Crisis
A new study by the Society for New Communications Research of The Conference Board (SNCR) shows that while marketers are now aware of their inadvertent participation, they are ambivalent about what ought to change—and are reluctant to alter their own business practices. (Society for New Communications Research Blog, December 2017)