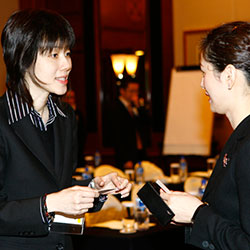 Asia
The Conference Board Asia helps member companies navigate the ever-changing business climate in India, Southeast Asia, greater China and Australasia. The Conference Board's unique perspective on the global economy gives both local and multinational member companies a strategic edge on issues that affect their business.
From our offices in Hong Kong, Mumbai, and Singapore, we provide resources and events for decision makers like you in this complex region. Our members in Asia can access an array of information and content on corporate leadership, economy and business environment, and human capital. Executives from member companies benefit from The Conference Board's global and Asia-specific research and reports, an indispensable webcast program (live and on demand), complimentary entry to senior executive briefings, direct access to world-renowned subject-matter experts, eligibility to join Asia and Emerging Markets peer learning groups, and unlimited support from the Ask TCB business information service.
The bottom line? The Conference Board tracks economic developments and business trends in the region and abroad so you have the tools you need to navigate them successfully.
Products & Services
Peer Networks
China Communication and Marketing Council
Meets to discuss issues and exchange best practices such as branding, stakeholder relationships, public affairs, employee relations, community relations, interactive marketing and communication technologies issues with a strong focus on Greater China.
China Human Resources Council
Meets to discuss issues and exchange best practices regarding recruiting, retaining, and motivating local staffs as member companies grow in the Greater China region.
Global CSR & Philanthropy Council
This council advances the practice of cross-border corporate social responsibility and strategic philanthropy on a global scale through continuous dialogue on latest trends, issues and solutions encountered, as well as inspiring practices.
Publications
China Center Chart Dive: US-China trade relations—who needs who more? A global value chain & GDP exposure view

Using WIOD data, we are able to identify the extent to which the economies of China and the United States are mutually reliant in terms of total national output – in trade-related terms.
(China Center Publications, April 2017)
The Conference Board Economics Watch® Emerging Markets View

Emerging markets see improvement in sentiment, but strong headwinds are likely to cap the upside in growth.
(Economics Watch Reports, April 2017)
China Center Data Flash: Tightening clamps on the housing market should exert some drag on growth in the near term

The economic targets for 2017 announced in March include a lower GDP growth rate and more job creation compared to 2016, suggesting that the government is willing to accept lower growth in exchange for risk containment, so long as employment is maintained.
(China Center Publications, April 2017)
Webcasts
How Will Work Change as We Digitalize the Workplace?
03 May, 2017 03:00 PM CET [15:00] (Brussels), 09:00 AM ET [09:00] (New York), 01:00 PM UTC [13:00]

Join us as Bonnie Cheuk, global head of digital, Euroclear, illustrates why digital transformation is not about automation, but rather about how we achieve business objectives with a new model, enabled by the new technologies available. HRCI, SHRM, and CPE credit available
The Conference Board Economics Watch®
10 May, 2017 11:00 AM ET [11:00] (New York), 03:00 PM UTC [15:00]

Our experts will discuss the latest global and US economic updates. Join us as we provide key insights to make more key informed decisions on key business issues as well as help identify long-term consumer trends and opportunities. CPE credit available.