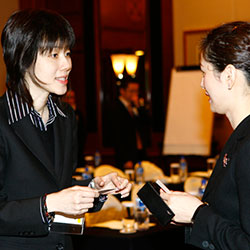 Asia
The Conference Board Asia helps member companies navigate the ever-changing business climate in India, Southeast Asia, greater China and Australasia. The Conference Board's unique perspective on the global economy gives both local and multinational member companies a strategic edge on issues that affect their business.
From our offices in Hong Kong and Singapore, we provide resources and events for decision makers like you in this complex region. Our members in Asia can access an array of information and content on corporate leadership, economy and business environment, and human capital. Executives from member companies benefit from The Conference Board's global and Asia-specific research and reports, an indispensable webcast program (live and on demand), complimentary entry to senior executive briefings, direct access to world-renowned subject-matter experts, eligibility to join Asia and Emerging Markets peer learning groups, and unlimited support from the Ask TCB business information service.
The bottom line? The Conference Board tracks economic developments and business trends in the region and abroad so you have the tools you need to navigate them successfully.
Products & Services
Peer Networks
China Human Resources Council
Meets to discuss issues and exchange best practices regarding recruiting, retaining, and motivating local staffs as member companies grow in the Greater China region.
China Corporate Responsibility and Sustainability Council
The Council provides China-based senior executives with a program and meeting place through which to deepen their knowledge, sharpen their skills and share experience on the management of China-specific corporate responsibility and sustainability issues.
China Communication and Marketing Council
Meets to discuss issues and exchange best practices such as branding, stakeholder relationships, public affairs, employee relations, community relations, interactive marketing and communication technologies issues with a strong focus on Greater China.
Publications
China Center Insight Compilation: China's Demographic Shift and Its Impact on MNC Business

Collated in this compilation are extracts of pieces that summarize our thinking on China's momentous demographic transition and its impacts on labor and workforce dynamics and on MNC business in China.

(China Center Publications, May 2018)
China Center Research Brief: Collateral Damage -- American & European exporters in China

Tariffs on China, if they manifest, will hit everyone "under the specified category," including many US exporters in China, as well as their respective suppliers both in and outside of China.
(China Center Publications, May 2018)
Webcasts
Who is accountable for gender balance within organizations?
May 30, 2018 03:00 PM CET [15:00] (Brussels), 09:00 AM ET [09:00] (New York), 01:00 PM UTC [13:00]

This webcast will explore the question of gender balance and the idea of who holds responsibility for this within an organization. HRCI, SHRM, and CPE credit available
A Marriage of Algorithms and Human Capital - Part II
June 05, 2018 03:00 PM CET [15:00] (Brussels), 09:00 AM ET [09:00] (New York), 01:00 PM UTC [13:00]

Part II will focus on predictive analytics and the new technology developments that are helping it enhance business and strategic workforce decisions. HRCI, SHRM, and CPE credit available
Blogs
Could the Facebook Scandal Slow Down Digital Healthcare?
If global health is being reshaped by technologies such as wearables, artificial intelligence and blockchain, then data—and lots of it—is fueling this transformation. But patient fears about privacy and misuse of data, potentially influenced by the Facebook data breach, threatens to slow the development and uptake of digital health innovations. (Society for New Communications Research Blog, May 2018)
Participate in the 2018 Business Contributions to the Arts Survey
The 2018 Business Contributions to the Arts survey, conducted by The Conference Board and Americans for the Arts, is open until Friday, June 8. Please share your data regarding your organization's support for the arts to help us provide important benchmarking information to the corporate philanthropy and arts communities. The survey should take no more than 15-20 minutes to complete. (Citizenship and Philanthropy Blog, May 2018)
Digital Media Predictions for a Post-GDPR World
Last week, a business acquaintance made a ballsy prediction on LinkedIn for which he took a fair amount of flak. Posting a comment, I noted that his essential point was not that much of a stretch. Of course, there were nuances to the argument, but a long statement with a bunch of caveats wouldn't be nearly as interesting or thought-provoking. Predictions have to push at the edges or people won't pay attention. So, I figured it was time to step onto the ledge and make some predictions. (Society for New Communications Research Blog, May 2018)