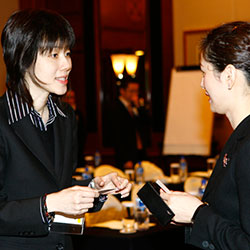 Asia
The Conference Board Asia helps member companies navigate the ever-changing business climate in India, Southeast Asia, greater China and Australasia. The Conference Board's unique perspective on the global economy gives both local and multinational member companies a strategic edge on issues that affect their business.
From our offices in Hong Kong and Singapore, we provide resources and events for decision makers like you in this complex region. Our members in Asia can access an array of information and content on corporate leadership, economy and business environment, and human capital. Executives from member companies benefit from The Conference Board's global and Asia-specific research and reports, an indispensable webcast program (live and on demand), complimentary entry to senior executive briefings, direct access to world-renowned subject-matter experts, eligibility to join Asia and Emerging Markets peer learning groups, and unlimited support from the Ask TCB business information service.
The bottom line? The Conference Board tracks economic developments and business trends in the region and abroad so you have the tools you need to navigate them successfully.
Products & Services
Peer Networks
Asia-Pacific Communication and Marketing Council
This council draws on the expertise of its members, augmented by insights of respected leaders in the fields of public relations, public affairs, investor and legal communications, employee relations, community relations and communications technologies.
Emerging Markets Supply Chain Management Council
The Council provides senior supply chain decision makers in emerging markets with a network of professional peers who meet regularly to exchange ideas, best practices, and innovations related to the supply chain and logistics functions.
China Human Resources Council
Meets to discuss issues and exchange best practices regarding recruiting, retaining, and motivating local staffs as member companies grow in the Greater China region.
Publications
China Center Deep Dive Exchange Session Report: Five Years of the Belt & Road Initiative

Xi Jinping first announced the "One Belt One Road" project to the world in late 2013. Five years and one English-language name change later, the realistic prospects for the Belt and Road have begun to clarify, as has the road map for MNC engagement.
(China Center Publications, December 2018)
Global Growth Projections for The Conference Board Global Economic Outlook 2019

This paper presents the methodology for The Conference Board Global Economic Outlook 2019, which includes growth projections of GDP and underlying supply-side components for 33 mature and 36 emerging market economies for 2019-2028.
(Economics Program Working Paper Series, December 2018)
Webcasts
Human Capital Watch™
December 19, 2018 11:00 AM ET [11:00] (New York), 04:00 PM UTC [16:00]

Join our December Human Capital Watch webcast as our researchers highlight findings from a new study which examines success-driven leadership approaches in M&A transactions. CPE credit available
Digital Business Models And Their Analysis
January 03, 2019 03:00 PM CET [15:00] (Brussels), 09:00 AM ET [09:00] (New York), 02:00 PM UTC [14:00]

Join this webcast to find out about new digital business models, current best practices, and strategy lessons that can be learned from start-ups. CPE credit available
Blogs
Do the Right Thing
"Ethical public relations (PR)" is a phrase many see as an oxymoron, but as an ever-changing world brings new challenges to the corporate sector, the PR profession is in need of standards to help promote an ethical focus. Institutions leading the way in terms of ethics will focus on models of networked collaboration and values-based choices, where accountability, reliability, transparency, fairness and flexibility are handled in a more self-organized way. (Society for New Communications Research Blog, December 2018)
Living Your Purpose: Driving and Measuring Business Adoption
Leading businesses are turning to purpose to articulate their mission, power growth, unite and motivate the organization, and become future-ready in a world of non-stop change. Companies can and should use purpose intentionally to figure out how to run their businesses. (Corporate Citizenship & Philanthropy Blog, December 2018)
Q&A with Daniel Sunderland: Deloitte Chief Auditor's Perspectives on the Job Description of a Corporate Director
This Q&A with Daniel Sunderland discusses the job of the corporate director from his perspective as Chief Auditor at Deloitte. He touches on topics like the influence of the external auditor in the job of the corporate director and the definition of tone at the top. (The Governance Center Blog, December 2018)