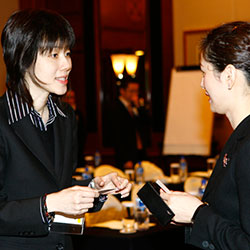 Asia
The Conference Board Asia helps member companies navigate the ever-changing business climate in India, Southeast Asia, greater China and Australasia. The Conference Board's unique perspective on the global economy gives both local and multinational member companies a strategic edge on issues that affect their business.
From our offices in Hong Kong, Mumbai, and Singapore, we provide resources and events for decision makers like you in this complex region. Our members in Asia can access an array of information and content on corporate leadership, economy and business environment, and human capital. Executives from member companies benefit from The Conference Board's global and Asia-specific research and reports, an indispensable webcast program (live and on demand), complimentary entry to senior executive briefings, direct access to world-renowned subject-matter experts, eligibility to join Asia and Emerging Markets peer learning groups, and unlimited support from the Ask TCB business information service.
The bottom line? The Conference Board tracks economic developments and business trends in the region and abroad so you have the tools you need to navigate them successfully.
Products & Services
Conferences
Peer Networks
Asia-Pacific Human Resources Council
Members exchange insights and best practices regarding how to manage regional human resources issues in the context of today's global business environment.
Asia-Pacific Shared Services Council
The Council is composed of senior executives responsible for global or regional shared services and business services in the Asia-Pacific region. Members exchange insights and best practices regarding how to manage multifunctional shared services stakes.
Global Business Conduct Council
Senior executives responsible for shaping global ethics and compliance programs discuss current issues and challenges facing corporations globally. Members value the confidential dialogue, expert speakers and benchmarking opportunities.
Publications
Trading Up: With Global Growth Finally on the Rise, Is the Trade Recovery Sustainable?

This report, which introduces a new global value chain dataset tool, examines whether the trade recovery is sustainable and why reevaluating global operations strategy using current data is so critical.
(Key Business Issues, February 2018)
The Conference Board Economics Watch® Emerging Markets View

The global growth outlook keeps strengthening, but growth momentum differs significantly across emerging countries.
(Economics Watch Reports, February 2018)
China Center Research Brief: CFIUS Reform Set to Disrupt Business as Usual for MNCs in China

The reform and empowerment of the Committee on Foreign Investment in the United States (CFIUS) has the potential to dramatically disrupt many traditional partnership approaches MNCs have been using in China for many years – including co-investment arrangements that have become popular recently.
(China Center Publications, February 2018)
Webcasts
Human Capital Watch™
February 21, 2018 11:00 AM ET [11:00] (New York), 04:00 PM UTC [16:00]

Join our experts as they uncover key finding from the eigth installation of the Global Leadership Forecast and examine how HR can lead the way in driving digital advancement. CPE credit available
Why "Big Data" Is Better for Understanding Human Behavior
February 21, 2018 02:00 PM ET [14:00] (New York), 07:00 PM UTC [19:00]

What can big data tell us that survey data do not? Join us for a conversation with author Seth Stephens-Davidowitz about his book, Everybody Lies: Big Data, New Data, and What the Internet Can Tell Us About Who We Really Are. CPE credit available
Blogs
Running NFL Social Media On Game Day—An Interview With Dave Feldman
Dave Feldman, Sr Director of Digital at the NFL, is running one of the biggest, most complex, real-time social content teams on the planet. With this level of content creation, distribution and management, it's all about strategy, scalable process, extreme coordination and everyone and I mean everyone, must be on their A game. So, when I sat down for a full hour long interview with Dave to talk about the social content machine of the NFL, I was hanging on every word. (Society for New Communications Research Blog, February 2018)
Implications for Blockchain in Corporate Citizenship and Philanthropy
It's impossible to avoid the furor surrounding cryptocurrencies these days. Looking beyond the price fluctuations of crypto markets, examining the blockchain infrastructure that supports the currencies is a fascinating exercise. The use of blockchain in companies has some interesting implications for citizenship and philanthropy. Blockchain could add a level of transparency and authenticity to corporate practices and resulting communications that could help to rebuild trust in business. (Citizenship and Philanthropy Blog, February 2018)
Two-Child Policy Won't Produce a Baby Boom
Despite the end of the one-child policy in 2016 and hopes of a new "baby boom," the reality is that China's attempt to politically reengineer its demographic outlook will require decades, not years. (China Center Blog, February 2018)