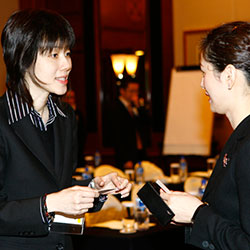 Asia
The Conference Board Asia helps member companies navigate the ever-changing business climate in India, Southeast Asia, greater China and Australasia. The Conference Board's unique perspective on the global economy gives both local and multinational member companies a strategic edge on issues that affect their business.
From our offices in Hong Kong, Mumbai, and Singapore, we provide resources and events for decision makers like you in this complex region. Our members in Asia can access an array of information and content on corporate leadership, economy and business environment, and human capital. Executives from member companies benefit from The Conference Board's global and Asia-specific research and reports, an indispensable webcast program (live and on demand), complimentary entry to senior executive briefings, direct access to world-renowned subject-matter experts, eligibility to join Asia and Emerging Markets peer learning groups, and unlimited support from the Ask TCB business information service.
The bottom line? The Conference Board tracks economic developments and business trends in the region and abroad so you have the tools you need to navigate them successfully.
Products & Services
Conferences
Peer Networks
Emerging Markets Finance Executives' Council
The Council provides senior financial executives of member organizations with the opportunity for select peer discussions on broad issues of corporate strategy, risk management and governance.
Asia-Pacific Total Rewards Council
This Council provides senior Compensation & Benefits executives in the Asia-Pacific region a forum in which to share information, ideas, and create solutions to challenges facing companies doing business in the region.
Emerging Markets Corporate Compliance and Ethics Council
This council provides invaluable opportunities for senior compliance and ethics executives in Asia-Pacific and Emerging Markets to exchange experiences, access relevant research and expertise.
Publications
Driving Digital Transformation: What's the Role of HR?

This report, third in a series from The Conference Board on digital transformation and human capital, defines what HR leaders must do to help their companies succeed in digital transformation with its unique business and human capital challenges.
(Key Business Issues, April 2018)
C-Suite Challenge™ 2018: ASEAN/China Edition

CEOs in both the ASEAN region and China are dedicated to the creation of innovative, customer-centric, and inclusive workplace environments within their organizations.
(Key Business Issues, April 2018)
Webcasts
Driving Breakthrough Innovation
May 03, 2018 04:00 PM CET [16:00] (Brussels), 10:00 AM ET [10:00] (New York), 02:00 PM UTC [14:00]

This webcast will explore the results of a study, done on over 80 companies, revealing the ways organizations can achieve breakthrough innovation. CPE credit available
Economics Watch
May 09, 2018 11:00 AM ET [11:00] (New York), 03:00 PM UTC [15:00]

With GDP growth and labor markets already strong, Congress enacted dramatic tax cuts and raised federal spending. This webcast will analyze the early economic returns of these policies and assess how business behavior has and will change in response. CPE credit available
Blogs
Comcast NBCUniversal and Cities of Service Join Forces to Help Revitalize Detroit
This year, more than 100,000 volunteers will celebrate service during Comcast Cares Day by participating in volunteer projects all over the world. Making a positive impact in the communities where Comcast NBCUniversal employees live and work is a value the company embraces all year long. Businesses can ensure that the impact of service days like these lasts well beyond one day by linking their service projects to city priorities and ongoing initiatives. (Citizenship and Philanthropy Blog, April 2018)
What was the breakout trend of Q1 2018?
By this time, you may have already learned that digital health funding during Q1 2018 hit record-breaking levels, as reported by Rock Health and StartUp Health. But, there's more to the digital health story than quarterly funding numbers. To fully understand what's happening (and why), you need additional context about the underlying trends and technologies making an impact on the global health landscape quarter to quarter. Here's one. (Society for New Communications Research Blog, April 2018)
Confessions of a Teenage Nonprofit
Nonprofits are like teenagers—they have difficult years, but with the right support, they can thrive and achieve great things in "adulthood." The international nonprofit I co-founded, mothers2mothers (m2m), is now 16 years old, an awkward age for nonprofits, at least in the eyes of many donors. m2m employs HIV-positive women as community health workers. (Citizenship and Philanthropy Blog, April 2018)