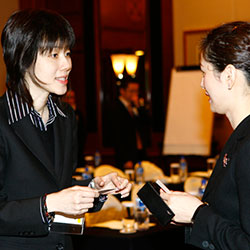 Asia
The Conference Board Asia helps member companies navigate the ever-changing business climate in India, Southeast Asia, greater China and Australasia. The Conference Board's unique perspective on the global economy gives both local and multinational member companies a strategic edge on issues that affect their business.
From our offices in Hong Kong, Mumbai, and Singapore, we provide resources and events for decision makers like you in this complex region. Our members in Asia can access an array of information and content on corporate leadership, economy and business environment, and human capital. Executives from member companies benefit from The Conference Board's global and Asia-specific research and reports, an indispensable webcast program (live and on demand), complimentary entry to senior executive briefings, direct access to world-renowned subject-matter experts, eligibility to join Asia and Emerging Markets peer learning groups, and unlimited support from the Ask TCB business information service.
The bottom line? The Conference Board tracks economic developments and business trends in the region and abroad so you have the tools you need to navigate them successfully.
Products & Services
Conferences
Peer Networks
Asia-Pacific Chief Legal Officers' Council
The Asia-Pacific Council of Chief Legal Officers provides invaluable opportunities for senior General Counsels in the Asia-Pacific region to exchange experiences, access relevant research and expertise, and gain insights into new initiatives.
Global Investor Relations Executives Council
Senior investor relations officers of large-capitalization companies in both Europe and the United States share best practices in a confidential and member-driven forum. Members value the intimate and candid conversations that develop in the meetings.
Global CSR & Philanthropy Council
This council advances the practice of cross-border corporate social responsibility and strategic philanthropy on a global scale through continuous dialogue on latest trends, issues and solutions encountered, as well as inspiring practices.
Publications
Global Growth Projections for The Conference Board Global Economic Outlook 2018

This paper presents the methodology for The Conference Board Global Economic Outlook 2018 which includes growth projections for 11 major regions and individual estimates for 33 mature and 36 emerging market economies for 2018–2022, and 2023–2027.
(Economics Program Working Paper Series, November 2017)
Global Economic Outlook 2018 United States: 2018 Will Start with Momentum, But How Long Will It Last?

The US economy is expected to continue its improved growth. In the short term, consumer demand growth will stay strong as the labor market continues to tighten. But expect a less supportive external environment for growth.
(Key Business Issues, November 2017)
Webcasts
Can Europe's Labor Market Be Fixed?
November 21, 2017 03:00 PM CET [15:00] (Brussels), 09:00 AM ET [09:00] (New York), 02:00 PM UTC [14:00]

Join us for this webcast as our speakers explain how the major changes that are happening in the European labor markets could change your future recruitment and retention strategy. HRCI, SHRM, and CPE credit available
Looking Back to Go Forward: 10 Years of Executive Coaching Research
November 22, 2017 03:00 PM CET [15:00] (Brussels), 09:00 AM ET [09:00] (New York), 02:00 PM UTC [14:00]

On the occasion of the tenth year of our executive coaching survey, we trace the evolution of coaching over the last decade from a remedial fix for performance issues to a powerful tool for developing future leaders. HRCI, SHRM, and CPE credit available
Blogs
Measurement Lessons Learned from Cisco, Southwest, and Exeter Hospital
Last month, Paine Publishing hosted the Summit on the Future of Communications Measurement. Here, we present three case studies from the summit that highlight the three major themes that ran through every conversation. (Society for New Communications Research Blog, November 2017)
For Funders and Nonprofits: Excellent Nonprofit Management is Mission Critical
Nonprofit missions help us rally around various societal challenges. However, while nonprofit missions garner attention from funders, the management of the organization is where attention is critical. The challenge is that some funders may make their funding decisions based on nonprofit missions and nonprofits may direct more of their attention to mission rather than management. (Giving Thoughts Blog, November 2017)
On Governance: CEO Pay Ratio Planning: 10 Consensuses from Thought Leading Companies
Based on conversations with about 20 thought-leading companies, here are 10 consensuses on how leading companies are planning to comply with the new CEO pay ratio rules in 2018. (The Governance Center Blog, November 2017)