StraightTalk® Global Economic Outlook 2016: Escaping the Global Economy's Holding Pattern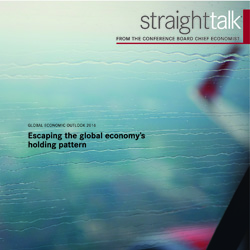 Authors:
Publication Date:
November 2015
In 2016, the global economy will stay on a slow growth track for the fifth consecutive year, and that seems unlikely to change in the near future. We project a very modest improvement in the global economy growth rate to 2.8 percent in 2016, up from 2.5 percent in 2015, and a slight further improvement to 3.1 percent globally for the period 2016–2020. But multinational companies need to reassess their opportunities in an economy this slow, with mature economies continuing to fly at a low altitude and emerging markets continuing on their descending flight path.
Explore our full portfolio of thought leadership on Global Economic Outlook 2016 here.
How will the 2016 outlook affect economies around the world?