Is Income Inequality Slowing Down Growth?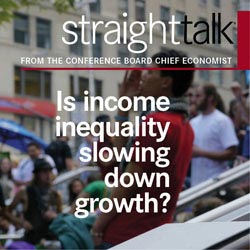 Authors:
Publication Date:
December 2011
In the aftermath of the economic and financial crisis, concerns about the distribution of income and wealth are rising. More specifically, widening income inequality within many countries is putting the prospects for economic growth under threat. Much of the popular debate focuses on the gap between the top 1 percent and the bottom 99 percent of income earners. But there are other issues that also need to be addressed, in particular the "hollowing out" of incomes for middle class occupations, which have the biggest impact on the prospects for recovery in employment, income, and consumption.
Support Our Work
Support our nonpartisan, nonprofit research and insights which help leaders address societal challenges.
Donate