Corporate Governance Handbook: Legal Standards and Board Practices (Third Edition)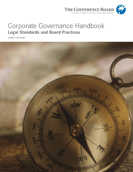 Authors:
Publication Date:
September 2009
Since its first iteration as Corporate Governance Best Practices: A Blueprint for the Post-Enron Era in 2003, Corporate Governance Handbook: Legal Standards and Board Practices has grown to cover the fundamental notions of the legal and regulatory environment in which the public company operates. The handbook, now in its third edition, provides directors with practical guidance to help them fulfill their responsibilities in crucial areas of board oversight, Empirical data, vignettes, case studies, and application tools are presented to bring context to the material. The Handbook also reflects the activities of The Conference Board Directors' Institute, which has met with hundreds of board members to discuss legal developments and emerging standards in an independent and forward-thinking setting.
Topics Covered
Directors' Duties and Board Practices
Nominating/Corporate Governance Committee Practices
Compensation Committee Practices
Audit Committee Practices
Disclosure and Internal Control Oversight Practices
Ethics and Compliance Oversight Practices
Strategy and Risk Oversight Practices
D&O Liability Insurance Audit Practices
Board of Directors of Non-U.S. Corporations with Securities Traded in the United States
Support Our Work
Support our nonpartisan, nonprofit research and insights which help leaders address societal challenges.
Donate