De-risking China: How Can Strong HQs Alignment on Risk Management in China Best Be Achieved?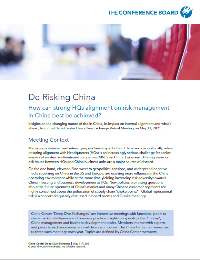 Authors:
Publication Date:
July 2021
Alignment between Headquarters (HQs) and China business units is an increasingly serious challenge for senior leaders of western multinational companies (MNCs) as the risk landscape in China, and globally, intensifies. For many, differing views on risk issues is a major source of discord.
On May 11, 2021, The China Center convened a Deep Dive Exchange on the topic: De-Risking China – How can strong HQs alignment on risk management in China best be achieved? During the meeting, China Center members representing sectors ranging from industrial, pharmaceutical, automotive, retail, ICT and more, convened to discuss the changing risk landscape facing their companies and steps they have taken to enhance alignment with their respective HQs. The meeting featured a keynote address by Kent Kedl, Partner, Head of Greater China and North Asia at Control Risks.