Press Release
Online Labor Demand Declined in June
10 July, 2019
Online Labor Demand Declined in June

HWOL Index was essentially unchanged in June, following a decline in May
Most occupations experienced small declines over the month, with some occupations experiencing small increases
Download the complimentary National Historical Table.
The Conference Board Help Wanted OnLine® (HWOL) Index declined in June and now stands at 102.4 (July 2018=100), down from 102.6 in May. The Index declined 0.2 percent from the prior month, but is up 2.9 percent from a year ago.
In the Midwest, Kansas declined 2.7 percent and Missouri fell 1.5 percent. In the Northeast, New Jersey fell 2.0 percent and New York declined 0.2 percent. In the South, Delaware fell 3.4 percent and Kentucky declined 3.2 percent. In the West, Colorado and Nevada rose 1.9 percent.
The Professional occupational category experienced declines in Legal (-2.3 percent) and Business and Financial Operations (-1.3 percent). The Services/Production occupational category experienced declines in Protective Services (-4.0 percent), and increases in Farming, Fishing, and Forestry (3.6 percent), and Sales (1.9 percent).
Help Wanted OnLine™ (HWOL) Index: United States, seasonally adjusted, June 2019
[July 2018=100]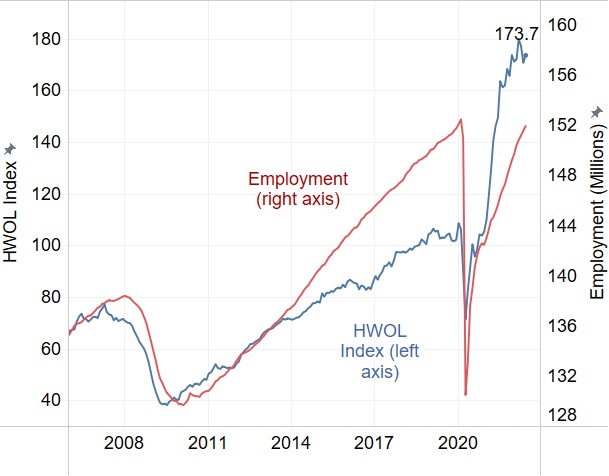 Sources: The Conference Board, Bureau of Labor Statistics
© 2019 The Conference Board. All rights reserved.
PROGRAM NOTES
HWOL available on Haver Analytics
A number of the key HWOL Data Series are exclusively available on Haver Analytics. The available HWOL Data Series include the geographic and occupational series for levels and rates for both Total Ads and New Ads. In addition to the seasonally adjusted series, many of the unadjusted series are also available. The geographic detail includes: U.S., 9 Regions, 50 States, 52 MSAs (largest metro areas). The occupational detail includes: U.S. (2-digit SOC), States (1-digit SOC) and MSAs (1-digit SOC).
For more information about the Help Wanted OnLine data series delivered via Haver Analytics, please email sales@haver.com or navigate to http://www.haver.com/contact.html. For HWOL data for detailed geographic areas and occupations not in the press release, please contact Jeanne.Shu@conference-board.org.
---
The Conference Board Help Wanted OnLine® (HWOL) Indexmeasures changes over time in advertised online job vacancies, reflecting monthly trends in employment opportunities across the US. The HWOL Data Series aggregates the total number of ads available by month from the HWOL universe of online job ads. Ads in the HWOL universe are collected in real-time from over 28,000 different online job boards including traditional job boards, corporate boards, social media sites, and smaller job sites that serve niche markets and smaller geographic areas.
Like The Conference Board's long-running Help Wanted Advertising Index of print ads (which was published for over 55 years and discontinued in July 2008), Help Wanted OnLine™ measures help wanted advertising, i.e. labor demand. The HWOL Data Series began in May 2005 and was revised in December 2018 to reflect a new universe and methodology of online job advertisements and therefore cannot be used in conjunction with the pre-revised HWOL Data Series. With the December 2018 release, The Conference Board released the experimental HWOL Index for the specific purpose of providing a robust time series for measuring changes in labor demand over time. It improves upon the HWOL Data Series' ability to assess local labor market trends by reducing volatility and non-economic noise and improving correlation with local labor market conditions. Both the HWOL Data Series and the experimental HWOL Index begin in January 2012.
People using this data are urged to review the information on the database and methodology available on The Conference Board website and contact us with questions and comments. Background information and technical notes and discussion of revisions to the series are available at: http://www.conference-board.org/data/helpwantedonline.cfm.
Additional information on the Bureau of Labor Statistics data used in this release can be found on the BLS website, www.bls.gov.
About The Conference Board
The Conference Board is the member-driven think tank that delivers trusted insights for what's ahead. Founded in 1916, we are a non-partisan, not-for-profit entity holding 501 (c) (3) tax-exempt status in the United States. www.conference-board.org.
About CEB, Inc.
CEB, Inc. is a leading supplier of real-time business intelligence solutions for the talent marketplace. Using technology to gather data from corporate career sites and online job boards, CEB, Inc. builds products to help our users make better human capital decisions faster. Users of our products include corporate human resources departments, market analysts and employment services firms as well as the federal, state and local labor market analysts that use HWOL. For more information, please visit: www.wantedanalytics.com.
HAVER ANALYTICS®
Haver Analytics is the premier provider of time series data for the Global Strategy and Research community. Haver Analytics was founded in 1978 as a consulting firm and today provides the highest quality data and software for industry professionals. Haver provides products and services to clients in financial services, government, academia and various industry groups from consulting to manufacturing. From more information please see: http://www.haver.com/contact.html.
Release Dates for 2019
July 31, 2019
September 4, 2019
October 2, 2019
October 30, 2019
December 4, 2019
© The Conference Board 2019. All data contained in this press release are protected by United States and international copyright laws. The data displayed are provided for informational purposes only and may only be accessed, reviewed, and/or used in accordance with, and the permission of, The Conference Board consistent with a subscriber or license agreement and the Terms of Use displayed on our website at www.conference-board.org. The data and analysis contained herein may not be used, redistributed, published, or posted by any means without express written permission from The Conference Board.
COPYRIGHT TERMS OF USE. All material in this press release and on Our Sites is protected by United States and international copyright laws. You must abide by all copyright notices and restrictions contained in Our Sites. You may not reproduce, distribute (in any form including over any local area or other network or service), display, perform, create derivative works of, sell, license, extract for use in a database, or otherwise use any materials (including computer programs and other code) in this press release or on Our Sites (collectively, "Site Material"), except that you may download Site Material in the form of one machine-readable copy that you will use only for personal, noncommercial purposes, and only if you do not alter Site Material or remove any trademark, copyright or other notice displayed on the Site Material. If you are a subscriber to any of the services offered on Our Sites, you may be permitted to use Site Material, according to the terms of your subscription agreement.
TRADEMARKS. "THE CONFERENCE BOARD", the TORCH LOGO, "THE CONFERENCE BOARD HELP WANTED ONLINE", and any other logos, indicia and trademarks featured in this press release or on Our Sites are trademarks owned by The Conference Board, Inc. in the United States and other countries ("Our Trademarks"). You may not use Our Trademarks in connection with any product or service that does not belong to us nor in any manner that is likely to cause confusion among users about whether The Conference Board is the source, sponsor, or endorser of the product or service, nor in any manner that disparages or discredits us.
Violators of these rights will be prosecuted to the full extent of the law. Nothing herein shall restrict the use of the information by news journalists using the information in a legitimate news publication or periodical.
THESE DATA ARE FOR ANALYSIS PURPOSES ONLY. NOT FOR REDISTRIBUTION, PUBLISHING, DATABASING, OR PUBLIC POSTING WITHOUT EXPRESS WRITTEN PERMISSION.