Press Release / News
New Report Reveals Vast Untapped Demand for Financial Services in China
03 November, 2016
The Demand Institute's Latest Study Finds Expanded Access to Financial Services Could Add an Estimated $650 Billion in Chinese Consumer Spending Over the Next 10 Years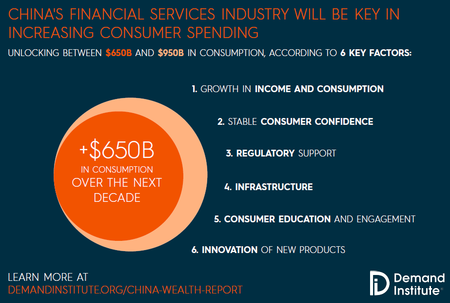 Chinese consumers' demand for financial services is going largely unmet and represents a prime opening to mitigate the impact of China's growth slowdown, according to a study released today by The Demand Institute. The report, A Wealth of Opportunity: Chinese Consumers and Their Shifting Demand for Financial Services, can be viewed here.
The Demand Institute is a non-advocacy, non-profit think tank jointly operated by The Conference Board and Nielsen. Its latest report finds vast untapped demand among Chinese consumers for household financial services products such as deposit accounts, credit cards and debit cards. However, the evolution of that demand will be markedly different than that of other mature markets. For instance, China may leapfrog mature economies in the use of electronic payments and may never adopt credit cards at the scale of the United States.
"Access to financial services increases consumer spending, yet there has been little insight about how demand is growing and what forces are shaping it in in China," said Louise Keely, president of The Demand Institute and executive vice president of the global retail vertical at Nielsen. "Our findings fill in critical missing knowledge and enable businesses and policymakers to create forward-looking strategies and policies to meet a population's specific needs—whether they be cashless payment solutions to enable online spending or investment products to enable wealth creation."
The report identifies two scenarios for how growth in Chinese financial services could accelerate consumption. Under the most likely scenario, expanded access will add $650 billion to Chinese consumption over the next decade, but it could be as much as $950 billion.
China-based companies are currently well-positioned to capture this growth in financial services demand, including non-financial service companies such as Tencent and Alibaba, which are innovating with online services and investment products. Multinational companies are expected to continue to focus more on existing niches, such as wealth management.
Among the report's key findings:
Compared to the United States, household financial services penetration in China lags far behind the level expected based on relative levels of affluence and urbanization.
Household wealth in China is highly concentrated among urban consumers who have financial accounts (i.e., credit, savings, checking, etc.). Within that group, the top 10 percent hold nearly two-thirds of assets.
The rise in demand for financial services will vary across consumer groups depending on geography (rural vs. urban), level of wealth, and age cohort.
Rural, less affluent consumers will drive the growth of entry-level financial services such as deposit and savings accounts.
Urban, affluent consumers will drive growth of more complex financial products, but adoption will depend on age.
About The Demand Institute
The Demand Institute illuminates how consumer demand is evolving around the world. We help government and business leaders align investments to where consumer demand is headed across industries, countries and markets. A non-advocacy, non-profit organization and a division of The Conference Board, The Demand Institute holds 501(c)(3) tax-exempt status in the United States and is jointly operated by The Conference Board and Nielsen. For more information, please visit: demandinstitute.org.
About The Conference Board
The Conference Board is a global, independent business membership and research association working in the public interest. Our mission is unique: To provide the world's leading organizations with the practical knowledge they need to improve their performance and better serve society. The Conference Board is a non-advocacy, not-for-profit entity holding 501 (c)(3) tax-exempt status in the United States. For more information, visit: conference-board.org.
About Nielsen
Nielsen N.V. (NYSE: NLSN) is a global performance management company that provides a comprehensive understanding of what consumers Watch and Buy. Nielsen's Watch segment provides media and advertising clients with Total Audience measurement services across all devices where content — video, audio and text — is consumed. The Buy segment offers consumer packaged goods manufacturers and retailers the industry's only global view of retail performance measurement. By integrating information from its Watch and Buy segments and other data sources, Nielsen provides its clients with both world-class measurement as well as analytics that help improve performance. Nielsen, an S&P 500 company, has operations in over 100 countries that cover more than 90% of the world's population. For more information, visit: nielsen.com.
###
Media Contacts:
Taylor Fenske
Stern Strategy Group
Tfenske@sternstrategy.com
908-325-3866
Rachel Auerbach
Stern Strategy Group
Rauerbach@sternstrategy.com
908-325-3898